Blazers guard CJ McCollum scores 30 points in 94-90 loss to Kings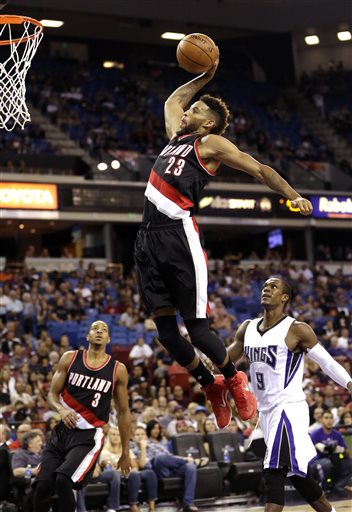 The Portland Trail Blazers fell to 1-2 in the 2015-16 preseason Saturday night, 94-90 to the Sacramento Kings. CJ McCollum led the Blazers with 30 points (11/20 FG, 5/10 3-PT) as well as four assists and no turnovers in the start at point guard. Crabbe had 13 points and fouled out. Darren Collison had 17 points, seven assists and three rebounds to lead the Kings.
Damian Lillard sat out with a minor ankle injury. McCollum got the start at point guard and Allen Crabbe was inserted into the starting line-up.
McCollum continued his strong play in the first half, leading the Blazers in scoring with 11 points on nine shots and tied with others for the team lead in assists. But the Blazers struggled early on. After Meyers Leonard hit a 3-pointer to start the game, the Blazers went nearly six minutes without scoring.
The 3-point shot allowed them to keep the game close. The Blazers were 7-for-17 (41 percent) from long-range in the first half. Inside the arc, they were much worse. The Blazers went 8-for-27 on two-point shots in the first half.
Stotts went with a nine man rotation in the first half. And in a change from the last two games, Phil Pressey got the first minutes at back-up point guard. Frazier didn't end up seeing the floor as Pressey played 27 minutes. Frazier had gotten more minutes in the first two preseason games. Pressey had four points, five assists, four rebounds and two turnovers.
Pat Connaughton played a surprising 17 minutes, tied for the most on the team. But he brought a little of everything. Connaughton had six points (two 3-pointers), four rebounds and two assists. Connaughton finished with 11 boards.
The Blazers cut the Sacramento lead to just one point by the end of the third quarter. Connaughton finished with an eye popping 31 minutes. The next closest player was Al-Farouq Aminu. Without Moe Harkless, Connaughton is getting a lot of preseason minutes. Crabbe had 11 of his 13 points in the second half.
McCollum gave more indications that he is more than ready for the expanded role and for the Blazers to have to rely on him to score. McCollum had 19 points and five rebounds in just the third quarter. He only played 25 minutes.
Portland lost the game late with their young players in the game against Sacramento's veterans like Belinelli and Collison. Luis Montero came in for Crabbe after he fouled out. Montero had a couple of turnovers but had two nice assists later on. Omari Johnson got late run alongside Montero. Unlike Thursday, we didn't have a Chris Kaman sighting.
The Blazers play again on Monday against the Lakers. That game will be televised on NBATV.