Tweaks: Blazers looking to leverage the shooting ability of Meyers Leonard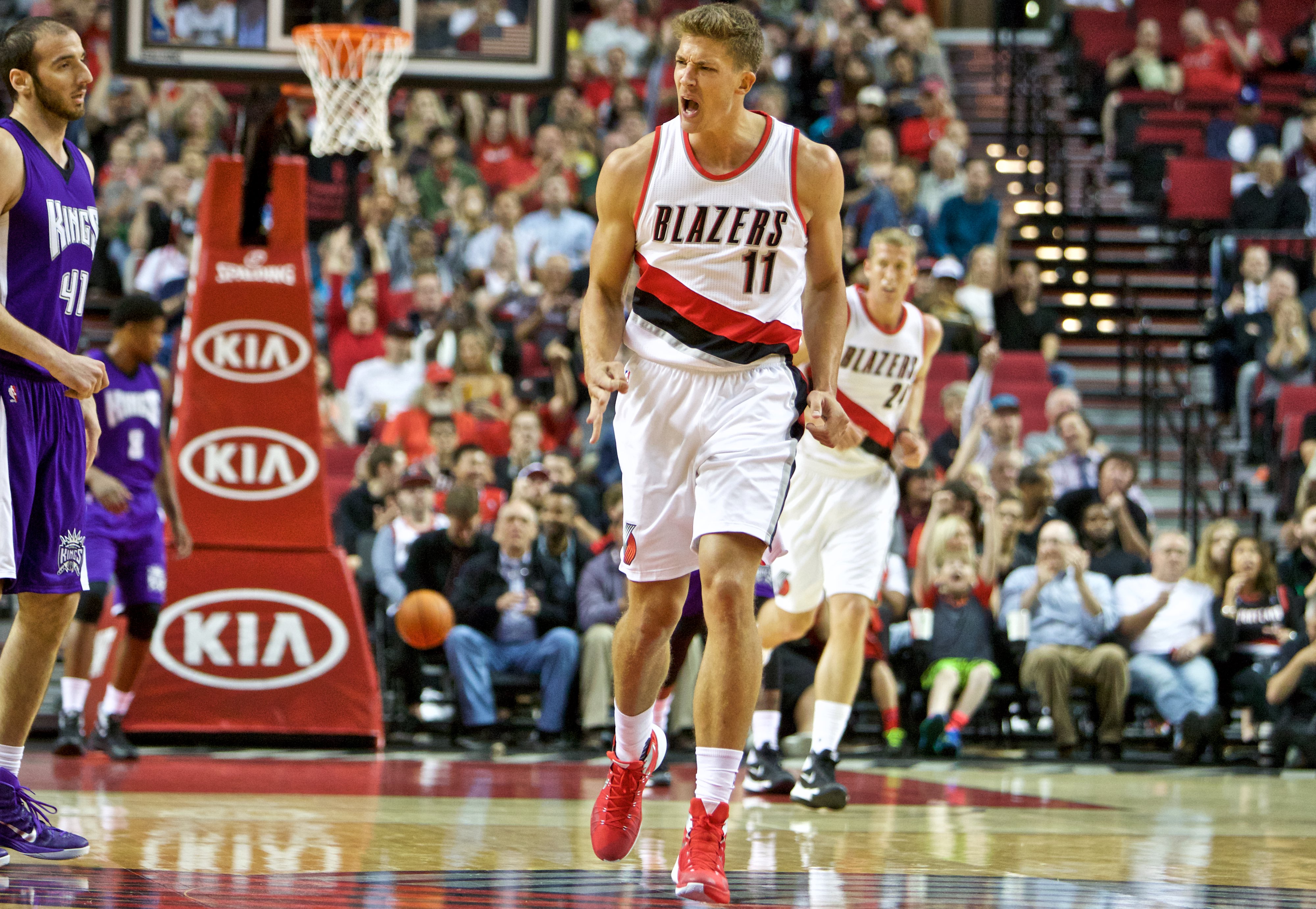 It's the preseason and once again, we'll offer the reminder that most things that happen in the preseason don't matter. But when it comes to a brand new team that nobody has seen play together before, it can be instructive. And while last night's Blazers game had a lot of positives, from shooting to collective good defense for consecutive possessions, the results don't really matter.
Blazers head coach Terry Stotts is learning along the way, too, and he has been peppered by questions from the media about whether Portland's offense will be the same. It was obvious that the post-ups that Portland lived off of with LaMarcus Aldridge would disappear. Portland would also rely on Wesley Matthews to post-up often.
CJ McCollum and Meyers Leonard were expected to have expanded roles offensively. The offense is the same, but they did show some subtle adjustments on Monday.
While McCollum's expanded role seems pretty obvious–he'll get more shots, handle the ball in more pick-and-rolls and serve as a back-up point guard–how Stotts would use Leonard was a more difficult question to answer.
They've run pin-downs for him in the past and the Blazers used to love using he and Robin Lopez as screeners in pick-and-roll situations to make defenses pick their poison.
Portland's 109-105 preseason overtime loss helped us learn a little bit more about how Portland may use–or how they're experimenting–with the 7-foot-1 Leonard and how to leverage his shooting ability after putting together the NBA's lone 50-40-90 season, albeit in limited attempts, last season.
Leonard knows he will be on scouting reports and he won't get the open looks he had last season without the attention on others. Here's how Stotts is experimenting with getting their sweet-shooting big man looks.
Flare screen series
One of the tenants of the Blazers offense since Terry Stotts came to the Blazers was their flare screen series where a wing comes up from the corner up to the elbow-3 area to execute a dribble hand-off or go right into a 3-point attempt.
You know this one, you only saw Wesley Matthews hit hundreds of 3-pointers out of it.
The play, in its ideal form, will look something similar to this. Again, not every play will look exactly the same in the read-based offense flow offense. But you get the picture.
[youtube http://www.youtube.com/watch?v=ZHEld1_uw8c]
The Blazers showed a little bit of this action–typically reserved for a wing player–to try and set forward/center Leonard up on the perimeter.
"I've worked on shots off of that and I've also worked on it some in practice. I feel pretty comfortable with it," Leonard said. "Getting the flow and the feel of reading different situations out of it will be something I have to improve on. But as far as the simple action of coming off a flare screen, coming out of the corner, it's something I'm comfortable with."
Stotts told Leonard he had these ideas in mind and Leonard worked on coming off those screens in individual workouts over the summer.  Leonard worked on shots out of these situations over the summer in Las Vegas in individual workouts. Leonard admits that it was tough at first to get used to taking these shots that "a guard would take," but says he's started to find some success and will continue to work on these situations.
Here, the play doesn't result in anything. But the process is what is intriguing. To the Blazers, it's not rocket science and there was no "a-hah" moment for Stotts. You need to run plays for your best shooters and Leonard is one of those.
"With Meyers, he's one of our better shooters," Lillard said.  "That's who we need to have going off those flares, he's comfortable doing and it's something we're going to have to get used to."
"I think the growth that Meyers has made, he's improved as a shooter, obviously his confidence has improved, he's getting his shot off quicker," Stotts said. "Reading spacing and where the shot is going to come and having the confidence to go up and take it, that's all been going in that direction. So I don't think it was a light bulb but when you have a guy who can shoot from the perimeter you have to find ways to get him shots."
These actions, as we've shown are not unique. It's who they are doing them for that is.
The Blazers could theoretically run these plays with Leonard at center, which they didn't in the example above, forcing the biggest defender on the court to make an unenviable choice.
"If you got a 7-foot big coming off flares, that's hard to guard," Lillard said.  "That's also pulling a big from the rim. That makes it easier for us guards, so if DeMarcus Cousins is guarding Meyers and he don't want to go around that flare, he's either going to have an open three which we'll take any day or you pulling their best defensive big from the rim and allowing us to attack."
Lillard ended up with a lay-up on this example and it wasn't because Cousins was away from the rim. But it's easy to see his point, especially if Leonard can continue to shoot well from outside. The Blazers ran this play a few other times and rookie Pat Connaughton said he felt comfortable essentially functioning as the big man in these situations.
"Meyers being able to space definitely helps," Connaughton said. "When we're playing our brand of basketball we can treat him like a guard on the offensive end with the screens and him coming off stuff and being for some jump shots, some threes. Stuff like that."
Another way the Blazers are using Leonard's shooting is in big-to-big screens, something Stotts is familiar with.
"One of the plays Meyers got was a big-big screen, we used to run plays like that for Dirk," Stotts said.
Here's one of those plays Stotts is talking about, which ended in a jumper for Leonard off a pick from Mason Plumlee.
There isn't a whole lot to gain from preseason results, but on Tuesday we got a sneak peak at the ways that Portland is trying to use Leonard's abilities. Big men like Channing Frye, Ryan Anderson and of course Dirk Nowitzki, aren't strangers to similar actions and now that Portland knows it has a 3-point shooting weapon with size in Leonard, they are going to leverage it as best as they can.
Without Aldridge, Portland couldn't find credible ways to score over the past few seasons. Stotts is tinkering, experimenting with probably his most unique offensive weapon. We'll check in on the results when the real basketball begins, but the use of Leonard will be one of the keys to watch for Portland offensively this season.
— Erik García Gundersen