Blazers Fan Fest: White beats Black 31-30, Lillard voted MVP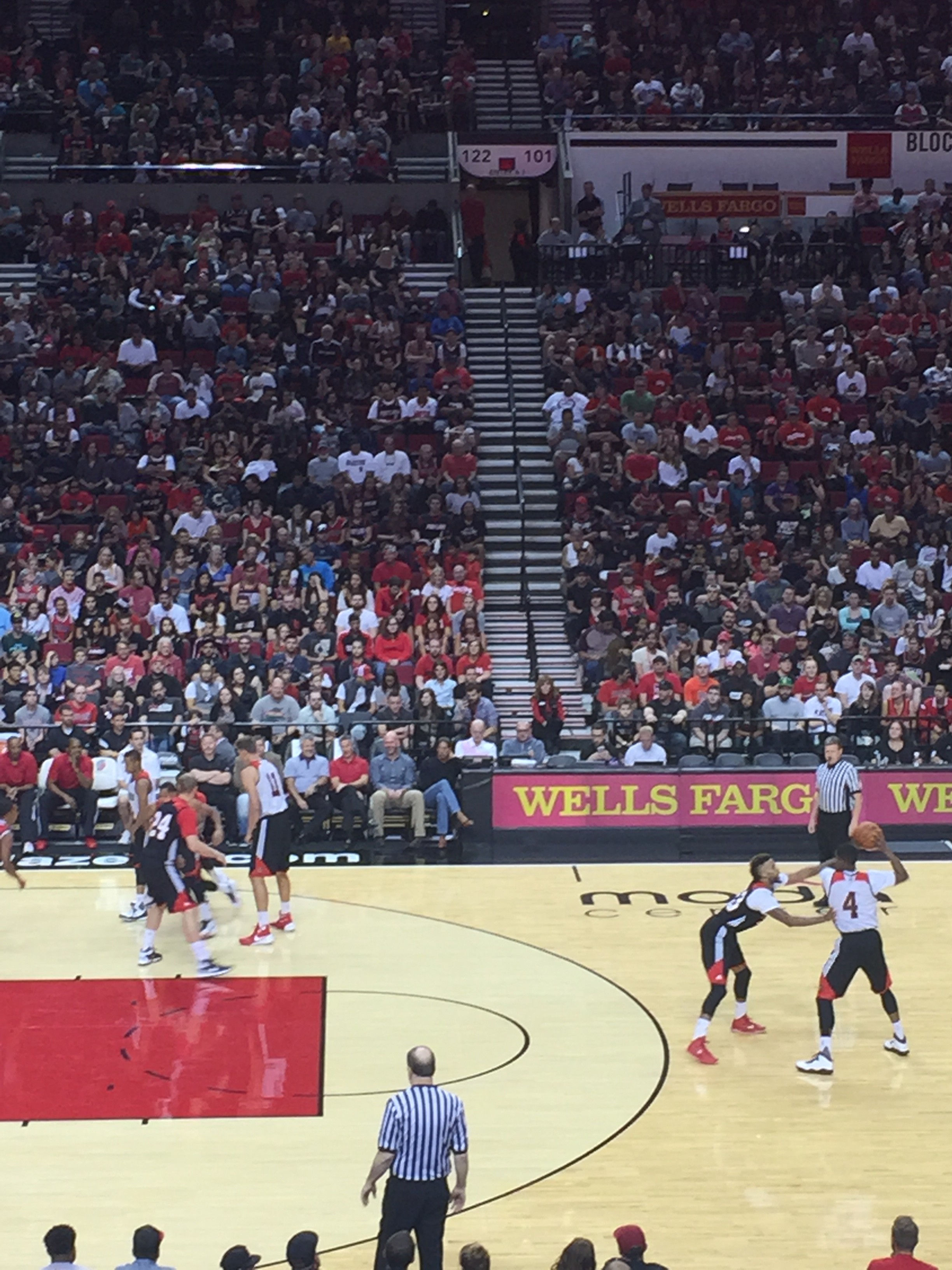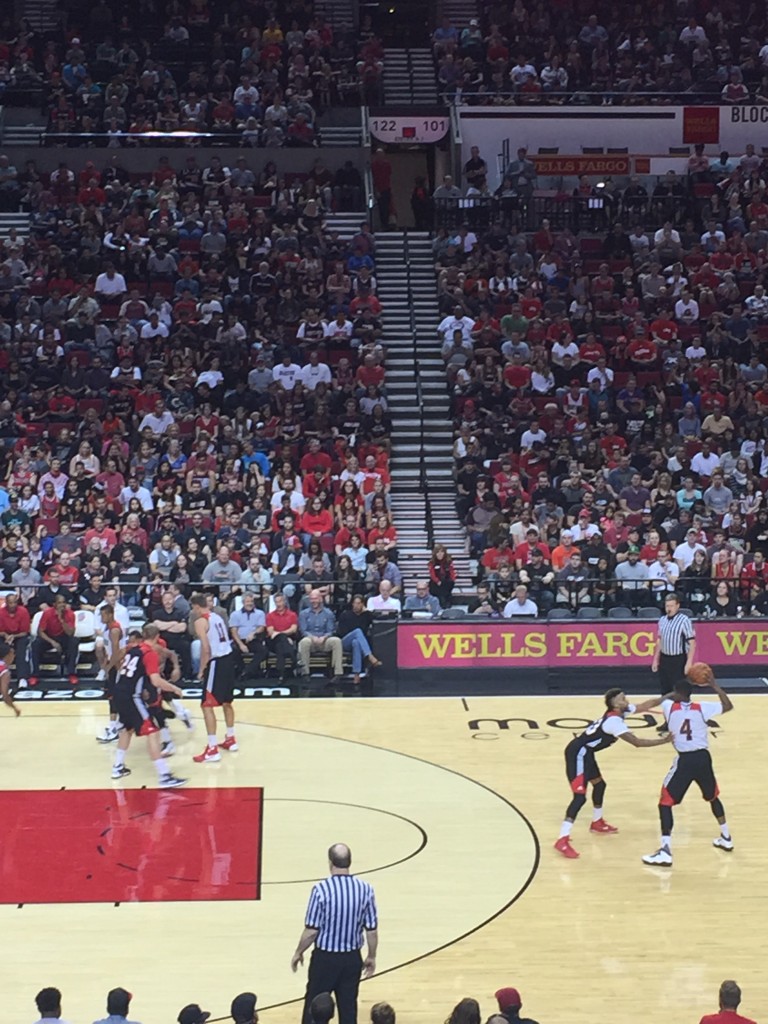 The Portland Trail Blazers kicked off the 2015-16 preseason with their Fan Fest intraquad scrimmage at the Moda Center on Sunday night. The White team, which featured CJ McCollum and Meyers Leonard won the game 31-30.
Damian Lillard, playing for the Black team, was voted the name's MVP via fan voting. It was the second time he's taken home the coveted trophy. McCollum was the game's leading scorer with 12 points on 6-for-15 (!) shooting, clearly taking to his new role with no hesitation, even in a scrimmage.
Lillard sheepishly accepted the award, raising a fist in the air and giggling. Apparently Chris Kaman–who didn't play due to "variety of injuries," and just being a 12-year vet–didn't let him live it down.
"Kaman told me it was a popularity contest, Kaman is always talking trash," Lillard said.  "I think it was no one MVP out there."
Lillard did have the most highlights, including a tip-slam which was improbably waived off by the game's referees between quarters.
The night began with President of Basketball Operations Neil Olshey leading the team out of a tunnel, almost like a college football coach would led the team out before a game, with Damian Lillard following behind.
The teams were divided up via draft by the coaches.
Despite the poor outside shooting–both teams combined to shoot 0-for-21 from long-range–fans were clamoring for overtime and were excited to see their new Blazers. 13,934 fans turned out according to the Blazers organization.
It was not a pretty game, which of course, it's preseason and the first time many of these guys have played in front of this crowd in a Blazers uniform.
The Blazers have gone through several days of two-a-days, which Lillard said contributed to the combined 0-for-21 3-point shooting night for both teams. The quarter-length was also cut down to six minutes, presumably to cut down on the minutes for everyone considering they have a preseason game tomorrow night against Sacramento.
"It's training camp so sometimes your legs just dead," Lillard said.  "Sometimes your legs are just tired. I thought we had energy tonight, actually. I think usually, each of those quarters would have been twice as long. So at some point 4 or 5 of those would have went in."
Head coach Terry Stotts said that the shooting was an outlier and not something indicative of how the team will shoot going forward.
"It got a little ragged at times," Stotts said. "Obviously we didn't shoot the ball well. We were 0-21 from 3's. It means  they're going to be raining tomorrow."
Stotts said that although the team didn't shoot well and things devolved at times that he was still happy with their execution on the whole.
"You look at the offensive execution, I thought we ran our sets well," Stotts said. "We executed offensively. We executed what we wanted to do, we didn't give up a lot of easy baskets. It's always difficult when you're playing against yourself because when you do something well it means you did something not so well on the other side. But, for a night like tonight I thought it served it's purpose."
The Blazers collectively are excited to finally face somebody other than themselves.
"This summer we spent a lot of time with each other, working out playing against each other," Lillard said.  "I was just telling Phil (Pressey) it's been like a month and a half where we've been working non-stop going against each other. It'll be fun to finally go against somebody else."
"It will be good just to see where we are offensively and defensively against somebody else that may not defend the same way that we do," Stotts said. "A lot of guys will be on the court. It's difficult to have much continuity as far as the rotation goes. It's hard for guys to maybe go into a rhythm because they're not going to play the stretches that they usually do. But I like the preseason game because it's a way to gauge where you are."
Observations and notes
Blazers forward Al-Farouq Aminu didn't participate in Fan Fest because he got a call that his wife was in labor. "He was here and then left," Stotts said. "He found out around 5:30 or 6. He was here and left."
The game came down to the last play after Moe Harkless made a pair of free-throws to put the white team up by 1. The Blazers drew up a play for Lillard to catch a backdoor lob pass but the pass from Allen Crabbe was a little high. The loose-ball went to Harkless who tried to unleash a windmill dunk to give the fans something to remember but he clanked it off the back of the rim. A fitting end to a pretty ugly game. "I'll take the blame," Lillard said.  "I should have gotten it.
The Blazers didn't have a great offensive night. The 3-point shooting was bad but rarely did anybody not named Lillard or McCollum get something going to the basket. Moe Harkless didn't do a whole lot with the ball in his hands and Allen Crabbe often settled for jumpers. Phil Pressey and Tim Frazier got to the rim a few times but didn't have many good finishes. Meyers Leonard put up a lot of shots and clearly has the green light on offense to do a lot of things. He didn't make a 3-pointer, got some post touches and some nice passes. But nobody had a good night. Preseason.
Noah Vonleh hit a midrange jumper and missed a few 3-pointers as well. But he isn't afraid to let it fly. He also had a nice finish at the basket against Meyers Leonard. "It was a great atmosphere, seeing all the fans faces out there. It was a packed crowd so it should be fun playing this season."
Luis Montero is not afraid to do his thing. He was 0-for-4 tonight and went to the foul-line four times. He's clearly raw, but hesitation is not something he needs to work on. HIs shot selection on the other hand could use some work.
Didn't see a whole lot from Mason Plumlee tonight save for a nice baby hook in the line. This type of environment is not one where his strengths were made to stand out.
Lillard praised Ed Davis' pick and roll defense after the game. "I'd say something about Ed Davis just in pick and roll defense. He was active, he was talking, he was confident. He was just with his voice and how he communicated, he was sure what he was doing. The way he crashed the glass. The way he rolled to the basket. I thought he did a really good job." Davis led everybody with 11 rebounds.
The highlight of the night definitely came from Comcast's kid reporter Cole, who wasted no time getting to the nitty gritty with head coach Terry Stotts after the game. "Q: What do you think about Aldridge leaving the team? A: You know, it was his choice. He earned the right to make that decision. We're going to miss him. We're going to wish him well in San Antonio. I'm looking forward to coaching this team." To be young and carefree.
As one would expect, there has been some shifting in the locker room. Damian Lillard now owns one of the four coveted corner locker spots along with Gerald Henderson, Ed Davis and Chris Kaman.
The Blazers kick off their real preseason schedule tomorrow evening back here at the Moda Center against the new-look Sacramento Kings. That game will tip-off at 7PM and like all of the home preseason games, will be carried on Comcast SportsNet Northwest.
— E. García Gundersen