Paul Allen Q & A: On Blazers' future, Aldridge departure, Seahawks and potential 2017 work stoppage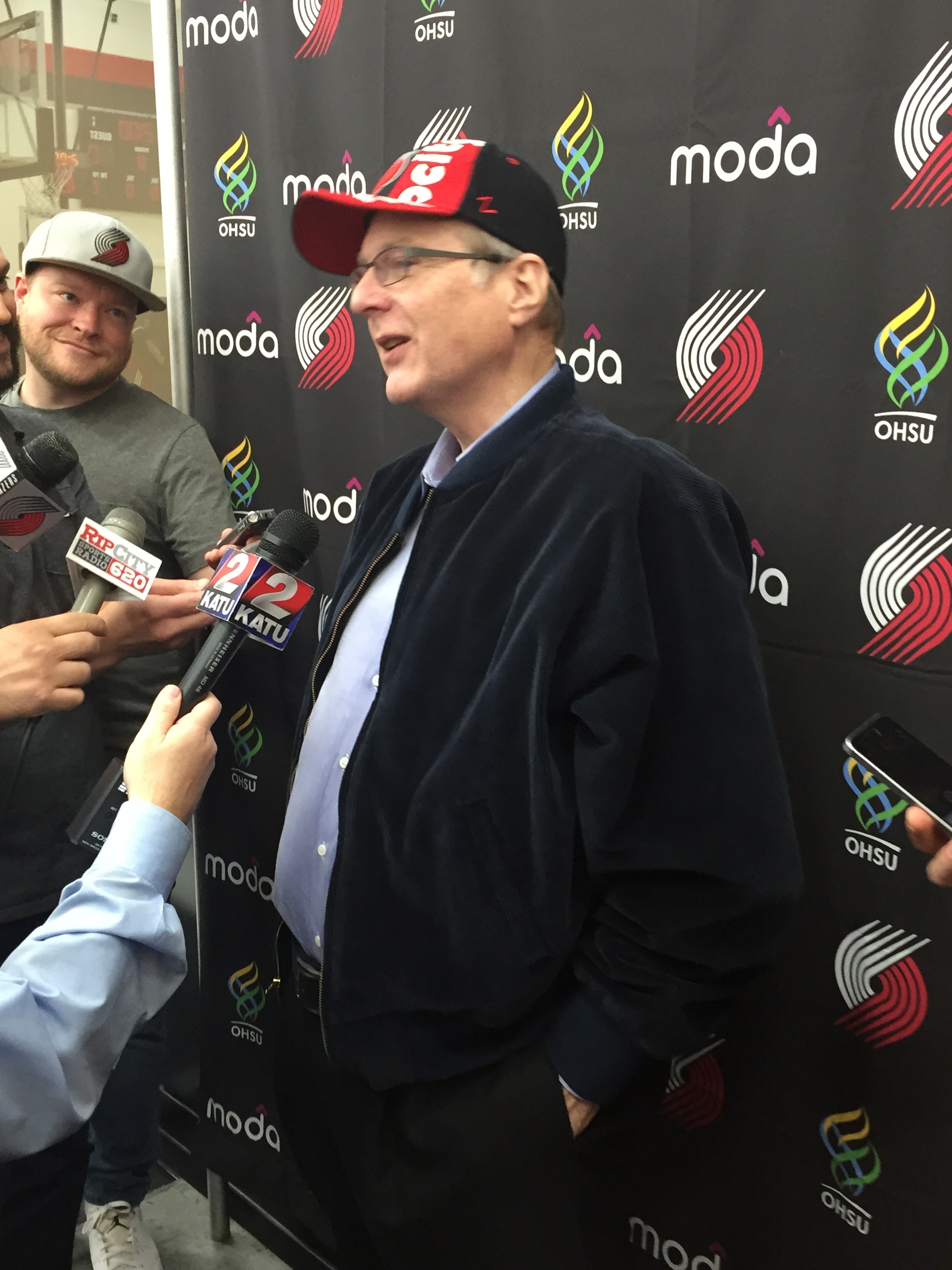 Portland Trail Blazers owner Paul Allen spoke to the media during the team's first practice of the 2015 Training Camp. For the first time publicly, Paul Allen discussed the departure of LaMarcus Aldridge and his support for Neil Olshey's vision of the team's future of the young Blazers behind Damian Lillard. He was also asked about the status of his Seattle Seahawks and the discovery of water on Mars.
Below is an edited transcript of his session today with the media.
Q: Do you feel betrayed by LaMarcus' exodus?

A: No. I think LaMarcus had a lot of options. We went down to Dallas. Neil and I pitched him. He chose to go a different direction. He made it to his last few choices and he was good enough to call me up and all that. It's tough for a franchise cause we were all thinking that we had a shot of getting him back but in the end he chose a different direction.  Now it's a new day, he's moved on and you can feel the energy in the gym now.

Q: What are your thoughts on going through a rebuild again?

A: It's always a transition but we've, I was trying to figure out how many times we've done a rebuild. I think three. But you guys can probably correct me on that I'm sure. I think probably more than a lot of owners I enjoy seeing young players develop, I always have, always will. Thats also been a hallmark of other teams like the Seahawks like I've been involved with. Seeing young players develop and seeing the players that Neil has brought in here. We've been very lucky to pivot from being a playoff team to being a team going through a transition to a team that will hopefully be back in the playoffs for too long.

Q: Is it fair to call this a rebuild?

A: We're bringing I think 6 players back. That's a big transition. That's nine players. So yeah, it's definitely a transition. But once you embrace that and see what these new players can do. I hope you get a sense of that when the games start here Monday. So that's exciting and that's going to be an exciting process.

Q: Confidence in Dame as franchise player and richest player in franchise history?

A: Dame is both an extraordinary talented player and a quality individual. When you make those big financial commitments. You need to have both those aspects there and you see the work he's done in the community and so forth. He's just a completely well rounded player and he still has room to grow in all aspects. It's great to see him as the new team leader and embracing that role. Bringing the players together in the offseason, that was fantastic.

Q: What do you think the timeline is for the rebuild?

A: I think we're going to try to compete right away. If you look at the ages of some of these players, they're some of them between 19-22 years old. We've got a lot of youth. And to see how that youth matures, everything depends on how fast they come along. Even with players like CJ and Meyers that have showed they can do it at a high level in the playoffs. I'm excited, are you guys excited?

Q: What's your confidence level with Neil (Olshey)

A: Great. Neil and I work hand in hand. We recruited LA, we talked to other players. We go through strategy frequently in the offseason. Now it's exciting to see some basketball again. The offseason seems longer and longer as the years go by. I'm excited to get into it.

Q: Feeling on the Seahawks?

A: I think any time you come one yard short, from a 2nd super bowl in a row that's a challenge to get back at it the next year. We have, we are and we've gone through a number of contract extensions and other things. I think you're going to see the team improve over the next few games. It's a very competitive league. Each game is a war. It's a little different in the NBA, you've got so many games you can see things change dramatically over the course of a season. We'll see how things go.

Q: While it's a different sport, does past experience with the Seahawks building on young players and winning give you confidence that you can turn things around with this young team?

A: If you remember when we drafted Brandon Roy and LaMarcus, I think at the time you can finally find my quotes from back then, but I was really excited. Drafting new players and I think some of the players Neil has been able to find that basically other teams weren't interested in or were undrafted free-agents, there is some talent out there. I think the more the fans and you in the media see and do, you're going to be more excited about the team's potential in the future.

Q: Worried about the fans not being excited about this re-boot as you are?

A: Well one thing about Portland fans have consistently demonstrated over the years is that if there are players that have talent, show they care, the fans will embrace them. So I'm not worried about that at all.

Q: How confident are you that the NBA will avoid another work stoppage?

A: That is so, that is something that is so hard to predict. And if it's something that I did predict I would get fined. So, I'm not going to try to predict. Clearly the league and the players are doing very well financially and I know that there are discussions but I can't comment any further than that.

Q: Did you feel like you at all settled at all in the offseason?

A: Again I just compliment Neil on finding the guys that he found. I think the interesting thing is with all the, a lot of these guys haven't experienced the type of playing time they're going to get this year. To see how they take advantage of that and embrace it. That's an exciting prospect I think for all of us.

Q: Thoughts on water on Mars?

A: I think it's super interesting.