Trail Blazers promote Jim Moran to assistant coach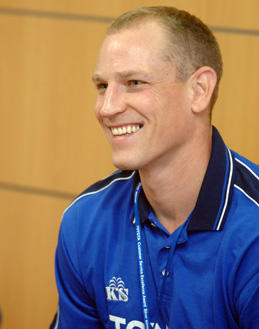 The Portland Trail Blazers officially announced the promotion of Jim Moran to assistant coach from assistant video coordinator on Tuesday morning.
"I am excited to add Jim to our coaching staff," said head coach Terry Stotts in the press release from the team. "He is a young coach with a bright future. He has a terrific work ethic coupled with a refreshing personality. He has already demonstrated a unique ability to work with our players and he will add a new perspective for us."
Moran replaces deposed assistant coach Kim Hughes and will assume Hughes' former duties of coaching the Blazers' big men. Neil Olshey announced that Moran had been promoted during his free-agency press conference but the team had not formally announced the promotion until today.
Hughes was fired this summer, days after video of him surfaced saying explicitly that the Blazers had lost LaMarcus Aldridge in free agency.
Olshey said that Moran has the size to "bang" with the Blazers big men, which is pretty evident when you see him. Moran had a stellar playing career in Spain, which ended only four years ago. According to the release, Moran is the only player in the history of Gran Canaria, to have his number retired.
There's even video of his jersey retirement ceremony. Isn't 2015 great? What a time to be alive.
[youtube http://www.youtube.com/watch?v=zBsEj8YN-ZA]
Moran was a player development coach for the Maine Red Claws of the NBA Development League in 2013 before coming to the Blazers as a video coordinator last season. Moran also played for the Irish National basketball team from 2001-06.
Moran was an assistant on the Summer League staff this summer.