NBA Live 16: Portland Trail Blazers player ratings and hilariously inaccurate avatars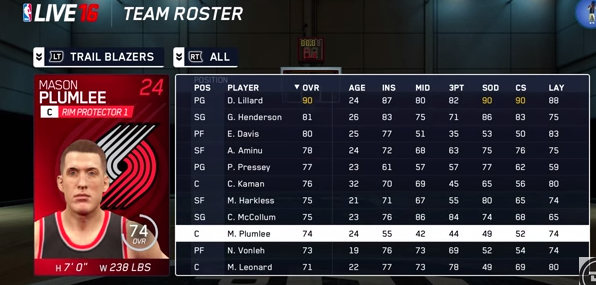 The NBA Live 16 demo came out earlier this week. The EA Sports franchise, which had Damian Lillard on the cover last year, hasn't had the same success as it's main competitor NBA 2K.
YouTube user DLloydTV posted a video going through all of the ratings. Skip ahead to the 8:50 mark of the video to look at the Blazers. But we also organized the ratings for you, as well as some of the worst Blazers screen caps. We can dissect the ratings a little bit. The NBA Live demo completely omitted Blazers rookie guard Pat Connaughton.
EA Sports produces some of the best sports video games like FIFA Soccer or Madden NFL Football. NBA Live is nowhere near the caliber of those. The Plumlee screen cap at the top looks like he got too drunk the night before, only to realize that he lost his wallet.
They also gave Meyers Leonard reddish hair and deemed his player-type "post-scorer," which is not exactly who he is. He can score in the post but it is by no means his meal ticket.
Meyers Leonard became a playoff hero, got married and got roasted by Keith Olbermann this summer. One would think this would have earned him a better avatar and a more accurate player-type description. Also, if I'm Leonard, I feel a little disrespected with that 71 rating.
Here are the ratings in full
Damian Lillard 90
Gerald Henderson 81
Ed Davis 80
Al-Farouq Aminu 78
Phil Pressey 77 (uh…okay, EA)
Chris Kaman 76
Moe Harkless 75
CJ McCollum 75
Mason Plumlee 74 (how is Plumlee not better than Davis or Kaman?)
Noah Vonleh 73
Meyers Leonard 71
Mike Miller 70
Allen Crabbe 67
Tim Frazier 65
NBA Live 16, which has Russell Westbrook on the cover this season, will be available for purchase on September 29.
In comparison to the rest of the NBA, the Blazers ratings and avatars weren't as bad. SB Nation compiled some of the best, or in this case worst, depictions of NBA players. Among them are Jahlil Okafor looking like NBA veteran Keith Bogans, and a bald man with a goatee as the shaggy haired Luke Babbitt of the New Orleans Pelicans.
They say that any publicity is good publicity.  But I can't imagine this is one of those cases where that rule applies.