Trail Mix: Rip City Relay, Eurobasket, more workout stories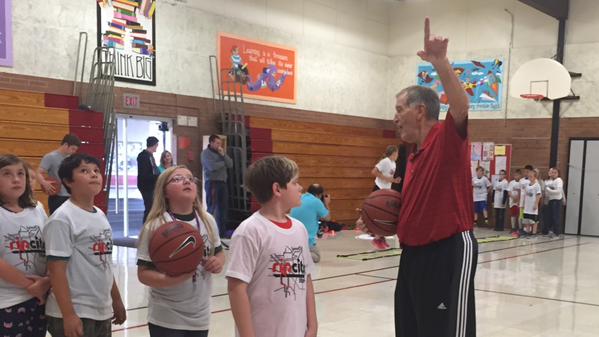 The Portland Trail Blazers are in the process of doing their third annual Rip City Relay across the Pacific Northwest. Last year they came to Clark County, stopping in Vancouver.
This year, they're covering other places that they've been unable to get to, beginning in Klamath Falls on Monday. They stopped in Medford Tuesday and made their third stop today in Roseburg.
On Thursday they move on to Albany. And on Friday they will end the relay in Woodburn. Follow along with the Rip City Relay and where they'll be, follow @RipCityRelay on twitter.
Blazers guard Pat Connaughton says that he has been looking for advice from The Franchise, Damian Lillard, according to Casey Holdahl of TrailBlazers.com.
Aside from the glowing things Lillard and Connaughton said about each other, the case for playing time for Connaughton is an interesting one. Connaughton looked very good at Summer League, especially as a player that can blend in well with the offense. He wasn't featured but took advantage of rotating defenses to make nifty plays at the basket and looked comfortable in the offense.
The Blazers have a lot of wing players. Al-Farouq Aminu is projected to start at the small forward with CJ McCollum slotted to start at two-guard. Say McCollum slides over to the point guard spot in bench units, and you've got two spots to divy up between the likes of veteran guard Gerald Henderson, third-year Blazer Allen Crabbe, Moe Harkless and Connaughton.
Harkless has smallball-4 potential, but in a development year it would be hard for me to see a scenario in which Noah Vonleh doesn't get minutes at back-up power forward, given the investment Portland made in him. Ed Davis will command minutes as well and those could come at power forward. Portland has small potential on the roster in Aminu and Harkless, but we may not see a lot of it.
The quarterfinals of Eurobasket are in the books and the semifinal match-ups are set. Thursday, former Blazer Nicolas Batum and his French side will take the Spanish national team, with a birth in the 2016 Olympics on the line. The second semifinal will take place on Friday, with Lithuania, who knocked off Italy in OT Wednesday, taking on Serbia. Serbia finished second in last year's FIBA World Cup.
Other reads: