Trail Mix: Blazers bonding before training camp, Lillard's leadership style emerging?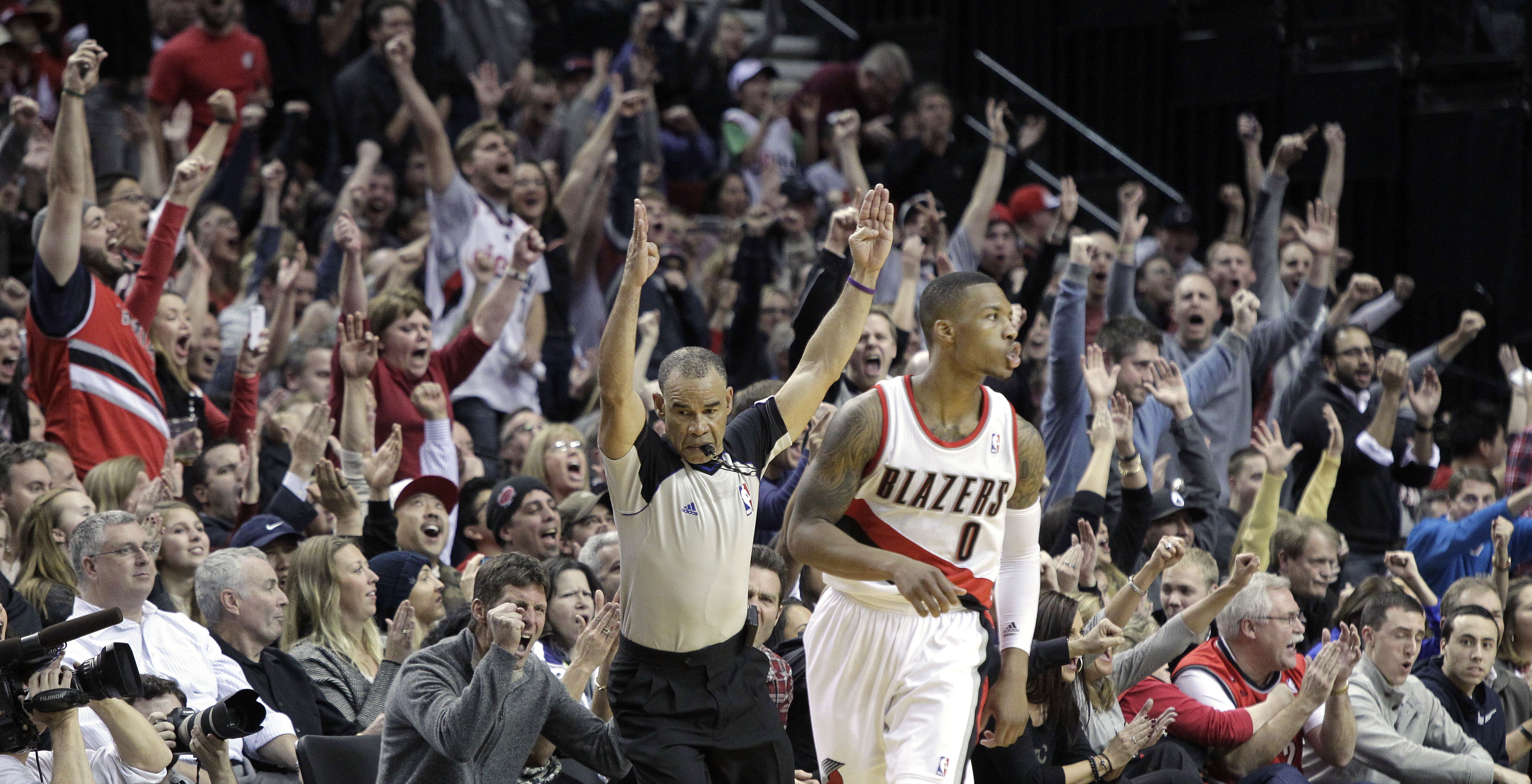 The Portland Trail Blazers are still three weeks away from training camp. But they're already making waves via social media and other reports, because they've had a bonding trip to San Diego and are practicing in Portland already. The team has been releasing photos from their sessions at the practice facility on their website.
Damian Lillard talked about the team's trip to San Diego and their early training days in Tualatin with Casey Holdahl of Trail Blazers.com. Lillard discussed playing physically against undrafted rookie Luis Montero. The story seemed to be an example of how Lillard's leadership style will be.
"I came to the gym yesterday and Luis Montero was playing one-on-one and I jumped in, just challenged him a little bit," said Lillard. "Like, I got real physical with him and I went hard on him, kind of beat him up a bit in the one-on-one. You could tell he looked a little shocked."

But now, me and him just had a long conversation about international play, stuff like that. You can tell that me being around instead of trying to be a star — I get my workout then I disappear or I lift separate from everybody else, not communicating — you can tell it really has an impact. Now when I walk up to him and I'm like 'Luis, you got to have your ass in the corner! You got to be there!' he's just gonna say 'Alright Dame, I got you' instead of him thinking I'm just coming down on him because I think I'm a star. I think that's why being around each other is so important. Now we can hold each other accountable."
LaMarcus Aldridge was a notoriously quiet leader, though he did take on a bigger role in leading the team in his final years in Portland. Even at their peak performance, Wesley Matthews was regarded as the team's vocal leader. Aldridge stated many times he preferred to lead by example, being the team's gold standard for consistency.
Intentionally or not, Lillard The Leader, has set himself as far as could possibly be from the type of leader that Aldridge was. Lillard, using the example of challenging and talking to an undrafted rookie like Montero, highlights his desire to be an accessible leader as well as his desire to be known as such.
According to Mike Richman of The Oregonian, Lillard was the one who pitched the idea of a trip and second year guard CJ McCollum chose the location.
"Obviously with the change in identity with the team, Dame being the cornerstone with the franchise, our organization kind of building around him in the 23 to 27 [years-old] range … We felt like it was important for us to get acquainted with each other," McCollum said.

Lillard initially proposed a team getaway and McCollum came up with the idea of San Diego, a warm-weather leisure destination without the distractions "of non-basketball related activities" offered by more common NBA vacation spots like Los Angeles and Las Vegas.
The Blazers are getting to know each other. The team has been known to come back for the month of September the last few seasons. Players like to get a feel for things in the gym before everything starts to count. Even if the wins will be tough to come by, establishing a culture that can withstand the trials of say, a franchise-record losing streak, is more important. In Year 1 of this new core, establishing an identity will be the first step to whatever success they may have in the future.
Blazers guard Pat Connaughton, who was drafted by the Baltimore Orioles as a pitcher, threw out the first pitch for the Hillsboro Hops' NWL Championship series on Thursday. Connaughton showed why he was selected by the Orioles by throwing a 90 MPH fastball on the first pitch. The Oregonian has video.
Mike Richman of The Oregonian pitched a question to readers this week regarding Portland's lack of a single D-League affiliate. That became a topic of discussion after the Indiana Pacers secured a single-affiliate partnership with the Fort Wayne Mad Ants of Fort Wayne, Indiana. Previously, 12 other teams had access to Fort Wayne.  Nearly 49 percent of the respondents said that Portland needed a D-League team.
It's very easy to point to teams that have had success with single-affiliates. The first team that comes to mind is San Antonio, who have used the Austin Toros as a test kitchen for their young players to develop. Cory Joseph was consistently back and forth between San Antonio and Austin until the last few seasons. And he played key roles for the Spurs in playoff games where Tony Parker was hurt.
Joseph and the Spurs are the most over-used example and Troy Daniels becoming a playoff hero for the Rockets is another example of the merits of having your own D-League team.
One of the reasons their previous D-League partnership–with the Idaho Stampede, which was sold to the Utah Jazz–was an inconvenience was the travel between Portland and Boise. The Blazers also believe strongly in their coaching staff and their in-house development prowess. I don't think the Blazers are against having a D-League squad, it would just need to be more convenient. Somewhere like Vancouver, Salem, Eugene or even Tacoma, would work much better than Idaho did.
As the television money comes in, we could see the number of teams jump significantly. But that won't happen until next year. According to Eric Pincus, the league is expected to add 1-2 teams every year prior to that jump. Toronto recently got their own D-League affiliate, Raptors 905.
Other treats:
Erastus25 at Blazersedge wrote a very interesting piece, detailing all of the major moves that Neil Olshey made with the Los Angeles Clippers and how it serves as a guide to how he will rebuild the Blazers. There's no magical disgruntled superstar unicorn that Portland can get right now, this will be a process. 
Kurt Helin and Dan Feldman of NBC's Pro Basketball Talk think that the Trail Blazers will take the biggest step back of any team in the NBA this season.
And Mike Richman analyzed how Portland will replace Robin Lopez's elite rim protection.  Lopez could be exposed in one-on-one situations, but his contributions to the team, specifically boxing out his man and protecting the rim, will be extremely hard to replace. Portland got more athletic, but they will sorely the things, little and big, that Lopez brought to their defense. Aldridge is also a very good deterrent at the rim when fully engaged. Big shoes to fill on both ends for Meyers, Mason and Ed, which sounds like a comedy trio debuting at Helium next week.