Trail Blazers release broadcast schedule, 21 games airing on KGW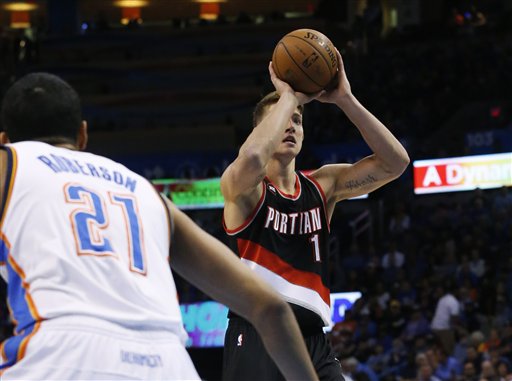 The Portland Trail Blazers announced their broadcast schedule for the 2015-16 NBA season on Wednesday morning. The Blazers will air 21 games on KGW, the local NBC affiliate, which is the most they've aired on basic cable since they aired 21 games on KGW in 2008-09.
With a sizable decrease in the number of nationally televised games, the increase in KGW broadcasts shouldn't come as a surprise.
60 games will be carried on Comcast Sportsnet Northwest, which of course you can only get by subscribing to Comcast in the Northwest.
The four games that will be shown on ESPN will also be simulcast on KGW. That includes LaMarcus Aldridge's return with the San Antonio Spurs on Nov. 11, the Atlanta Hawks on Jan. 20, the Houston Rockets on Feb. 10 and Wesley Matthews' Dallas Mavericks on March 23.
The only game that won't be shown on Comcast, KGW and ESPN is Portland's Nov. 5 tilt against the Memphis Grizzlies.
Here's the broadcast schedule in PDF form as released by the team this morning.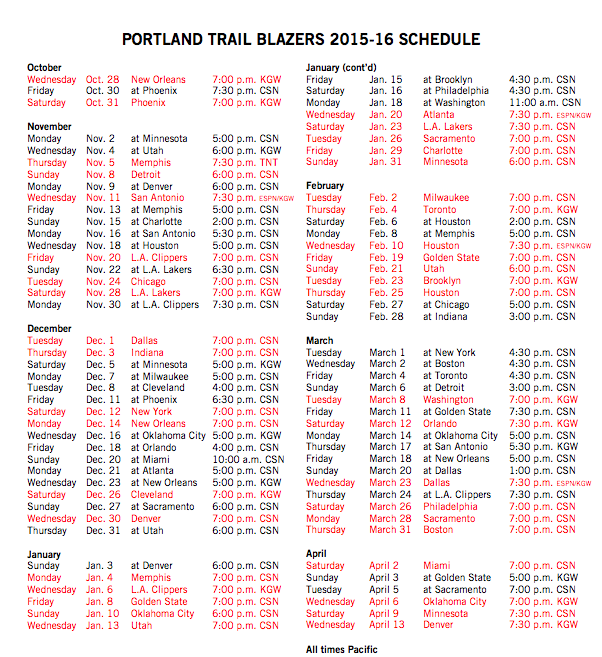 Here's the full release from the team:
PORTLAND, Ore. (September 2, 2015) – The Portland Trail Blazers have announced that all 82 regular season games will be broadcast, including 81 games on local broadcasts.
The Trail Blazers will air 21 contests on KGW, marking the most broadcasts on the NBC affiliate since 21 games were also aired by KGW in 2008-09. There will be 60 games on Comcast SportsNet Northwest (CSNNW), while the remaining game, Nov. 5 vs. Memphis, will air exclusively on TNT. Four games are scheduled to be simulcast nationally on ESPN and KGW. In addition, Portland's three home preseason games will be carried by CSNNW.
Mike Barrett enters his 17th season on the Trail Blazers broadcast team and his 13th season handling television play-by-play duties. For the 11th straight year, Barrett will be joined on the broadcast by color analyst Mike Rice, who has spent 25 years overall broadcasting for the Trail Blazers.

Adam Bjaranson, in his sixth season, and Michael Holton, who enters his ninth season, will anchor Trail Blazers pregame, halftime and postgame coverage. For home games, the Toyota Tip-Off, McDonald's Halftime Show and Bi-Mart Postgame Show will be shot live from the 100-level concourse of the Moda Center. Holton will also serve as sideline reporter during home contests.

Single-game tickets went on sale to the general public at noon on Monday, August 31. Season ticket plans offer fans the best prices and seat availability for the best games in 2015-16. Season tickets, ticket packages, Kuni Lexus Club Level tickets and suites are available while supplies last by calling 844-RIP-CITY or visiting trailblazers.com.