Damian Lillard comes in No. 24 in Sports Illustrated Top 100 Players of 2016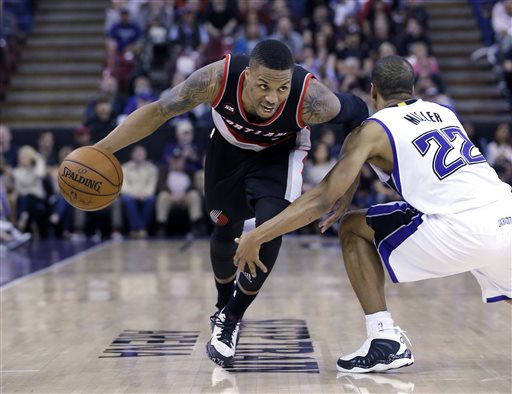 Sports Illustrated's Top 100 Players list has become a staple of the NBA summer since Ben Golliver and Rob Mahoney started making the list and grew even bigger when NBA elites started beefing over the results.
This week they've been posting their Top 100 players for 2016 and the only Blazer that cracked the Top 100 was Damian Lillard, coming in at No. 24. Lillard came in ahead of Serge Ibaka and just behind Cleveland's Kyrie Irving.
To their credit, Lillard and the Blazers managed the rough transition about as well as could be expected. He took a page out of the Kevin Durant playbook by agreeing to sign a five-year, $120 million max rookie extension without a player option on the final season as a show of loyalty. He flooded the Internet streets with photos from Special Olympics events, basketball camps, Adidas released a forest-themed colorway for his signature shoe meant to appeal to his local fans, and he said all the right things about assuming the burden of being the No. 1 guy. Lillard even coined a rap alter-ego, "Dame DOLLA," to provide his fans with the opportunity to hear him rhyme over other people's beats.

Savvy PR and maximum accessibility does help calm the nerves during the summer, but it doesn't count for anything once the games start to count. So, how good can the first edition Lillard-centric Blazers team be? Or, more to the point, how far will Portland fall after back-to-back 50-win seasons now that LaMarcus Aldridge, the team's offensive centerpiece, is gone chasing titles in San Antonio? It could get pretty rough. The Blazers will be leaning heavily on less-than-proven commodities while also integrating newcomers who aren't yet finished products. Perhaps the best-case scenario sees Lillard blasting past expectations on a one-man warpath, a la Russell Westbrook last season, and carrying his young squad to the outskirts of the West's playoff chase.
SI.com included Blazers center Mason Plumlee as one of the snubs of the Top 100 list and was the only other Blazer to get a mention.
Conversely, the four starters from last year who left for new opportunities, Wesley Matthews (99), Robin Lopez (82), Nicolas Batum (55) and LaMarcus Aldridge (12) all cracked the Top 100.