Trail Mix: ESPN forecasts Blazers to finish 11th in West, Meyers Leonard reiterates desire to lead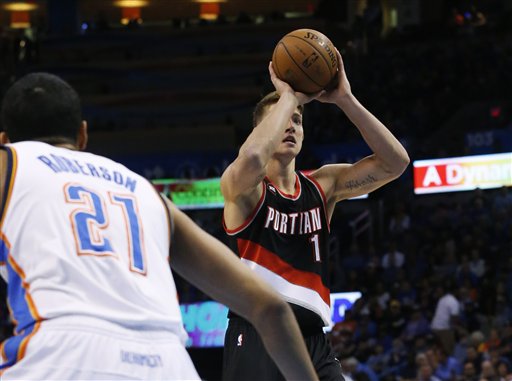 In just a little bit over a month, the Portland Trail Blazers will be doing their media day to kick off the 2015-16 season. ESPN.com released their summer forecast on a host of NBA topics last week. In their Western Conference forecast, the Blazers didn't come out too poorly, projected to finish 11th in the West with a 31-51 record. They're not in the playoffs but they don't project to be cellar dweller in this preliminary forecast.
It seems that ESPN believes in the continuity of Portland's young players like Damian Lillard, CJ McCollum and Meyers Leonard, as well as their new additions like Noah Vonleh and Mason Plumlee. Neil Olshey seemed to imply he thinks that Lillard, McCollum and Leonard will all be in the starting line-up alongside Al-Farouq Aminu.
Bradford Doolittle, a writer for ESPN Insider, seems to think that the Blazers will outperform their 31-51 projection. He included the Blazers among the teams he expects to outperform their ESPN Forecast projections by two wins or more.
It's understandable that the forecast sees a 20-game decline over last season. Neither my system nor RPM is so severe, although the Blazers need Ed Davis, Mason Plumlee, Al-Farouq Aminu, Meyers Leonard and Noah Vonleh to all translate part-time prowess to bigger roles.
The Blazers have built a team that, if anything, should improve as the season continues and everyone can learn how to play with one another and the newcomers can adapt to the system. The Kings have more veteran talent and the Denver Nuggets had a very encouraging finish to the season last year. Both teams are slated to finish behind the Blazers in the ESPN forecast, which is up for debate. Minnesota with Andrew Wiggins and 2015 No.1 pick Karl Towns are another possible candidate to jump the Blazers.
But Portland has some decent roster continuity, outside the loss of 80% of the starting line-up. Many of the pieces have familiarity with a system that has resulted in back-to-back 50-win seasons. Frankly, 11th was a little higher than I expected but it seems that Portland's system and offseason moves after the Aldridge exodus have swayed national voices more than big name acquisitions (Kings) or teams led by rookie point guards and new head coaches (Denver).
Meyers Leonard threw out the first pitch for the Hillsboro Hops game on Thursday evening. He spoke to the media in attendance and once again reiterated his desire to be a leader of the team alongside Damian Lillard.
From Dwight Jaynes of CSNNW.com
And fired up to help Damian Lillard with leadership on this year's team.

"Obviously, Dame and I are the guys who have been here the longest and he's going to be our leader. But I hope to be right there by his side, kind of a co-leader, right there having his back through the ups and downs," Leonard said Thursday night in Hillsboro.
Leonard hasn't shied away from the responsibility of helping lead the team since the moment that Aldridge announced his decision to go to San Antonio. Leonard said as much during the team's first media availability after Aldridge left.
It's evident after the shake up that this team will be Damian Lillard's team.

"Now that he's the only starter left, I think he's going to take a lot of the brunt of the leadership," Leonard said. "I truly believe that he can do that. But I want to be right next to him."
Leonard's growth had been somewhat marginalized when seen in the context of Portland's summer. With Aldridge, Matthews, Batum and Lopez leaving, it was hard to point to Leonard's improvement as something that actually matters. But if he can guard his position, whether at center (a much better fit, especially against smallball line-ups), or at power forward and continue to knock down open 3's, that's a game-changer.
Small-ball is the present of the NBA. The next step in this evolution will be having players with size be able to do the things that small-ball line-ups can do. Leonard has already shown that he can shoot with the best of them. And his willingness to lead the team is positive. But it's hard to lead without producing on the court, and Leonard started to show in the close to his third season that he can do just that. And the fact that he is steadfast in his desire to be a leader may make the Blazers feel a little easier about having a big part of their future in his hands.