Trail Mix: Dame DOLLA performs live in Portland, Neil Olshey rehashes free-agency on Grantland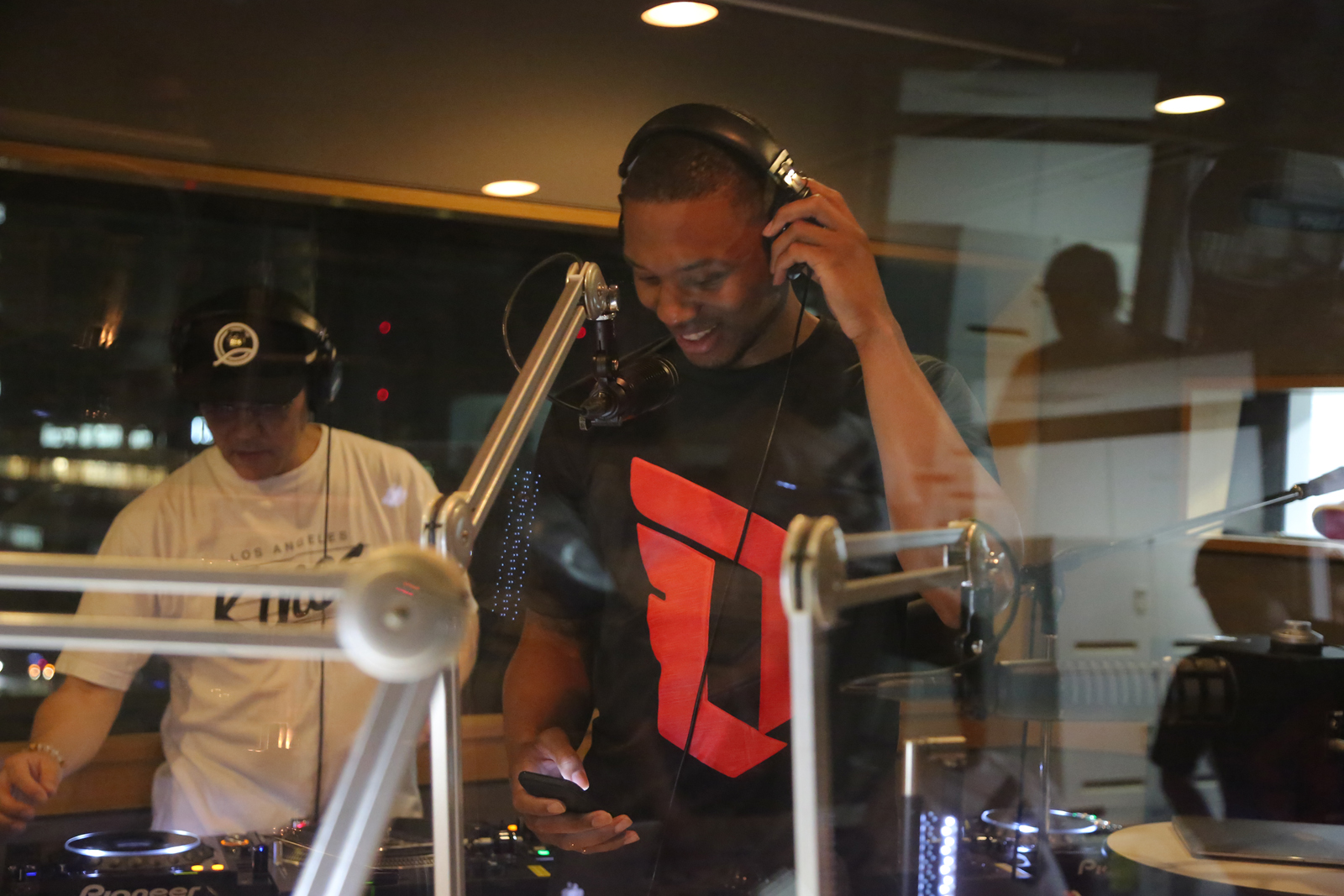 Portland Trail Blazers All-Star guard Damian Lillard loves to rap. His boss Neil Olshey doesn't listen to it (more on his interview with Zach Lowe below). And last night, for the first time, his alter ego Dame DOLLA took to the stage at Holocene in Portland for a featured verse alongside his cousin Brookfield Duece who was opening for Portland-based rapper Glenn Waco.
Full video of Lillard's performance comes courtesy of We Out Here.net. Duece stops the song "I Wish I Could Tell You" at the 2:15 mark to bring Dame on stage.
[youtube http://www.youtube.com/watch?v=qdl9EUh5vr8]
Rumors were spreading that Lillard may show up leading up to the show. Mac Smiff of We Out Here posited how the rising profile of Lillard's musical pursuits may lead to an increase in exposure for local rappers.
Here's a studio version of "I Wish I Could Tell You" if you had trouble hearing the words as I did in the live video. Always the struggle when being so close at a hip-hop show.
[soundcloud url="https://api.soundcloud.com/tracks/219667009″ params="auto_play=false&hide_related=false&show_comments=true&show_user=true&show_reposts=false&visual=true" width="100%" height="450″ iframe="true" /]
(Hat-tip to the Willamette Week)
Blazers President of Basketball Operations joined Grantland's NBA writer Zach Lowe on the latest edition of his podcast "The Lowe Post."
They discussed Olshey's perspective on the LaMarcus Aldridge departure and the new, "absolutely not a rebuild" direction of the team. Then they got into a lengthy discussion on Seinfeld trivia after that before touching on Aldridge and the direction of the team once again. Apparently Olshey still pays dues to the Screen Actors Guild and votes on their awards.
Olshey also suggested that talks between the Blazers and Meyers Leonard's camp for a rookie extension have not yet occured and will most likely take place in October when the Blazers open camp.
Still no word on the severity of Moe Harkless' ankle injury that is putting his participation for Puerto Rico in the FIBA Americas in doubt.
But one player whose status is no longer in doubt for the FIBA Americas is Portland guard Luis Montero, who was previously slated to play for his native Dominican Republic team, and was signed to the Blazers to a 3-year non-guaranteed deal with $600 K guaranteed in year one.
A source told The Columbian Thursday morning that Montero had decided not to play for the National Team and instead focus his time and energy in the upcoming NBA season and training camp. The source added that Montero is expected to be back in Portland this coming Monday.
In other FIBA news, Al-Farouq Aminu and his Nigerian side cruised to a 24-point win over Gabon in Thursday's quarterfinal clash in Tunisia. Aminu had 17 points, 5 rebounds, three assists and this alley-oop dunk below.
[youtube http://www.youtube.com/watch?v=BBsAjDVNEqU]
Full highlights of the game can be found on YouTube or on FIBA.com.
Former Philadelphia 76er and NBA legend Darryl Dawkins aka Chocolate Thunder passed away on Thursday at the age of 58 to a heart attack, according to a statement released by the Dawkins family through the NBA.
"Darryl touched the hearts and spirits of so many with his big smile and personality, ferocious dunks, but more than anything, his huge, loving heart," the statement from the Dawkins family said. "His family, wife Janice, children Dara, Tabitha, Nicholas and Alexis, along with countless family, friends, and fans, all mourn his loss. More than anything Darryl accomplished in his basketball career as the inimitable 'Chocolate Thunder,' he was most proud of his role and responsibility as a husband and father.  We ask that the public please respect our privacy as we grieve his loss."
NBA Commissioner Adam Silver issued this statement just moments ago.
"The NBA family is heartbroken by the sudden and tragic passing of Darryl Dawkins," Silver said. "We will always remember Darryl for his incredible talent, his infectious enthusiasm and his boundless generosity.  He played the game with passion, integrity and joy, never forgetting how great an influence he had on his legions of fans, young and old.  Darryl was beloved around the league and he will be deeply missed by his friends, family, teammates, and coaches, as well as the millions of fans who witnessed the high-flying brilliance of the one and only 'Chocolate Thunder.'  Our thoughts and prayers are with Darryl's wife, Janice, and the entire Dawkins family during this difficult time."
And without Dawkins a huge part of Blazers history would not exist.
Personal story: my parents were on a date at the Southgate Theater in Southeast Portland that no longer exists in June 1977 and ran into Darryl Dawkins at the theater catching the first Star Wars flick. I was fortunate to cross paths with him at All-Star weekend and he really was like everybody said, full of life, always positive and always laughing very loudly.
"Chocolate Thunder" was a big personality and had an impact on many in the basketball community and on fans of the game with his charisma.  He will be missed. RIP.