Trail Mix: Damian Lillard stars in new Foot Locker x adidas ad with Andrew Wiggins, Jimmy Kimmel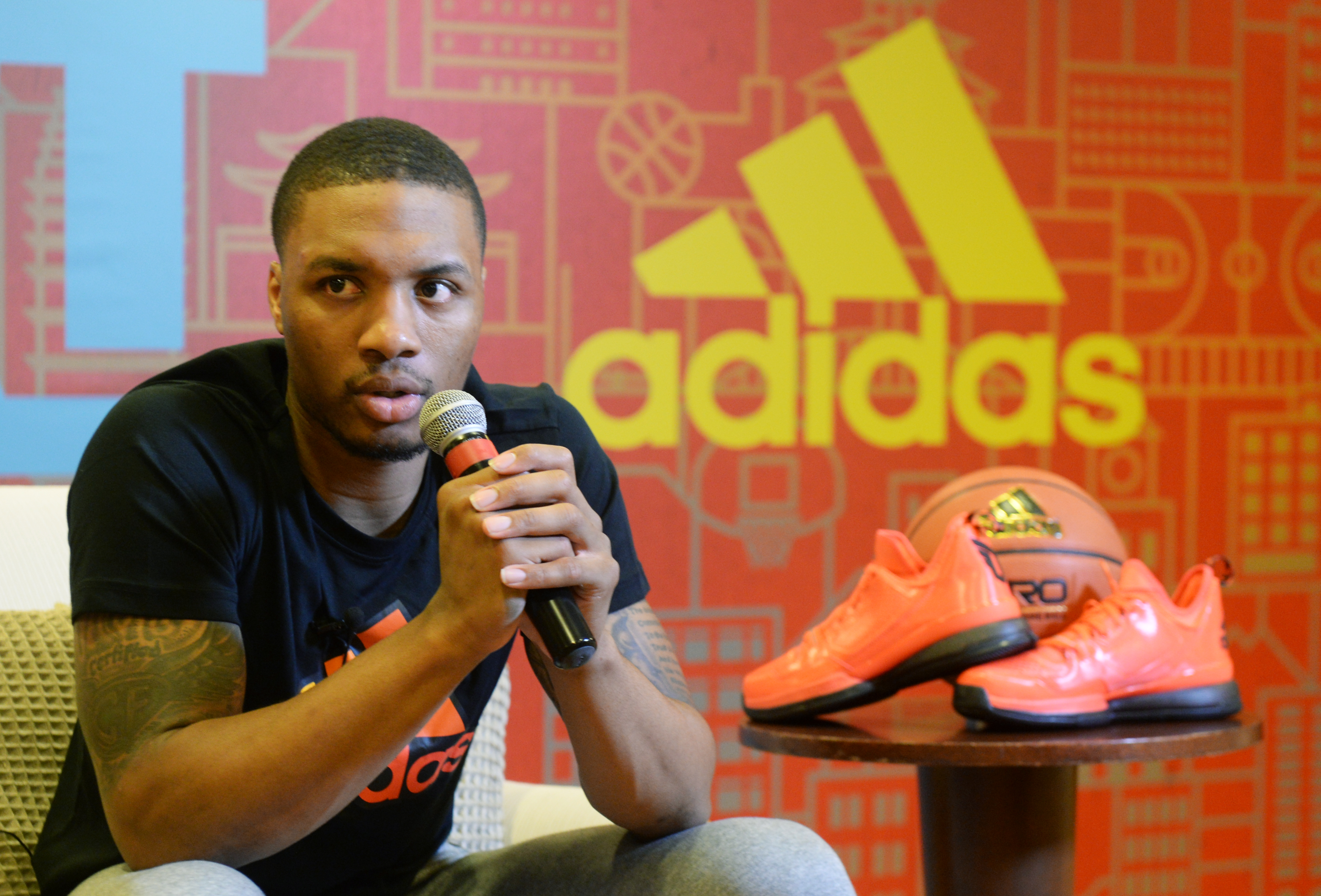 Portland Trail Blazers guard Damian Lillard appeared in a new Foot Locker x adidas commercial, which dropped earlier this morning. In the video, Damian Lillard is joined by 2015 Rookie of the Year Andrew Wiggins and late night TV's Jimmy Kimmel showing he's played a little pick-up in his day.
See it for yourself.
[youtube http://www.youtube.com/watch?v=OYwZegJC7RU]
Lillard has been featured in almost all of adidas major ads since signing a 10-year extension with the company. Obviously we can all see why.
He's got the chops, but the writing on these Foot Locker commercials continue to be the best. I honestly can't remember one of their recent ads that wasn't at least worth a chuckle. Whether it's their Nike ads with Anthony Davis wearing James Harden's beard or the last year's adidas "No Rings" ad, they're consistently entertaining.
Does Lillard have a LeBron James/Trainwreck-type role in the next Jonah Hill movie? Should I be getting some kind of commission for this?
Blazers forward Al-Farouq Aminu is in South Africa with several other NBA players in the lead up to the league's first ever game on the continent. Aminu is the only current Blazer that is on the trip. Aminu, the son of Nigerian parents, will play for Team Africa where he will be joined by former Blazer Nicolas Batum.
Here's a photo from Aminu's Instagram of him working at a clinic with kids in Johannesburg.
Team Africa will be coached by Spurs head coach Gregg Popovich. The World team is headlined by Chris Paul. Full rosters for both teams can be found here. Jabari Young of CSNNW.com broke down the battle for the third point guard spot on the Blazers between Phil Pressey and Tim Frazier with some Danny Ainge quotes about Pressey's time in Boston.   Also, it turns out that Chris Kaman's web series "Exploring Kaman," will soon be available on your cable box, provided you have Mark Cuban's AXS TV network. AXS will carry the five-part series on their network, beginning on August 5 at 11PM EST. Here's a hilarious snippet from the press release announcing the show.
Throughout the six-week run, the series gives viewers a front-row seat on this one-of-a-kind adventure, as the NBA big man and his buddies catch a 20-pound tuna in Cabo San Lucas; romance local senoritas… with disastrous results; and deal with bruised egos, clogged toilets, and more, as they attempt to reel in a 1,000-pound marlin while keeping their friendship—and sanity—intact. With his witty personality and passion for fishing, Kaman is the perfect guide for this immensely entertaining journey that is as heartfelt as it is hilarious.
(Hat-tip to The Godfather, Dwight Jaynes of CSNNW) And in our last news nugget for this post, Blazers fans have pitched in to buy wedding gifts for soon-to-be newlywed center Meyers Leonard. Leonard's wedding and ceremony have already been subject to scrutiny on the national level.
Leonard received a "Rip City Radio 620 AM" jersey, a scented candle and an Oregon shaped charcuterie board/serving platter. I've seen other outlets refer to it as a cutting board. These are lies! It is for serving! Don't ruin a beautiful thing, Meyers and Elle! Then again, a health freak like Leonard probably doesn't have time to waste on cured meats and cheeses. Perhaps I'm barking up the wrong tree. But principle is principle! That thing is not a cutting board even if you use it like one.
620 AM's "Rip City Mornings" show hosted by Andy Bunker and Taylor Danforth started a GoFundMe page for a gift for Leonard this summer and they scored Leonard some pretty cool stuff.