Why are the Portland Trail Blazers sticking with their defensive scheme?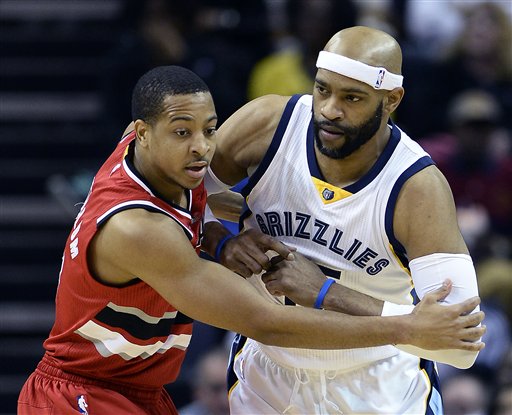 The Portland Trail Blazers may make some changes on the offensive end, but defensively, the Blazers aren't changing at all. During their introductory press conference for Al-Farouq Aminu and Ed Davis, head coach Terry Stotts admitted that he wasn't sure of a whole lot but was firm that the defensive scheme wouldn't change. Mike Richman of The Oregonian had a more in-depth report on Portland sticking with their scheme after Stotts spoke to reporters in Las Vegas.
"I don't see us making a lot of changes defensively," Stotts said when they introduced Aminu and Davis. "I think we've really grown over our three years here in establishing a defensive style that has given good results. I don't see much changes in that."
As Richman addressed, the infusion of athleticism isn't going to mean you're suddenly going to see aggressive pressure defense.
By adding the athleticism, the hope should be that it makes their system better. It will be hard to make their system better without Aldridge and Lopez in the middle, who could both protect the rim. Lopez was skilled at boxing out and Aldridge was almost always in the right place. Portland has added athleticism, but that duo just had a knack of being at the right place usually. It's unclear whether Portland's group of big men can do that as a group yet.
We saw what happened to the Blazers' defense when they lost a healthy Matthews. Portland–a top-five unit before the Matthews injury–was 24th in defensive efficiency in the month after his injury. Portland's opponents also finished the season shooting remarkably well from long-range.
So why not change it up? It's a question I've heard more than a few times already. Stotts is right that the Blazers have made major strides defensively since he came to Portland, and in only two did the Blazers have the same scheme.
Continuity is something that the Blazers success the past two seasons was built on. Expecting this season's team to play with the same togetherness is not what the team is doing. They are simply trying to improve on something that has worked for them and has at this point become a best practice in the NBA. ICE pick-and-roll defense is something that several, if not most teams do.
We wrote about the improvements Portland had to make from Year 2 of Stotts to Year 3. For much of the year they did improve everything they needed to, specifically forming a better weak side shell and getting in the top-ten in defensive rebounding.
"Honestly, I'm kind of going into it like three years ago when I got the job," Stotts said.  "We had a relatively young roster, we had a lot of new players."
But Stotts is already at least a few steps ahead of where he was when he first came into the job. Portland is rich in young talent, ranking 6th in young cores according to ESPN.com.  They've got guards that have proven they can score and a couple of their key big men moving forward (Leonard and Vonleh) stretch the floor.
But a sound defensive scheme was something Portland didn't have in Year 1. While they said that blitzing pick and rolls with their big men was part of the plan, the major problem was they didn't really have a plan.
Stotts took over the defense and it has improved since. And that scheme, the familiarity, is one of the last vestiges left over from a team that went to the playoffs and won 50-plus games in back-to-back seasons. To a degree, the scheme represents part of their success and how they can get back there. The Blazers have Lillard in the fold but they need more than that.
Keeping things the same will help those like Meyers Leonard continue to grow within the system. And since it's fairly common around the league, including in Charlotte where two of Portland's new players come from, it should be easy for players to acclimate.
Also, continuity and communication is as important on defense as it is to offense, maybe more. Offensively the Blazers will rely on Damian Lillard and CJ McCollum. Defense is the area where almost everyone says they need to improve. And it becomes easier to improve–especially when you're workload on the other end has gone up–when what you're asked to do doesn't change.
Portland added some gifted athletes and very good individual defenders. Those are requirements in the playoffs when facing elite scorers, but it really only matters if you have a system that gets you there. Portland doesn't have a lot, but the few returning players they have can fall back to the same principals.
Stotts has said he wants the nuts and bolts of the offense will be the same and that the team may shoot fewer 3-points without accomplished shooters like Matthews and Batum on the wing.
After an offseason that has been marked by major turnover, the Blazers could use a little stability. At the very least, keeping their defensive scheme gives them that.