Blazers rest Vonleh, Connaughton in 72-64 win to close out Summer League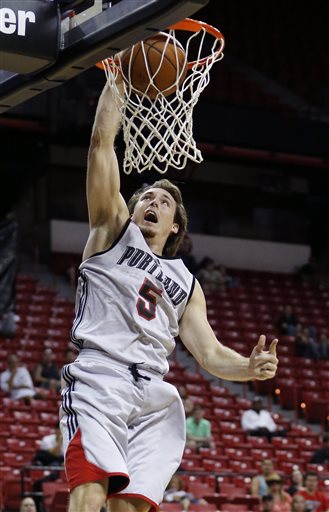 The Portland Trail Blazers and the Toronto Raptors played in each other in the final consolation game of Friday's Summer League slate. It was the last game for both teams and the Blazers won 72-64, led by 24 points from Andrew Dawkins.
I was unable to see the last game because I was flying back from Las Vegas.
The Blazers rested Noah Vonleh and Pat Connaughton, who both showed flashes of potential. Vonleh showed fearless shooting and more patience when it came to using his athleticism, ball handling and size off the dribble.  He made 5-of-10 3-pointers and patience off the dribble is something Evans Clinchy focused on in a very good breakdown of Vonleh at Blazersedge. With what he showed, there is no reason he shouldn't be part of the rotation on opening night even though he has the had some defensive lapses. The best thing about him is that he's shown frustration when he makes mistakes and clearly wants to learn from them.
Connaughton showed that he already understands the concept of NBA spacing as well as how to move with the action. He showed flashes of friskiness off the dribble and some fantastic finishes. He also has solid 3-point range. He has a chance to play next year.
The Blazers started Tim Frazier, Andre Dawkins, Luis Montero, Malcolm Thomas and Daniel Orton. Thomas has been one of the Blazers' most consistent players all week. Frazier had a strong start but struggled in the latter two games of Summer League.
Frazier bounced back nicely to start and Andre Dawkins started making some shots. But Luis Montero, despite a few bad turnovers and a couple of times being out of position on defense, made some early highlights with acrobatic finishes at the rim. One of his biggest issues defensively is following the ball. He has to trust in Portland's defensive system and help without totally leaving his man wide open on the perimeter. He finished with 17 points, nine rebounds, two blocks and six turnovers, many of which were terrible. One in particular on an entry pass where he threw it to the man guarding him was the worst.
There wasn't a whole lot else to look for in this game. It was good for those of us that know nothing about Montero to get more of an extended look. He's very raw but has skills. He clearly needs a lot of work to develop confidence in Portland's read-and-react system. If he freelances too much he gets himself in trouble. He gets caught being indecisive at times. But he did shoot efficiently, going 6-for-10 including 2 3-pointers.
The Raptors also rested a bunch of their roster players, including Norman Powell (one of their best scorers in the week) and Delon Wright (hamstring injury). But they did play Bruno Cablocclo and Lucas "Bebe" Nogueira.
Dawkins continued to get shots up. Kenny Chery got his first real extended run of the summer league. And Dawkins gave Portland a 3-point lead in the final two minutes. Pretty much every possession was shoot first, ask questions later towards the end. Dawkins hit another to put the game away.
Frazier finished with 8 points and seven assists but was two-of-nine from the field.
The Blazers finished the summer league 3-3.