Keith Olbermann roasts Meyers Leonard and fiance, Leonard shrugs it off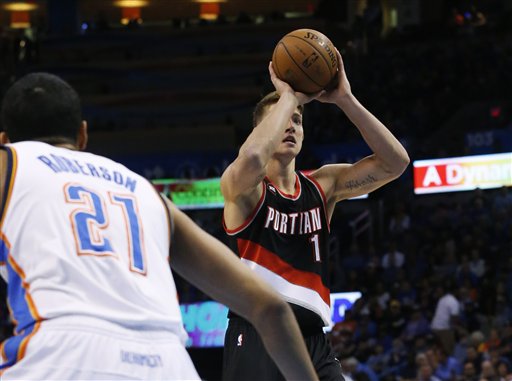 Portland Trail Blazers center Meyers Leonard is getting married in August to long-time girlfriend Elle Bielfeldt. Earlier in the week, Leonard publicly revealed some of his wedding plans and his hopes to include his dog Bella in their wedding. At his fiance's request, he needed to get 3,000 retweets to get the cute Bella in the ceremony.
Okay everyone I NEED your HELP!! My fiancée has agreed that if I get 3,000+ Retweets Bella gets to be in our wedding! pic.twitter.com/HTaw2emuzs

— Meyers Leonard (@MeyersLeonard11) July 13, 2015
Leonard of course got well over 3,000 retweets within hours of the first tweet. With NBA free agency almost over and only replacement-level players left on the market, there isn't a whole lot to discuss in the sports world. Major League Baseball is still in the midst of its All-Star break while summer competitions like PanAm Games get airtime on SportsCenter. It's a dead time. And thus, ESPN's king of roasts and rants Keith Olbermann took the opportunity to lay into Bielfeldt's request. He even went as far as to say that Leonard should dump her before the wedding.
See for yourself.
[youtube http://www.youtube.com/watch?v=lJOYWoxJszs]
Leonard came back at Olbermann with the perfect response.
Well @ESPNOlbermann gave Elle and I a good laugh today.. https://t.co/vejl1bLrDT .. Trust me, she's got the "Attributes" I'm looking for. Ha

— Meyers Leonard (@MeyersLeonard11) July 15, 2015
This is what Olbermann does. He's one of the best orator's, if not the best we've seen in Sports television. But whether he admits it or not, he's also good at playing a character. His rant was a little ridiculous, but it's sports, so the dramatic affect should be taken with a grain of salt. Olbermann is very good at getting people to take his takes seriously.
Leonard knows how the game is played.