Portland Trail Blazers release 2015 Summer League roster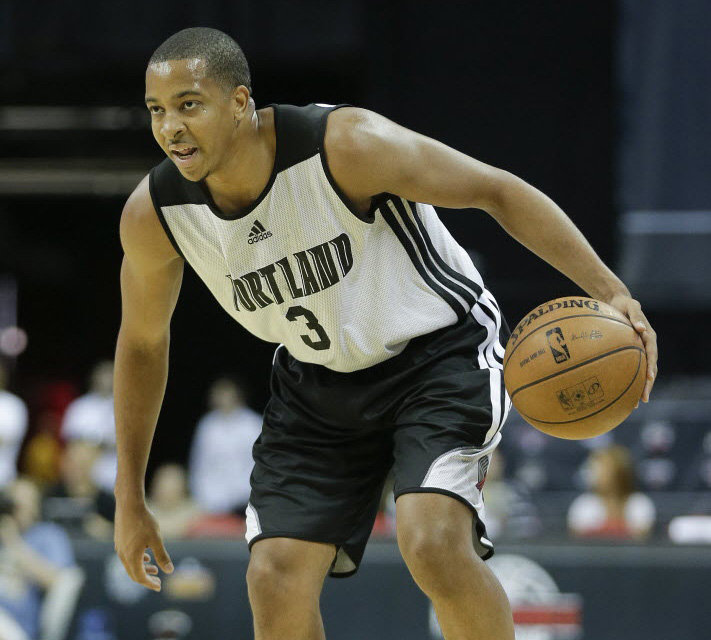 The Portland Trail Blazers will begin their Las Vegas Summer League season on July 11 against the Boston Celtics. On Tuesday morning, the Blazers released their full summer league roster which includes new additions like Noah Vonleh and Pat Connaughton as well as holdovers Allen Crabbe and Meyers Leonard. 11-year veteran Keith Bogans is also on the Blazers summer league team.
Assistant coaches Nate Tibbetts and Dale Osbourne will alternate the head coaching duties for the summer league squad.

No.      Name                     Pos  Ht     Wt     Birthdate    Last Played                      NBA Years

60       Keith Bogans           G/F   6-5    215   5/12/80      Boston Celtics                   11

6         Kenny Chery            G     5-11  180   1/24/92      Baylor                              R

16       Karl Cochran            G     6-1    175   9/7/92        Wofford                            R

5         Pat Connaughton      G     6-5    215   1/6/93        Notre Dame                      R

23       Allen Crabbe            G     6-6    197   4/9/92        Trail Blazers                      2

29       Andre Dawkins         G     6-4    206   11/19/91    Sioux Falls (D-League)        1

40       Stephen Dennis        G     6-6    180   10/2/87      Melbourne United (Australia) R

10       Tim Frazier              G     6-1    170   11/1/90      Trail Blazers                      1

8         Ra'Shad James        G     6-1    193   1/26/90      Reno (D-League)                R

17       Marko Keselj           F      6-9    218   1/12/88      Mega Leks (Serbia)             R

44       Luis Montero            G     6-7    185   4/6/93        Westchester C.C. (N.Y.)       R

11       Meyers Leonard        C     7-1    255   2/27/92      Trail Blazers                      3

34       Arnett Moultrie         F      6-11  250   11/18/90    Jiangsu Dragons (China)      2

18       Daniel Orton            C/F   6-10  255   8/6/90        Grand Rapids (D-League)     3

26       Malcolm Thomas      F      6-9    225   11/8/88      Philadelphia 76ers              4

21       Noah Vonleh            F      6-10  240   8/24/95      Charlotte Hornets               1

Summer League Coaches:                                 Nate Tibbetts (South Dakota)

Dale Osbourne (South Alabama)