Aldridge and co.: An appreciation of Portland's 2013-15 starting 5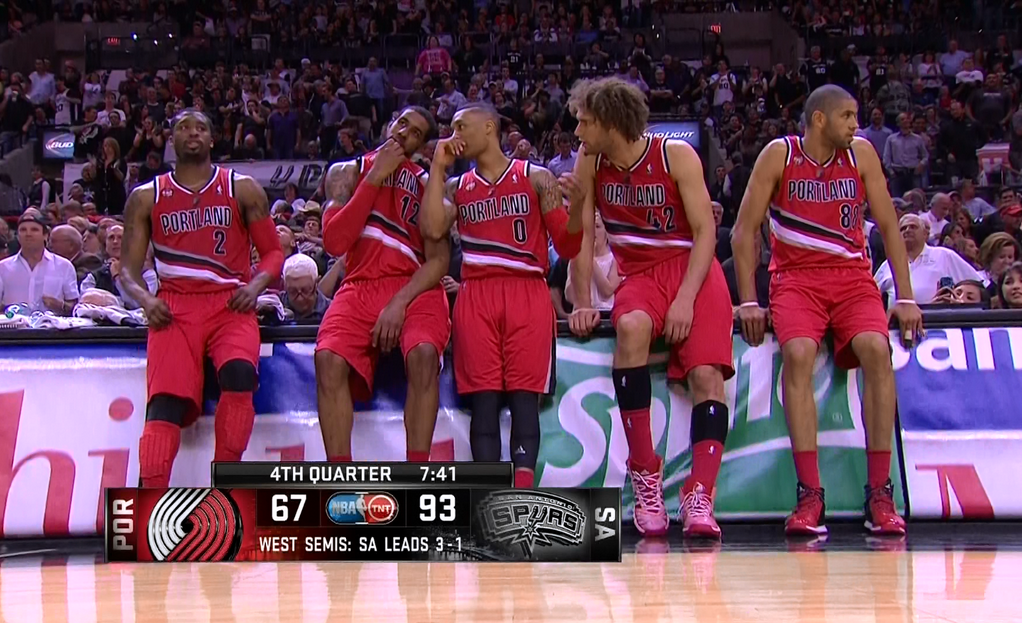 If you play basketball ever so often, you know the phenomenon I'm about to discuss. I'm not the first to write about it and I won't be the last. When you walk into a gym and you're paired with four other strangers, sometimes it just clicks. You might never see them again, but when you hit the court, there was nothing you couldn't do and nobody you couldn't beat. And in some ways, that's what happened to the Portland Trail Blazers over these past two seasons.
While there is a future ahead, we have a lot more time to talk about a rebuilding team in the future. We promise, once summer league comes, the past is the past.
Portland had long thirsted for a winner and after all the expectations for the "Rise With Us" era resulted in no playoff wins, this team sprung up out of nowhere to win a playoff series. Sure, by most standards, this is nothing to write home about. But for almost a decade and a half, Portland was just another outpost. The NBA office where you were heard from, but rarely seen.
And in that seclusion, the team that Blazers President Neil Olshey put together became a contender. Olshey put together the team, but the success that they had, even if you had asked them, was a surprise. Portland went from the lottery to having the best record in the NBA two months into the season, accelerating their development. While Olshey built the roster in a smart way, there was no telling that the team would be this good.
Perhaps it was how different all of them were, or how much more comfortable LaMarcus Aldridge finally felt in his own skin. But Aldridge assumed the mantle as the team's leader–flanked by Wesley Matthews and the fearlessness of Damian Lillard–the team surged.
Nicolas Batum was mercurial, moody and always showed who he was at every moment. When it was great for Batum it was often great for the Blazers. When Batum did his magic at his best, there were and still are currently only a few players in the league that can do things that he can do with the ball. But when Batum was bad, everybody knew, but especially him. Nobody on the Blazers ebbed and flowed with their emotional state quite like Batum. But that vulnerability–that daring curiosity to ask why not?–was what made Batum special.
He wasn't Brandon Roy and he wasn't Scottie Pippen. He was the best of ourselves and at times he could be the worst. Either way–he always knew and let us in. That type of openness is rare in an NBA locker room, from any type of successful athlete period. And that vulnerability will be missed. Batum was often the pulse of the team. If they were in trouble, he would tell you. And when things were great, you'd be hard-pressed to find someone enjoying it more than him.
That vulnerability of Batum crossed with the samurai-like diligence of Robin Lopez combined for a wonderful pick and roll pairing. The locals called it the "pick and RoLo." I don't know if the secondary action for any team will ever be quite so beloved.
Lopez's personality quirks, love for comics, Powell's Books and the latest showing on Turner Movie Classics, made him the toast of the town. Fans love hustle, but around here, they love someone who loves Portland as much as they do even more (well, accept Channing Frye, maybe). Lopez's crazy eyes would get the fans in a frenzy. But that competitive fire– the fire to smash doors and get in the faces of teammates at practice–inspired his teammates. He once got in the face of Thomas Robinson with a warning to "remember what happened last year." In asking teammates, I never found out what did happen. But I did learn that for Lopez to lose his cool in practice was nothing new.
Lopez was many things, but always a winner first. He loved talking about his interests, but basketball was no mystery to Lopez. Perhaps that is why his answers on basketball matters were rarely long or engaging. Lopez knew how to win and he knew how to play.
Perhaps he thought, why doesn't everyone else get it and why are they so interested? For my money, he was the Marshawn Lynch of the Blazers. His one-liners could be the stuff of legend. But if I'm on deadline, going to Lopez's availability would simply just be a waste of time. In this sense, he was the opposite of Wesley Matthews–who even on the day he tore his achilles–was at his locker ready to give everything he had to offer.
Maybe it's no wonder why Lopez gravitated so much to Matthews. And in hindsight, it's impossible not to see how the Matthews injury related to Lopez's late season swoon in 2015. The chest bumps at the end of the starting line-ups, the constant older brother rough-housing from Matthews weren't there anymore.
This–as you see–was Matthews' way.
From a Micah Rice column earlier this season on Matthews' leadership style after he flicks a rubber band on Allen Crabbe's ear to prove a point.
But Matthews, maybe the Blazers most intense player on the court, started talking about having fun.

"You've gotta do a bunch of stuff to keep it light," Matthews said. "Like, Allen why were you doing that? You see each other every day. It's a lot easier if you like each other."

To hammer home his point, Matthews then flicked the ear of Crabbe, a second-year guard.

"It's easy to get caught up where it's competition all the time, serious all the time," Matthews said. "Sometimes you have to step back and see how blessed we are to do what we love."
If Batum was the pulse, Matthews was the team's ego. If they needed a wake up call, Matthews was there to deliver it–verbally or physically. Sometimes, Matthews' ego could get the best of him and he'd take a wild shot or make a bad turnover. But that belief in himself made him one of the best shooting guards in the league. He was undrafted, played one year in Utah and then filled in for Brandon Roy better than anyone could have imagined. His consistency and confidence helped the Blazers navigate through many storms. The ego is what kept Portland with confidence that they were one of the best teams in the NBA's better conference.
Despite the injury, he signed a 4-year deal with the Mavericks. Even though it ended poorly for the Blazers, Matthews' belief eventually paid off.
But finally there was Aldridge: the rock. Yes, he had his insecurities. Yes, he wasn't a great clutch performer in his Blazers career. I always come back to the same thing on Aldridge: 20 and 10, every single night.
And during this last era of Portland basketball, the Blazers were at their best when Aldridge was at his best. There is a feeling of backlash right now with Aldridge, that he didn't care enough about Portland because he only wrote two paragraphs about them or because he just wanted to leave. Could you blame him for editing out such unnecessary things from his letter to Portland as, "I want to play less minutes, fewer games and be healthier," or, "I want to be closer to my two children who both live in Texas,"?
But this much is true about Aldridge: as the featured player, he took them to higher than we've seen anybody else take them since 2000. Brandon Roy's heroics are well documented, but he was only healthy in one NBA playoff series. Aldridge was always left to be the No. 1, even when Roy's heroic returns from injury grabbed the headlines and the drama.
Remember Roy's comeback against the Phoenix Suns in Game 4 in 2010? He had 10 points. Aldridge had 31 points, 11 rebounds and three assists, but nobody remembers that.
Aldridge is currently a victim of being the only one of the Roy-Oden-McMillan era to leave under his own terms.
Even on the bad days you could count on one thing: 20 and 10. Brandon Roy could cook, but we don't see around these parts–or in this league–games like Game's 1 and 2 in Houston from a big man anymore.
When Aldridge had it going, he was the baddest man around. In a changing league, people don't go to the block any more possession after possession. It was like watching Shaq and Dirk Nowitzki merge into one person.
Yes, Lillard was there too, looking like a seasoned vet, but his Portland story is still being written.
Aldridge took the Blazers higher than anyone has taken them in this millennium. Brandon Roy gets credit for reviving the team after the Jail Blazers. Maybe to some people that's bigger. And in sports, I'm okay with not always weighing everything on the final result. But when Portland was at their best in this last era, it was because Aldridge was at his best. And this last era had better results than any era in the last 15 years. And if you want to look at results and production, Aldridge is clearly the best player of the last 15 years in Portland.
Becoming more of the leader on the team was a huge step in that development. He also came to be one of the better interviews, when he was in the mood. He was funny and would rarely hide his opinion about what was going on with the team. Of all, he was the most brutally honest about the team. Towards the end, you could sense the feeling wasn't the same.
Aldridge always kept to himself, but his interest in topics he used to indulge in dried up. The narrative that an injured Matthews would inspire the team to success never interested him. He knew it was just a bunch of fluff. His prospects on the team became less optimistic.
This season ended before the playoffs started, I don't think Aldridge was the only player that knew. Lopez knew, too. And perhaps Batum, who knew it was very possible he would be traded. Matthews had bigger problems to deal with. Now only Lillard is left.
But that was a fun team. They were a good team. On their best days, one of the best in the league. They helped the region fall back in love with their team and with the game. This past team's legacy was that they were everything they wished they'd had since the Drexler days. The McMillan team's were good, but boring. There's too much animosity towards the tail end of the Wallace-Stoudemire-Sabonis era for people to think straight even though that was clearly the most successful.
This last starting five showed Portland their hard-nosed team could also be affable and vulnerable. They weren't championship caliber and that is the truth. They were a dark horse this past year, but injuries derailed that. Basketball is a business and these past few weeks are a cruel reminder of that.
But for nearly two solid years, basketball around these parts was beautiful again and Portland embraced it. Terry Stotts' flow offense, the movement, the passing, the unselfishness, the willingness to–sometimes literally–fight for each other.
The way people followed the team's every move made it even more fun to cover. Despite the feelings now, this recent era of Blazers basketball should age pretty well and it's mostly because of that starting five.