LaMarcus Aldridge chooses to play for San Antonio Spurs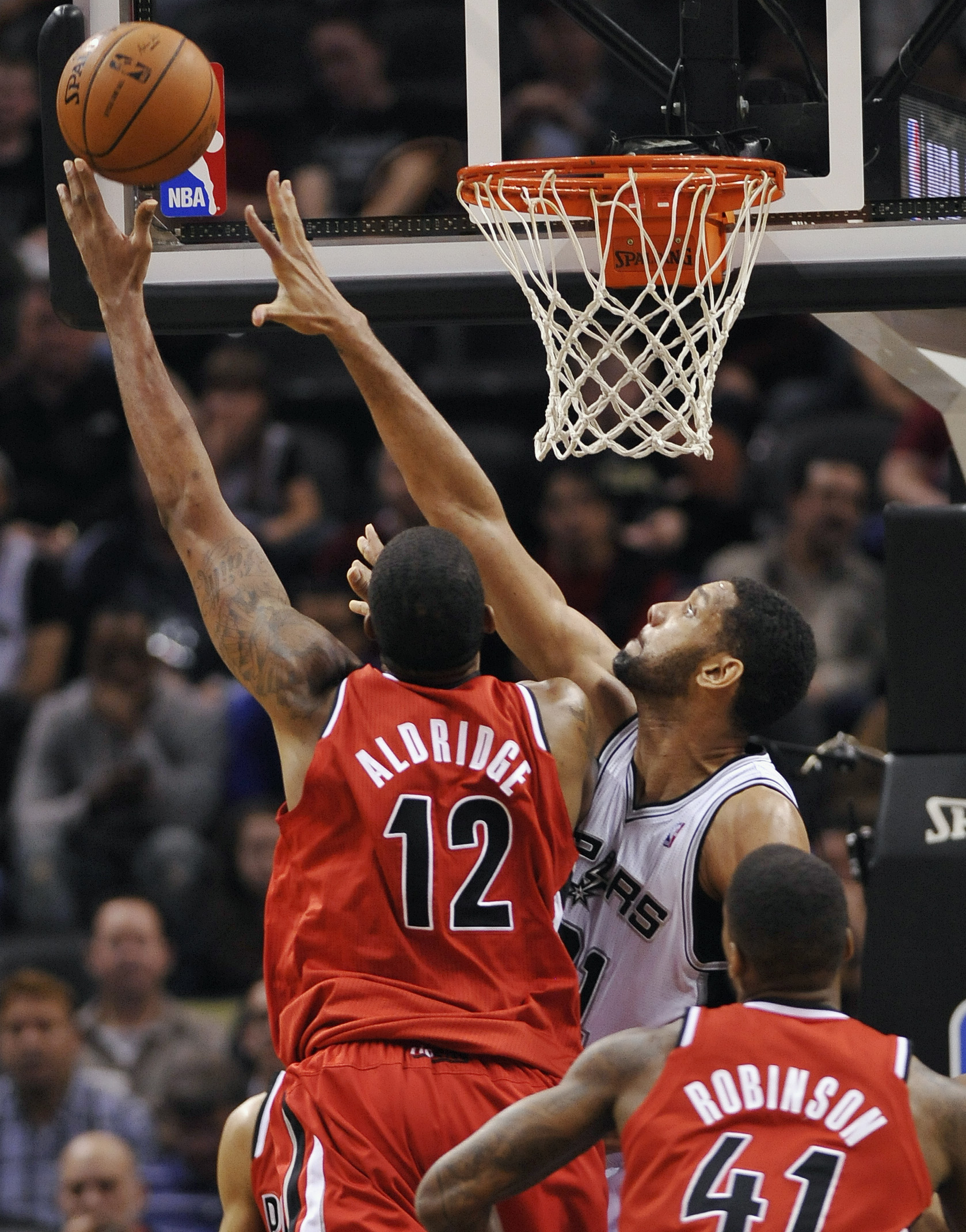 We can finally, officially call him "former Portland Trail Blazers forward LaMarcus Aldridge."
On Saturday morning, Aldridge finally tweeted out his destination, which is the only place that made sense all along: San Antonio.
I'm happy to say I'm going home to Texas and will be a Spur!! I'm excited to join the team and be close to my family and friends.

— Lamarcus Aldridge (@aldridge_12) July 4, 2015
Aldridge signed a 4-year deal worth $80 million according to Yahoo! Sports. This much is clear: it wasn't about the most guaranteed money. Aldridge leaves Portland after posting the two best statistical seasons of his career in points, rebounds, free-throw percentage and 3-pointers made.
Aldridge's career in Portland spanned many eras. He battled Zach Randolph in workouts after starting his career with a bum shoulder. Then while Brandon Roy collected Rookie of the Year awards and All-Star appearances, he continued to improve. After the drafting of Greg Oden, he was again the forgotten one of their big 3, always in the background of their promotional materials.
Then the lockout came, the Blazers spontaneously combusted and Aldridge was left with Wesley Matthews and Nicolas Batum to pick up the wrekcage. But he always came to work, as our boss Micah Rice said, like Sisyphus, forever cursed and pushing the boulder up the hill.
Then Damian Lillard came, they ascended again and Aldridge reached new heights. But while Portland showered him with love and MVP chants, I always come back to a passage from Ben Golliver about Aldridge. From 2006 until his final game in a Blazers uniform, Aldridge was always keeping score all these years.
Publicly he said that he wanted to be "The Best Blazer Ever," but the news from that day was that he would not sign a long term deal in Portland. And the statement accomplished it's goal: removing Aldridge's free-agency as a talking point until the reality became too big to ignore.
Perhaps the slights that had built up over the years reached a point of no-return. Or perhaps the achilles injury to Wesley Matthews was just the last straw in a career where Aldridge has only seen his best teams and teammates be derailed by bad luck.
The Blazers, while publicly saying that they had a chance to bring Aldridge back, were making moves that looked like a rebuild. Young, talented and cost-effective players were added to the roster beginning with the trade of Nicolas Batum just before draft night. Blazers President of Basketball Operations Neil Olshey wasted no time stocking Portland with young talent.
This began to raise questions about whether the team really did have a shot at retaining Aldridge.
The trend of acquiring younger players–Al-Farouq Aminu and Ed Davis–carried over into free-agency. Three of the four players Portland has brought in this summer, when you include Aminu, play power forward.
One league executive at the time told The Columbian that the Batum trade looked like a rebuilding move.
And then, a Western Conference executive told The Columbian that Aldridge had already indicated his intent not to return to Portland. This week more evidence surfaced that the Blazers entered free-agency under the suspicion that Aldridge would not return.
This is Damian Lillard's team now. 
Portland's "Plan A" disintegrated and it's fair to wonder how feasible (or how much basketball sense) that plan made.
There were other doses of drama that inspired hope. Lillard reportedly flew to Los Angeles to try and salvage the situation by meeting with Aldridge, in an effort that mirrored the Bay of Pigs. But the meeting of the minds reportedly only produced a phone call. Breaking up is easier over the phone.
The Blazers started moving on June 24. The part of the fan base that still held out hope can now do the same.
The Blazers have a young nucleus and are as athletic as they have been in the Olshey era. Meyers Leonard, Mason Plumlee and Davis all provide Lillard with athletic targets in the pick and roll.
Defensively, their youth and athleticism should serve them well. Offensively, the Blazers are going to need to find an answer. Lillard is a monster pick and roll player but how will he fare without Aldridge as a safety blanket? CJ McCollum can get hot in the blink of an eye, can he be the sustainable source of points Portland will need him to be? But where else where they find offense? Can lobs to Plumlee and Davis as well as the shooting of Meyers Leonard provide enough?
Aldridge was always a safe bet to get a shot. Without his post-ups, where will they go when they can't score three possessions in a row?
While Portland has been proactive in improving their roster, there is no question that the team has taken a step back. As David West said, in sports, you either get better or you get worse, there "is no stay the same." That 2016 lottery protection on the pick that acquired Arron Afflalo is looking mighty smart, guarding against the ultimate doomsday scenario.
Olshey has always been proactive and has consistently accumulated young talent to prevent the Blazers from finding themselves where the Los Angeles Clippers currently find themselves. With the departure of DeAndre Jordan and Blake Griffin due to be a free-agent in two seasons, the cupboard is pretty bare save for an aging Chris Paul.
Portland is young, talented and cheap, which is the only way to go in the wake of losing their featured players.
Portland is not a locale that draws NBA free-agents, which is a difficult part of Olshey's job and something out of his or anybody's control. Portland has cap space, like almost every team in the new post-2011 lockout landscape, but they will likely have to explore lop-sided trade opportunities than sign free-agents outright.
Perhaps the Blazers can catch lightening in a bottle like the Phoenix Suns have in past years, as a team with playoff hopes built with young and flexible contracts.
The LaMarcus Aldridge era in Portland is finally, officially, over. And the only thing we know now is, that at least for this year, the basketball around these parts won't be quite as good. Such is life in the NBA, where success springs instantly and is gone before you know it.