Report: LaMarcus Aldridge to meet with Toronto Raptors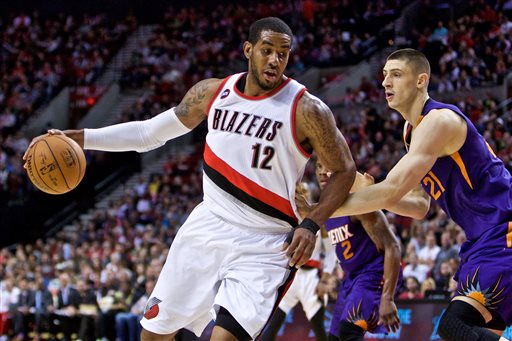 Portland Trail Blazers free-agent big man LaMarcus Aldridge is reportedly adding suitors to his list.
Shams Charania of RealGM.com reports that Aldridge "has plans" to take a meeting from the Toronto Raptors, who have maximum cap room to sign a free-agent.
Aldridge has an interest in the Raptors, who hold space for a maximum contract offer, sources said. In his free-agent meetings, Aldridge will be joined by his mother, Georgia.
In addition to the fact that Aldridge is planning to meet with the Raptors (no word yet on if Drake will be in the meeting), Charania also reports that he is considering a meet with the Houston Rockets, which also makes a lot of sense.
The Rockets can move enough contracts to create the cap room to get Aldridge where the expectations to win now would surely increase. Aldridge, as we understand, won't be back with Portland. He will also reportedly have a max deal on the table from the Los Angeles Lakers. The Spurs are considered by many to be the front runners for Aldridge but the Mavericks and Knicks also going to make a run at him.
The Raptors won the Atlantic Division in the Eastern Conference the last two seasons but have failed to get out of the first round in the East both seasons. Kyle Lowry and DeMar DeRozan have both been All-Stars while Jonas Valanciunas' is still very young. An Aldridge departure to Toronto would be great for him in the fact that he's playing in the East but he would have to voluntarily pay considerably more money in taxes by playing in Canada. It would be essentially the opposite of him playing in Texas from a tax perspective.
Still, it is interesting that Aldridge's list continues to grow. It's evident that he's going to enjoy free-agency as much as he can.