Report: Blazers trade Nicolas Batum to Charlotte for Gerald Henderson and Noah Vonleh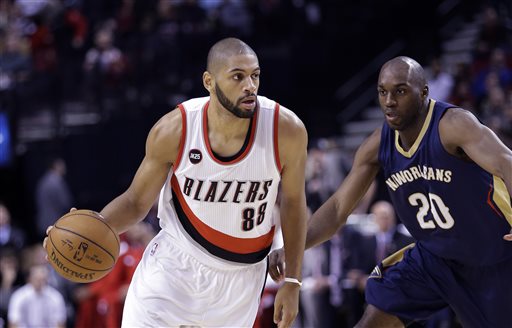 The Portland Trail Blazers are wasting no time in revamping their roster, not even waiting until the NBA draft began.
League sources tell Adrian Wojnarowski of Yahoo! Sports that the Blazers are working on a deal that will send Nicolas Batum to Charlotte in exchange for veteran swingman Gerald Henderson and 19-year old forward prospect Noah Vonleh.
The trade of Batum could seem like many things, especially when you consider that the prized asset is a 19-year old power forward.
But it's too early to tell just yet. League sources say that the deal is not yet finalized, but knowing Woj it's simply a matter now of if, not when.
Henderson, like Batum, is in the final year of his deal next season. Vonleh was taken last season with the No. 9 pick in the draft, but according to Woj's report, they are enamored with Frank Kaminsky, who is a little bit bigger but brings similar skill sets as a shooting big man.
While the deal is still not finalized, the Blazers are going to miss a lot in Batum. His ball handling often served as a second point guard for their offense. He was one of the most versatile forwards in the league over the last three seasons which coincided with the arrival of Terry Stotts. But the first half of his 2014-15 season was easily the worst basketball of his life.
Batum played seven full seasons with the Blazers, making it to the playoffs five out of those seven years.
Henderson is a great athlete and has shot in the mid-to-low 30's from long range throughout his career. He can be a tenacious defender at times and also has the confidence to hit open shots. But, he's not a guy that you can have run your offense for extended periods like Batum could. Henderson is slated to make just $6 million dollars next year while Vonleh is making just under three, which will save Portland over $3 million next season.
It's too early to tell whether this is a reason or not, but Wesley Matthews did tell Jason Quick recently that he wanted to be a featured part of the offense wherever it is that he goes. If Matthews does re-sign with Portland, one would have to wonder how big of a part this had to play in the decision to trade Batum. We've already seen one Blazers' reaction to the trade.
— Dorell Wright (@DWRIGHTWAY1) June 24, 2015
Vonleh is the prize here. He's 19, can shoot and from everyone you talk to he's a good young prospect. The Blazers got a lottery type talent, just from the 2014 draft and not this year's version. Vonleh had sports hernia surgery before the 2014-15 season and he only played 25 games as a result. But as always with young prospects and young big men especially, patience is the most important thing.
We'll hopefully have more on the trade when it becomes official be sure to check back here and at columbian.com/blazers for more tonight and during the NBA Draft.