Report: Batum trade sign Aldridge likely to leave Portland, Lakers moving up list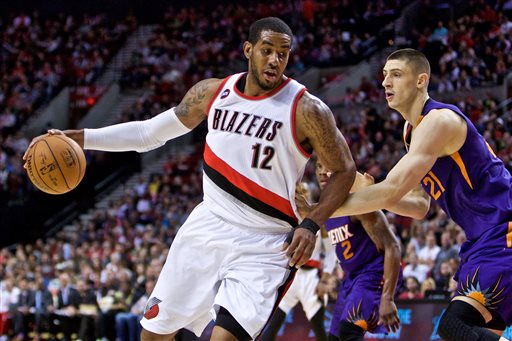 In our report on the Portland Trail Blazers' trade of Nicolas Batum, one league executive told The Columbian that the trade in which big return was a young power forward prospect looked like "a rebuilding move."
According to ESPN.com's Marc Stein, LaMarcus Aldridge is "likely" to leave with the Los Angeles Lakers "moving up his list."
ESPN's LaMarcus Aldridge latest: Batum trade only latest signal of Aldridge's likely departure and sources say Lakers are moving up his list

— Marc Stein (@ESPNSteinLine) June 25, 2015
ESPN sources say Lakers appear to be passing Dallas on list of likely destinations for Aldridge should he leave POR. San Antonio still No. 1
— Marc Stein (@ESPNSteinLine) June 25, 2015
The acquisition of a 19 year-old lottery pick who plays the same position as Aldridge has only fueled speculation that he could leave, even as other reports refute that.
Aldridge was rumored to favor the Mavericks over the Spurs earlier this month according to Bleacher Report's Ric Bucher. According to the latest, Aldridge seems to prefer the Spurs now.
The Lakers have been rumored to be interested in DeMarcus Cousins.
The Blazers have also been linked Kevin Love in the event that Aldridge leaves, an idea which seems to be gaining more steam the closer we get to free-agency.
We haven't even gotten to draft day and we are less than a week away from free-agency. The Blazers have already done some major deals and made the biggest splash so far in the days leading up to the draft.
While the debate rages about what kind of team they will be, rebuilding or contending again, one thing is for sure. They're not done yet.