Report: Arron Afflalo expected to opt out, become unrestricted free-agent July 1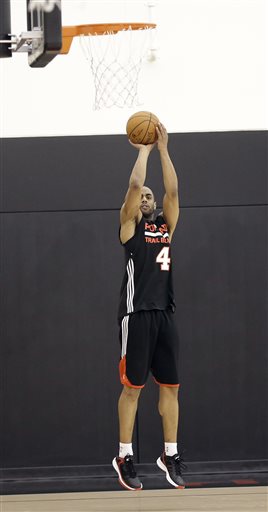 It appears that the Portland Trail Blazers have had some part of free-agency go their way.
Sunday evening NBA.com's David Aldridge reported that Blazers guard Arron Afflalo is expected to opt-out of the final year of his contract with the Blazers and become an unrestricted free-agent on July 1. That decision would clear nearly $8 million in cap space for the Blazers and allow more flexibility for the team in free-agency.
Per sources, G Arron Afflalo expected to opt out of '15-'16 ($7.75M) to become UFA. Obv key for Portland 2 re-sign w/Wes Matthews rehabbing.

— David Aldridge (@daldridgetnt) June 22, 2015
Afflalo has still not yet officially opted out of his deal but Aldridge's report is at least the second that we know of that suggest the veteran guard will opt out of his nearly $8 million option with Portland. ESPN.com's Marc Stein reported as much when the Blazers were eliminated from the playoffs.
The Blazers nor Afflalo have made any official statements on the matter. But signs continue to point to Afflalo's tenure with the Blazers being very short-lived.
Afflalo played 25 games for the Blazers after they acquired him and Alonzo Gee at the trade deadline for Will Barton, Thomas Robinson, Victor Claver and a lottery protected 2016 first round pick. Afflalo was thrust into the starting line-up for 19 games after Matthews' achilles injury and his season was derailed by a shoulder injury just before the playoffs. He returned in time to play in their first round series against the Memphis Grizzlies but was ineffective while playing through pain.
Afflalo shot 40 percent from long-range during his time with the Blazers but struggled with his midrange jumper where he had become an above average shooter. With the uncertainty surrounding LaMarcus Aldridge and the rest of Portland's free-agents, it should be no shock that a veteran like Afflalo–who came to Portland with championship aspirations–would keep his options open.
The Blazers were a very attractive situation before Matthews' injury and there is too much uncertainty around them to know what kind of team they will be by the time the new season kicks off. Afflalo seems to be out of the "keep getting them checks" phase of his career and on to ring-chasing.
Steve Blake exercised his player option for the 2015-16 season on Friday.
Chris Haynes of Northeast Ohio Media Group and the Cleveland Plain Dealer reported last week that British big man Joel Freeland doesn't expect a qualifying offer from the Blazers and which would make him unrestricted free-agent.