Trail Mix: Aldridge market fluctuations and 'Fast Break' doc returns to theaters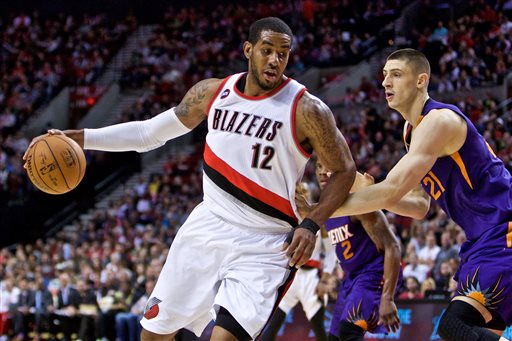 The fictional market that exists between now and July 1st for soon-to-be free-agent LaMarcus Aldridge has had yet another change!
Last week, Bleacher Report's Ric Bucher published a piece in which the main takeaway was that the Dallas Mavericks had leaped to the top of Aldridge's list. Bucher's report ran wild on the internet, including here.
Here come the Mavericks, his home town team where his children are and his mother, was the thinking after the report. But in Bucher's latest analysis on a Bleacher Report video says that he thinks the chances that Portland retains Aldridge's services are "very good."
Just last week, Bucher reported that Aldridge was "aggressively" exploring options outside of Portland.
Now, partly based on a false premise, Bucher believes that Portland has a very good chance. In the video Bucher says that Dallas and the Spurs are top suitors, calling the Lakers a "distant third."
The following was transcribed from the video when he is asked who will be in play for him beyond Portland.
I can tell you that San Antonio makes the most sense as far as fit is concerned. But Dallas has an assistant coach that he was very close with, with the Blazers, who was their interim head coach at one point. Kaleb Canales. Both Texans, both hung around in Portland for a while. Don't underplay the significance of that. The only question would be the 27 million dollars that he'd give up.

It's not Dwight Howard going to the Lakers. Oregon doesn't have state tax either so he would be giving up a very real 27 million dollars to go back home.
So, as some of you who may no, Oregon DOES, in fact have a state income tax. Washington, home of this fine publication, does not. Perhaps there was a little bit of confusion there. But it is a little concerning giving people who may not know Oregon has an income tax and a property tax this take when it's based in falsehood.
Aldridge can get the most guaranteed money in Portland, based on the fifth year he can get in Portland that he can't get anywhere else. Mike Richman of The Oregonian broke down the impact of state income taxes on free-agency.
Bucher is right in the sense that this doesn't exactly mirror the Lakers situation with Dwight Howard which began with "Championship or bust" expectations.
The Blazers are equipped with young talent for the future whereas the Lakers put all of their eggs in the basket of aging and injured veterans with little-to-no young talent to speak of (Don't hurt me Jordan Hill fans!).
It is true that Aldridge will have more guaranteed money in Portland. He turns 30 this summer and he just saw Wesley Matthews miss a chance at a major money contract due to a freak injury. So, there are things that play in Portland's favor, but taxes just aren't one of them.
However, Bucher does make the point that whatever emotional factors that could be clouding the stars thinking now could be wiped away when the time comes to do business.
I'd say (the chances he stays in Portland) are very good. Once the emotions settle, he's going to realize that whatever short comings the Blazers have had, it hasn't been for a lack of trying from the organization. And he does have one of the richest owners in Paul Allen and has very good front office lead by Neil Olshey. They've constantly tried to rebuild this team, put the right pieces around him. They believe in LaMarcus. They've stood by him in a variety of ways. You add the 27 million that he would be losing. It also depends on what they do with Wes Matthews, his closest friend on the team with a torn achilles. Do they bring him back? Do they let him go? That could have influence. But ultimately you put it all together and I would expect Aldridge to say 'I'll continue with the Blazers' because I can't guarantee that going home or going to Texas is going to be significantly better.
The fictional market continues to fluctuate before the real market starts to form on July 1 at 9 PM.
Joe Freeman of The Oregonian reports that the documentary "Fast Break" on the Blazers 1977 NBA Championship team will have a summer showing in the Rose City.  The film is showing at Clinton Street theater at 7PM on June 26, which is the day after the NBA draft.
Here's what Freeman had to say about the documentary
The compelling film offers a unique look at Portland's only championship team during the weeks after it beat the Philadelphia 76ers in six games, blending iconic game footage with rare off-the-court material of the Blazers' best players, including Bill Walton and Maurice Lucas.

The film, which I've seen, is a must-see for Blazers' fans and anyone looking to gain insight into the history of Portland and its most beloved sports franchise. The behind-the-scenes access with players, unlike anything fans can get today, is particularly captivating, featuring everything from a long bike ride with Walton down Highway 101 to a visit to the Oregon State Penitentiary with Lucas to a peek at coach Jack Ramsay's practices.
Tickets are $6.
The NBA announced this afternoon that they will have some different offerings for NBA League Pass. In an e-mail from the league and their partner Turner, the league announced that consumers will be able to buy individual games and buy league pass for specific teams.
According to the release, they will release more details about the new offerings including pricing and where consumers can buy in Mid-July.
NBA League Pass is a great product with obvious flaws. Personally, the inability to watch an in-market game that's already happened in the League Pass archive is one that irks me.
Obviously, DirectTV customers in the area know the eternal struggle that it is to watch Blazers games. Buying League Pass will not help you there, either. So, while Blazers fans in other markets will be able to watch the Blazers through this service, those who choose another cable provider in this market will not.
It's a complicated situation with many different rights holders in different markets.
The Blazers-Comcast situation is even more complicated when you consider that Blazers–not Comcast–control and produce their own broadcast even though it is shown over Comcast and KGW.
Last season the Blazers did not offer a streaming package to fans as they did during the 2013-14 season. Such a streaming service is not even available to Comcast customers who pay subscribe to Comcast SportsNet Northwest.
Comcast customers in the Portland market are also unable to stream games through apps and services available in other Comcast markets such as the Bay Area and Chicago.
It may be 2015 for the digitally friendly NBA everywhere else but in the Portland area it might as well be 2005.