Trail Mix: "Stay LA" rally organizer says they won't let Aldridge go "without a fight"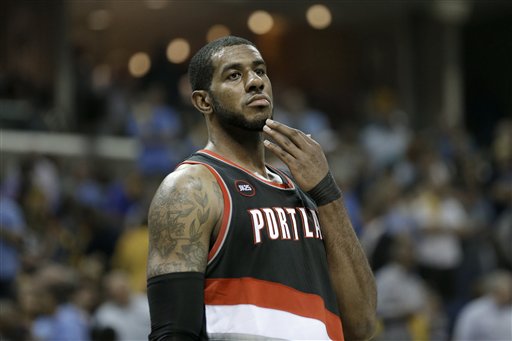 LaMarcus Aldridge was named the Oregon Male Athlete of the Year at the Oregon Sports awards last Thursday.
Aldridge was not in attendance though he did publish an acceptance tweet. But we are getting closer to the big day. In 15 days and change, Aldridge will be a free-agent and he will be able to go to any team he pleases. Of course, he can get the most years and guaranteed money with the Blazers.
We've been over all of the latest rumors including the ones where it sounds like Aldridge will turn down the Blazers and the team previously thought to be his strongest suitor to go home to Dallas.
And all of those rumors are inspiring one Blazers fan to organize and promote a "Stay LA" rally on June 28, just three days before the July 1 deadline, at Blitz Ladd in SE Portland.
Nick Poust of Oregon Sports News interviewed the organizer JoAnna Wulffenstein, who expressed her hopes that Aldridge stays as well as her anxieties about him skipping town.
Wulffenstein came up with the idea earlier this summer and quickly put this plan into action.

"One day, three or four weeks ago, I just decided okay, I cannot let him go without a fight. I have to do everything in my power possible to get him to stay. And then if he decides to go I'll still cry for days, but at that point I will know I have done everything possible."
As of right now, this is the only such Aldridge-centered event that we are aware of. Wulffenstein hopes to get as many fans as possible to show their support. They will have the Blazers' official DJ, DJ O.G. One. According to the event's facebook page they will also have a videographer there to document the event, which would presumably result in some kind of "Stay LA" video.
They also promise to hand out "Stay LA" shirts to all fans in attendance and there will be a contest where contestants try to emulate Aldridge's signature turnaround jumper.
"Stay" campaigns haven't always worked out, but Wulffenstein and Blazers fans won't give up on Aldridge coming back.
It will be very interesting to see how this unfolds and in what other ways Portland fans will try to win Aldridge back, so to speak.
In other news from around the league, the Denver Nuggets finally filled their coaching vacancy on Monday according to Adrian Wojnarowski of Yahoo! Sports. The Nuggets hired former Kings coach Michael Malone to take over their head job, which was a little surprising considering a number of factors.
1) The Nuggets just hired Pete D'Alessandro to overlook the team's business and team operations, who was the General Manager who presided over the firing of Malone this past fall. Judging by the job description it doesn't seem like D'Alessandro has too much of a hand in the basketball decisions. 2) Malone instituted a slow-down game built on defense during his time in Sacramento while the Nuggets have been known to push the pace, almost since their first days in the NBA, using their altitude to their advantage.
But we do know that Malone is a good coach. An unfortunate reality of the NBA is that good coaches frequently get fired these days. Malone was one of those guys and was billed as an up-and-comer before he was fired while DeMarcus Cousins was in the hospital with an illness.
Today ESPN's Jay Bilas released his Top 40 prospects for the 2015 draft. The Blazers are picking 23rd and the players he has listed around that vicinity are the players the Blazers have been predicted to draft in multiple mocks.
Aside from Delon Wright, pretty much every player between 20-31 on Bilas' list has been predicted to go to Portland.
Casey Holdahl of TrailBlazers.com has an nicely curated recap of all of the latest mock drafts and who the Blazers might take.
One of the Blazers' workout participants last week George Lucas de Paula–the point guard big hands and a great wingspan–was one of the many early entry candidates to withdraw from the upcoming draft.
Draft day promises to be crazy this season. And some of the craziness isn't even waiting for draft night. Last week we saw Milwaukee's Ersan Illyasova got traded to Detroit. And in the latest bit of Woj news, it appears that those of us who focus on the Western Conference could see more of Lance Stephenson.
According to the Woj report, the Clippers would include Spencer Hawes and Matt Barnes as part of the deal. Stephenson was a disaster in Charlotte with all of his flaws becoming the narrative of his season: inattentive defense, poor shooting, bad attitude, etc. But Doc Rivers is a great motivator and he probably believes that he can reach Stephenson in a way that he couldn't be reached in Charlotte.
It could be a forgotten rumor but it would be an interesting move for the Clippers. You would have to assume Stephenson is penciled in as a starter. For all of this struggles last year, it would be really fun to get to see Stephenson's talents on display in a fast-paced offensive system like the Clippers' when he isn't allowed (or chooses not to) to pound away possessions with the dribble.