Trail Mix: CJ McCollum talks contacting free-agent teammates, Blazers license plates coming soon?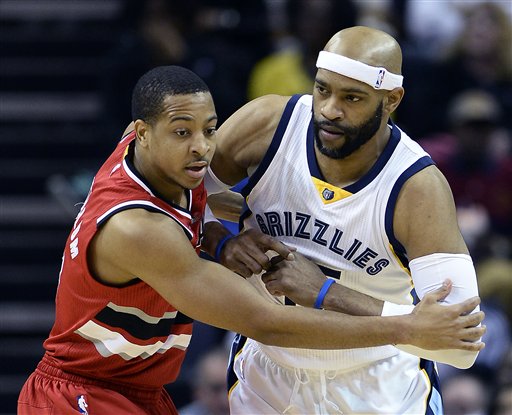 Free-agency is can be a complicated time. Which rumors have legs? Whose sources are telling the truth? Which ones are just causing a stir?
So how is it for players at this time of year? 1080 AM The Fan's "Hardcount with Dirt and Sprague" had the chance to ask those questions of Portland's CJ McCollum when they had him on their show yesterday. Specifically, they asked McCollum whether he's been in contact with LaMarcus Aldridge.
"I don't want to bug him," McCollum said. "Whatever decision he makes, I respect it because he's given us a lot over the course of his career If he comes back, that would be great. If he decides to leave and go home or go to another city, he has a right to because this is the NBA and people that work normal jobs have the right to leave and go work at other places. We should have the same leeway."
McCollum also said in the interview that he contacted Aldridge when he made All-NBA to congratulate him. But he also said in the interview that he wants to give him space since Aldridge is pretty clearly an introvert.
As we wrote a few days ago, it's not just going to be a basketball decision for Aldridge. Especially when the jobs responsibilities will essentially be the same everywhere, it's personal factors that will likely play into the decision. The Blazers will be a good team if Aldridge returns and the same will be true of mostly any other team he goes to.
I highly recommend listening to the whole interview as McCollum talks about his offseason jobs covering the playoffs as well as discussions about all of the noise that comes during free agency in the media.
Hat-tip to Casey Holdahl of TrailBlazers.com for alerting us to the interview.
If you live in Oregon and have wanted to have a Trail Blazers license plate, you may not have to wait much longer according to The Oregonian. House Bill 2730 in the Oregon Legislature has been proposed by Representative Tobias Reed of Beaverton which would allow Blazers fans to show support for their team on their license plates.
According to the report from Oregonian reporter Denis C. Theriault, proceeds from the license plates sold would go to the Trail Blazers charitable foundation.
And the region is abuzz today regarding the news out of Glendale, Arizona regarding the status of the Phoenix Coyotes. The City of Glendale found a way to get out of their deal with 15-year deal with the team and now the rumblings of bringing an NHL team to Portland have ramped up once again.
John Canzano of The Oregonian pondered that question today and so has everybody else. NHL to Portland has seemed like an even bigger possibility when the Blazers hired former AEG and LA Kings COO Chris McGowan to be the team president. It's not just fodder for columns with no area sports of consequence going on but it seems real.
Having a hockey team would certainly pack the Moda Center from October to April every year and then whatever they can get in the playoffs. And while the Blazers with LaMarcus Aldridge would have a chance to compete for a title, it's not even a question that bringing an NHL team to the area would produce the best chance at a championship. The NHL is a whole bag of random.
Support for the Winterhawks has been great throughout the years and one would have to wonder what would happen to the fan base were ticket prices to see hockey in town were to skyrocket. It would no longer become a place for cheap thrills and cheap beer.
But it would no doubt make Portland a more serious sports town and Allen buying the team and putting them in the Moda Center would do so with essentially no taxpayer cost. If Portland is to grow into a bigger sports city, Allen buying an NHL team seems to be the most tangible option and the one that would make the most sense for the City of Portland.
Portland doesn't have the corporate money like Seattle. But it does have an arena and an infrastructure in place that the NHL already knows it can trust in McGowan. The Blazers have not publicly commented on the matter. But the arena, McGowan and an owner with deep pockets already provide enough as a reliable group that the possibility of an NHL team coming to Portland has legs.