Report: LaMarcus Aldridge prefers Mavericks over Spurs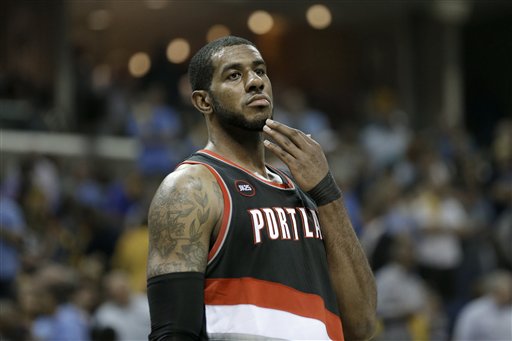 The Portland Trail Blazers free agent big man who is always in the news was back in it in a big way this afternoon.
The latest LaMarcus Aldridge rumor comes courtesy of Bleacher Report's Ric Bucher. Bucher reports that the Mavericks, not the Spurs, are the frontrunners to land Aldridge. Bucher goes even a step further saying that the Spurs might not even be on Aldridge's list of teams when he considers leaving Portland.
Of his potential suitors, league sources indicate that the Mavericks are the biggest threat to pull Aldridge away from the Blazers, but it's the general idea of returning to Texas, not a specific destination, that appeals to him. Both the Mavericks and Spurs, of course, could have the requisite cap space, reputation of success and location.

Both also may not be perfect fits. Several sources have indicated that the Spurs, for whatever reason, are either off his list or not very high on it. And the question concerning Dallas is: Does an aging Dirk Nowitzki truly give him a better chance of competing for a title? Dallas, sources say, is clearly interested, but where he sits on its priority list is not clear.
The Mavericks would obviously love to have Aldridge, as would any team who does not have him on their team. Dallas is his hometown and his family still lives in the area. His former workout guy in Portland Kaleb Canales is an assistant now with the Mavericks. However, when I spoke to Canales last year at Summer League after Aldridge removed himself from Team USA, he said he hadn't spoken to Aldridge in a while.
The time before free agency can be a noisy one. Nobody knows that better than Bucher. I mean, nobody knows it better than I do after blurry photos of Aldridge in the Logan Airport becomes news.
But it brings the question, how much of this is actually about basketball? And the answer, often times in free agency, is bigger than we realize. Warm weather all year, tax breaks and being close to family are all huge factors that could be swaying Aldridge's thinking. Then there is also the perceived rift between Aldridge and Damian Lillard.
All of the Blazers, from all corners of the organization and even Lillard himself have gone out of their way to publicly crown Aldridge as the best and most important player on their team. Lillard has done so multiple times but according to Bucher's report, Aldridge seems unhappy that he's had to take a back seat in Portland through the Roy and Oden days and now with Lillard.
Lillard is far more gregarious than Aldridge, which is not really saying a lot. This type of drama seems like one found in a High School tele-drama where the Straight A student with a full ride to an Ivy League school is angered because he doesn't get his due as much as the popular kid. I don't think there's any question in this market, especially after his comeback from injury, that Aldridge is Portland's most important player. And the Blazers have gone out of their way, giving every trinket to Aldridge along the way to make him feel that he is No. 1 in addition to other things we cannot see.
But the only thing that matters in this situation is how Aldridge sees it and nobody else.
In Dallas he has an aging Dirk Nowitzki, a starting point guard who was out the door before the playoffs even finished and the Monta Ellis marriage only looks better by comparison. Does Aldridge want to bring the words "microfracture surgery" back into his life after it ruined the first act of his career as questions swirl around the status of Chandler Parsons, who is going to be his number two? They have a great coach and one of the best owners in the league and all of the other reasons we've listed.
Tyson Chandler is a free-agent but they could easily get him back. But saying Dallas would be better equipped to win right now just isn't true, not with the amount of questions they have. But this isn't all about the basketball.
Portland has a front office that has shown they will make moves, a roster full of youth and potential as well as cap space to make a run at another max free agent.
Another rumor for the scrap book of this free-agency. Thank goodness we only have about a month left of this.