Show Review: "NBA Slam Funk!"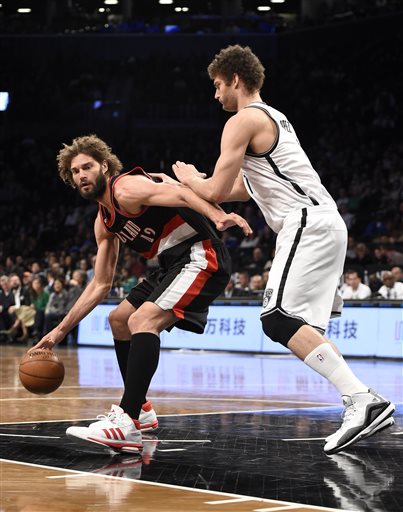 A few weeks ago, Disney announced a new NBA-themed show airing on their DisneyXD channel geared towards young fans.
The show is co-hosted by Disney channel talents Jacob Bertrand and Cameron Boyce and NBA twin brothers Robin and Brook Lopez. So, with one of the players for the Blazers hosting this show, of course I had to watch it.
I set my DVR to DisneyXD to watch episode two of the show, titled "Unibrow on Fleek." The show highlights the facial hair rivalry between Anthony Davis' unibrow and the beard of James Harden. It also featured some stuff about players' favorite food and their own version of the NFL's bad lip reading.
The show opened with one of the Disney stars, don't ask me which one, before Robin and Brook come to the frame both wearing generic NBA practice jerseys with NBA logos on the front. Wouldn't it be better if they, maybe, wore the jerseys of their current teams?
They are both going to be free-agents this year and you don't want to put the players in jerseys they might not be in in a month. But then again, it seems like they have no problems showing players in the jerseys of their former teams throughout the show.
Robin has the first line and is clearly ready for the bright lights. He brings a one-liner to the unidentified Disney star after he incredulously asks how someone as tall as them could miss a dunk.
"When you can high-five one of us you can make fun of us for missing a dunk," Robin said.
Then they fade to a phantom cam shot of 2015 Dunk Champion Zach LaVine going up for a dunk and getting rim checked before going into a blooper reel of missed dunks.
I lost count of how many times we saw the Celtics version of Glen "Big Baby" Davis throughout the blooper reels. They may have to re-name this show the Big Baby Hour (the show is 15 minutes) since he is shown more than almost any other player. He's seen both falling, laughing and eating a Turkey leg.  They only forgot the greatest Big Baby blooper of them all.
And if you were watching, you'd think JaVale McGee were still in the league and playing for the Nuggets and that Danny Granger still played for the Pacers.
Now, I know what you're thinking.
Come on, who is this guy? Criticizing a kids show for not being current with their NBA footage. Give me a break. It's a show on DisneyXD, you think kids care that Lance Stephenson doesn't play for the Pacers anymore? It's not even the regular Disney channel. It's DisneyXD!
And you're right. When I watched NBA Home Videos as a kid, they were very dated as well. Had I not watched dated videos I would have missed out on important parts of the league's history. So it really doesn't matter.
But we have a major issue at hand. And it involves some talented kids who go unrecognized throughout the entire episode.
If you've been on the basketball internet for the last few seasons, you may have come across the wonderful sensation that are the Knicks Kids Reporters, Ryan and Jaylah.
[youtube http://www.youtube.com/watch?v=XRbQcMgdccw&w=560&h=315]
In the show's title segment on the Beard vs. The Brow, they cut to NBA players commenting on Davis' unibrow.
But it's not Jacob or Cameron or Robin or Brook getting the great sound bytes from players. It's Ryan and Jaylah in their video from this year's All-Star Weekend in New York City. But you wouldn't know who they were if you had watched the show.
Listen, I get it, it's hard to get footage and get all of these guys in the same place. I know that replaying bloopers from seasons past make it better show than making it solely dependent on bloopers and highlights from 2015.
But we can't even show the names of Ryan and Jaylah during the show? Zero credit for their intrepid reporting whatsoever? This is an affront to hard working journalists everywhere. Sure, the Knicks (the NBA) own the content and can do with it whatever they please. But the Knicks kid reporters are one of the best things that comes out of the NBA content wise throughout the year. They get great answers. Maybe just give them the courtesy of showing their name on DisneyXD since your show needed their content?
Not giving kids any recognition for producing hilarious answers from NBA players. That's definitely not on fleek.