Trail Mix: Draft workouts are coming!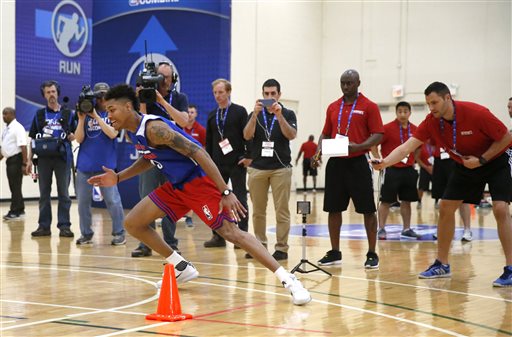 Wednesday will be the first of what will likely be many pre-draft workouts for the Portland Trail Blazers. They have not announced the participants for the workouts yet. But they apparently have plans for other players to come through later.
Jabari Young of CSNNW.com reports that the Blazers will workout Arizona's Rondae Hollis-Jefferson, whom they interviewed during the draft combine in Chicago. Seeing as they interviewed Hollis-Jefferson, it shouldn't be a surprise to many that he will also workout out for the Blazers. Most mock drafts, however accurate they are, have Hollis-Jefferson in the mid-20's range where the Blazers are picking.
ESPN.com's latest Chad Ford mock draft has the Blazers taking Georgia State shooting guard R.J. Hunter. The Blazers interviewed Hunter during the draft combine as well, per Young. Hunter does fit the same profile of two of the Blazers three first round picks being that he's billed as a shooter from a mid-major guard. But he's 6-6 and should be able to play some 3 in the NBA. However, don't for him to be part of Portland's first pre-draft workout. The Utah Jazz have announced that Hunter will be participating in a workout in Utah tomorrow.
I've always felt that Hunter's potential as a shooter would give him more value than Hollis-Jefferson for the Blazers if both players were available. That's nothing more than speculation on my part. But it's not speculation that Hunter's been on the league radar for a while and within the Blazers organization since before this college season. His clutch shot against Baylor in the tournament was just icing on the cake for his NBA resume.
Workouts can't tell us everything but they give us some barometer of who the team is interested in or who they think they will be able to get with their pick. But those of you dying to see who the Blazers have been working out will get a taste tomorrow.
Other NBA nuggets: