Trail Mix: Robin Lopez gets a Disney show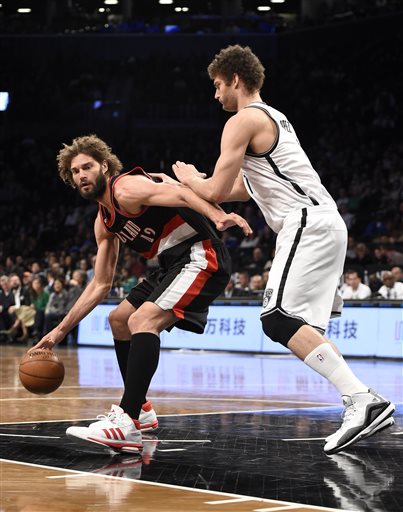 I was out for a few days at the Gorge over the weekend. But there wasn't really a whole lot of news to get to that we missed. In case you missed it, here are some Blazers related pieces of news that we haven't already covered.
Via Casey Holdahl of TrailBlazers.com we learned that Trail Blazers center Robin Lopez will co-host a show with his brother Brook Lopez on DisneyXD. The show will be three separate 15-minute long episodes which will contain bloopers and other outtakes for the NBA season.
The Lopez brothers will also be joined by other in-house Disney talent such as Cameron Boyce and Jacob Bertrand. Both Disney stars are "avid NBA fans" according to the release. However, with the show's premise being based on hijinks and bloopers it makes one wonder how true Lopez's attacks on mascots were.
Were these attacks driven by the show's idea? Was it all part of Robin's plot to get he and his brothers a show working with their beloved Mickey Mouse? The people must demand answers regarding the integrity of Robin Lopez's mascot assaults!
Holdahl points out that this isn't the first time that the Lopez brothers have hosted a show on DisneyXD. But now I'm starting to wonder whether we can really believe Lopez the next time he lovably tackles an opposing team's mascot that he's doing it from a place of genuine beef or doing it to set up his next DisneyXD series.
What will I believe in now? Is anything real?!?
But seriously, props to Lopez, who consistently fills his offseason by doing lots of interesting stuff. Including allegedly going to Disneyland for 13 hours by himself.
In other Blazers content, I was part of the Oregonian's You Be The GM roundtable discussion on the future of LaMarcus Aldridge. We continued playing everyone's favorite game of "what is LaMarcus going to do?"
The Blazers website continues producing short audio stories of big moments in Blazers history as told by legendary broadcaster Bill Schonley. They released another one today.
Holdahl has also rolled out his player profiles which are all in the same place if you want to rehash the season for everybody on the Blazers.
Dave Deckard of Blazersedge penned a nice column about he and his son.
Shea Serrano of Grantland.com did a fun piece on the 1990-91 Skybox NBA cards. I have the entire set of these still. Amazing cards and a fun piece to read that took me back a bit.