Trail Mix: Ranking system says 2000 Blazers the best Blazers team of All-Time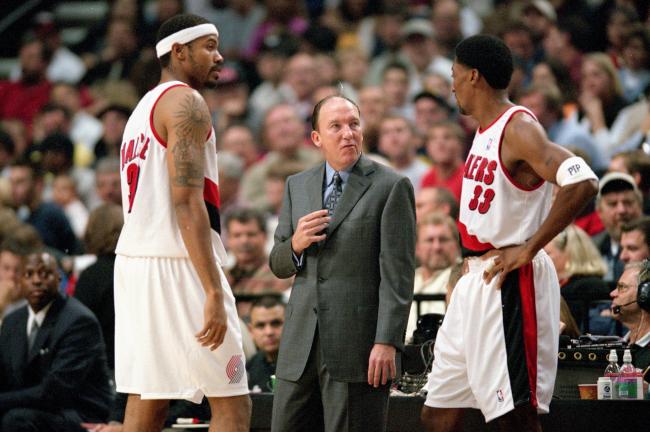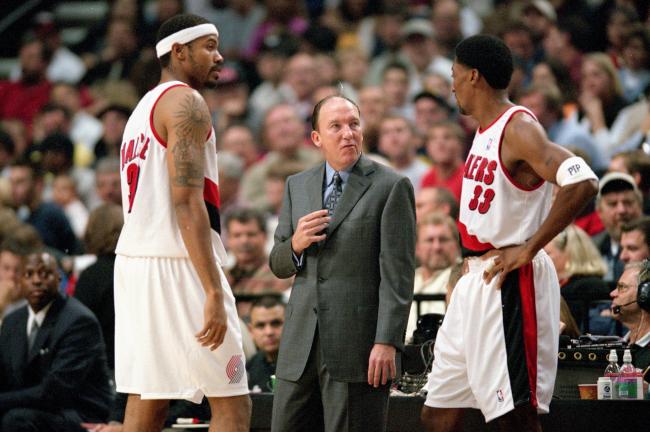 The Golden State Warriors are amazing. For as long as I've watched basketball, they're the best team I've ever seen. So what if I've only had League Pass for four years!
They're locked in a tight series against a Houston Rockets team putting up a better fight than many had expected they would. But this fact, that the Warriors are amazing, inspired ESPN's Nate Silver spin-off website FiveThirtyEight.com, to rank the best teams of all time. The Warriors came in fourth in the "Elo" rankings which weights wins, margin of victory in the regular season and playoffs, and takes points away for losses. Teams are given extra points for upset wins and winning by more points.
Of course, the best team in their rankings were the 72-10 95-96 Bulls.
So who was the best Trail Blazers team of All-Time according to the Elo rankings? Not the '77 title team, not the '77-78 team that dominated until Walton broke his foot, not the 90's teams who made the Finals, but the 1999-2000 Blazers who lost in Game 7 of the 2000 Western Conference Finals to the Los Angeles Lakers.
This is likely very surprising to some given how later events characterized the group of players that had, according to this ranking, the best season in franchise history. But the tape don't lie. Only one Blazers team had more wins than the 99-2000 team while another team tied them with 59 wins.
The ultimate choke in Game 7 and the "Jail Blazers" era that followed have made those teams incredibly polarizing. Many Blazers fans admire that team because they accomplished more than any Blazers team has since. While others found them a disgrace because of their off-court problems. But if anything, the Elo rankings definitely reinforces that team was very good and put them in a different light. Well, let's not kid ourselves, probably not. But those guys were good!
Speaking of historically great Blazers, ESPN Insider's Kevin Pelton ranked Portland's late-80's and early 90's backcourt of Clyde Drexer and Terry Porter as the greatest of all-time using is WARP (Wins Above Replacement Player) metric.
1. Terry Porter/Clyde Drexler

Team: Portland Trail Blazers Score: 134.2 Years: 9+ (1985-86 to 1994-95)

All-Star appearances: 10 (Drexler 8, Porter 2) Championships: 0

The Blazers' duo probably isn't the first one fans imagine when they consider great backcourts, but few were more balanced. Drexler was one of the league's best all-around shooting guards and an All-Star fixture, but Porter was no slouch himself, making a pair of All-Star Games during a period when the Western Conference was loaded at point guard. Only one other combo — No. 2 on this list — had as high a rating for its second-best player.
This list was inspired by Golden State's backcourt duo of Stephen Curry and Klay Thompson. Despite the fact that they came up short in their quest to win a title, the advanced numbers help put Drexler and Porter in a different light. Obviously, they're revered in the Northwest but to the NBA consuming public, they're easily forgotten when compared to duos with more rings.
Want some news about the current Trail Blazers? Well, it's May and there's not really a lot of new stuff to re-hash. But Terry Stotts talked about Portland's offseason during a recent appearance on the SiriusXM NBA radio station with Joel Meyers and Brian Scalabrine. Stotts expressed his confidence in Neil Olshey and briefly discussed free agency.
I was on the Blazersedge podcast with Chris Lucia talking about what it's like to cover the team as a beat reporter, if that interests you for any reason.
Treats from around the NBA
Here are some items of more general NBA news.
Have a great and safe Memorial Day weekend, everyone.