2015 All-NBA: Aldridge makes 2nd team, Lillard left off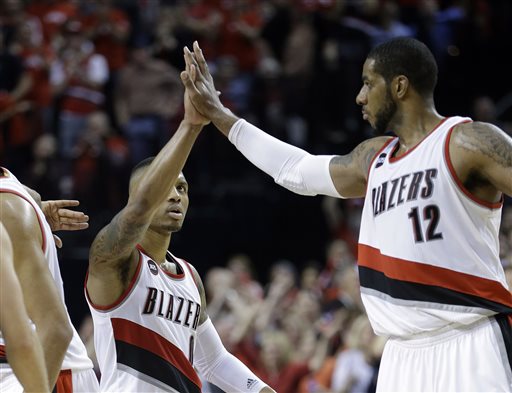 The NBA released the results of the balloting for the league's All-NBA teams, which is a collection of three five-man units meant to honor the best players in the league in a given season.
Trail Blazers forward LaMarcus Aldridge was named to the 2015 All-NBA second team. Joining Aldridge on the second team are Clippers guard Chris Paul, Thunder guard Russell Westbrook as well as big men DeMarcus Cousins of the Kings and Pau Gasol of the Bulls. Aldridge received 390 points in the voting, second overall on the 2nd team (only Westbrook had more), including 13 first-team votes.
Aldridge is the first Blazer to make the All-NBA second team since Brandon Roy in the 2008-09 season.
The first team was headlined by 2015 MVP Stephen Curry of the Warriors who is joined by LeBron James of the Cavs, Anthony Davis of the Pelicans, James Harden of the Rockets and anchored by Grizzlies center Marc Gasol.
It's the highest such honor in Aldridge's career after being named to the All-NBA third team twice before, including last season. Aldridge averaged a career-high 23.4 points in the 2014-15 season while playing almost half the season with a torn ligament in his left thumb. He averaged double-digit rebounds for the second time in his career on his way to his 4th All-Star game selection. Due to injuries, Aldridge was the first Blazer to start in the All-Star game since Clyde Drexler in 1994.
Aldridge's teammate Damian Lillard, who joined Aldridge on the 2014 All-NBA third team in just his second season, did not make an All-NBA team this season. Golden State guard Klay Thompson and Cavs guard Kyrie Irving took the two guard spots in the All-NBA third team.
Lillard did receive votes, 22 to be exact. Other notable players who did not make the All-NBA team include 2014 Finals MVP Kawhi Leonard, Wizards point guard John Wall and Hawks big men Paul Millsap and Al Horford. 2015 Most Improved Player award winner Jimmy Butler of the Bulls also did not make an All-NBA team.
Of course, this means that Lillard is not yet eligible for the "Derrick Rose rule" 5-year maximum contract that is worth 30% of the salary cap. Lillard will be on his rookie contract for at least one more year, giving him a chance to still qualify for the Rose Rule.
Lillard is eligible to sign an extension this season, something he said he wants to get done and multiple reports say that he will pursue a max extension with the Blazers this offseason.
Lillard's max contract, which is a no-brainer at this point, will go from being worth 25% of the cap to 30% if he does one of two things: is named to one of the three All-NBA teams at season's end or is named league MVP.
Lillard can still be considered Portland's "designated player" and earn 25% of the max with a clause allowing him to get 30% should he meet the criteria of the "Rose Rule." But if he doesn't make All-NBA next year or win MVP, the Blazers will be able to keep their five percent.
Here are the full results from the All-NBA voting:
2014-15 ALL-NBA FIRST TEAM

 

Position                            Player, Team (1st Team Votes)                           Points

Forward                              LeBron James, Cleveland (129)                              645

Forward/Center                  Anthony Davis, New Orleans (119)                       625

Center                                Marc Gasol, Memphis (65)                                     453

Guard                                 Stephen Curry, Golden State (129)                         645

Guard                                 James Harden, Houston (125)                                637

2014-15 ALL-NBA SECOND TEAM

 

Position                            Player, Team (1st Team Votes)                           Points

Forward/Center                  LaMarcus Aldridge, Portland (13)                          390

Center/Forward                  DeMarcus Cousins, Sacramento (18)                      220

Center                                Pau Gasol, Chicago (15)                                         242

Guard                                 Russell Westbrook, Oklahoma City (10)                397

Guard                                 Chris Paul, L.A. Clippers (1)                                  335

 

 

2014-15 ALL-NBA THIRD TEAM

 

Position                            Player, Team (1st Team Votes)                           Points

Forward                              Blake Griffin, L.A. Clippers (2)                              189

Forward/Center                  Tim Duncan, San Antonio (6)                                167

Center                                DeAndre Jordan, L.A. Clippers (12)                       Guard                                 Klay Thompson, Golden State                               122

Guard                                             Kyrie Irving, Cleveland            112

 

 

 

Other players receiving votes, with point totals (First Team votes in parentheses: Kawhi Leonard, San Antonio, 155; Paul Millsap, Atlanta,70; Al Horford, Atlanta, 64 (1); John Wall, Washington, 50; Jimmy Butler, Chicago, 32; Damian Lillard, Portland, 22; Draymond Green, Golden State, 9; Zach Randolph, Memphis, 7; Jeff Teague, Atlanta, 7; Andrew Bogut, Golden State, 6; Nikola Vucevic, Orlando, 6; DeMar DeRozan, Toronto, 3; Rudy Gay, Sacramento, 3; Andre Drummond, Detroit, 2; Gordon Hayward, Utah, 2; Kyle Korver, Atlanta, 2; Joakim Noah, Chicago, 2; Dirk Nowitzki, Dallas, 2; Dwyane Wade, Miami, 2; Carmelo Anthony, New York, 1; Tyson Chandler, Dallas, 1; Mike Conley, Memphis, 1; Brook Lopez, Brooklyn, 1; Kevin Love, Cleveland, 1; Kyle Lowry, Toronto, 1; Khris Middleton, Milwaukee, 1.