Trail Mix: LaMarcus Aldridge No. 1 free-agent target for Spurs?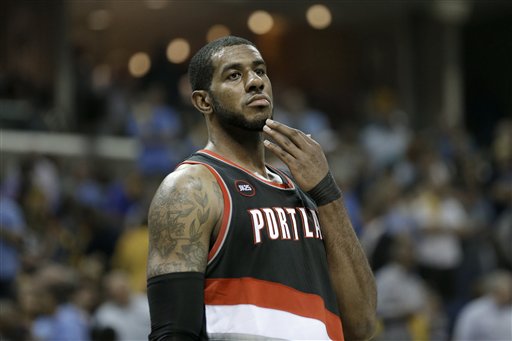 After a night without NBA action, the league returns with the 2015 NBA Draft Lottery and the start of the Western Conference Finals. Of course, you probably don't care about the lottery since the Blazers are not involved. The Lakers could get the No. 1 pick or lose their first round pick altogether and that alone should be enough reason to watch.
But the NBA news cycle never rests. Ken Berger of CBSSports.com reports that the San Antonio Spurs have LaMarcus Aldridge as their No. 1 free-agent target after re-signing 2014 Finals MVP Kawhi Leonard. Marc Gasol has also been mentioned in conversations about the Spurs, but according to Berger, the vibe is that Aldridge is much more available.
From Berger:
The free-agent plan for the Spurs is to quickly agree on a five-year max deal with Leonard – "It will be a short conversation," one person with knowledge of the dynamics said – and empower Leonard to join Duncan in an all-out recruitment of All-Star free agent LaMarcus Aldridge, league sources told CBSSports.com.
Berger goes on to address the Gasol rumors. Among one of the things that Berger mentions about the future negotiations is Portland's ability to offer Aldridge a 5-year deal. According to Berger, with the cap spike coming in 2016, that bargaining chip carries less weight. It's true that now Aldridge can make more money by betting on himself.
Aldridge will be 30 next season and he's already had to deal with diminishing athleticism. The Spurs have a reputation for preserving players and perhaps that, too, will also be a selling point in addition to playing with Duncan and Leonard. Texas also has no state income tax. The Spurs also have a bunch of former Blazers and Aldridge teammates on staff like assistant coach Ime Udoka and Sean Marks, who is part of the Spurs' front-office.
But long-term security is something that Aldridge will likely consider. Being under the microscope all summer, who knows if taking a two-year deal with a player option in the second season is something he wants to do before being back here all over again, at 32.
Aldridge has the type of game that should age gracefully and adding the 3-point shot to his arsenal should only help extend his career. If Aldridge truly isn't happy in Portland, he will leave. And if there is clear communication between he and the Blazers about that, something akin to the Goran Dragic situation in Phoenix, Portland should look to make a deal that serves both sides.  But he will age and Portland can give him the most money for a longer period of time. Of course, the Blazers do have some trade options, so long as Aldridge commits to sign to the team he goes to. As we've stated before, the worst-case scenario for him re-signing with Portland is he becomes "keep getting them checks jump-shooting LaMarcus" and gets a soup named after him at Pok Pok.
We knew that the Spurs were going to come after Aldridge but it's interesting to learn that they've essentially zeroed in on Aldridge while Gasol is considered more of an outside shot. The chance to win championships in San Antonio has to sway Aldridge's thinking. Wouldn't it sway yours?
Berger also reported that former Blazers assistant Bill Bayno was fired by the Toronto Raptors in a shake-up of head coach Dwane Casey's staff.
The NBA lottery is tonight! The Blazers aren't participating but the ping-pong balls make for some great drama. It's also the first time that a lot of draftees will have some idea of where they could go. Marc Spears of Yahoo! spoke to my favorite draft prospect, Karl-Anthony Towns, about the possibility of getting picked by his hometown Knicks. If you want a breakdown of everybody's chances to end up with the No. 1 pick and get Towns, or D'Angelo Russell or whomever, Joshua Robbins of the Orlando Sentinel has a handy chart breaking down probabilities for each team in the lottery.
If you want a different take on draft probabilities, Ian Levy of NylonCalculus.com, put the probabilities in terms basketball fans will understand. And if that is even a little too wonky, we have Corbin Smith doing a paper doll preview of the NBA Draft lottery for Vice Sports.
Also, in one other item of semi-Blazers related news, CSNNW.com's Dwight Jaynes wrote about the possibility of Paul Allen buying the NHL's Phoenix Coyote and move them to Portland. The Moda Center would have something going basically every night were they to acquire a hockey team to share the arena with the Blazers. Certainly, that would be a plus for the organization.  Portland loves the Winterhawks and has supported minor league hockey for over 40 years. It seems like it would also be a move that drives NHL interest in the Northwest-market where it's basically a niche sport. At least far more niche than basketball and soccer in this market.
I'll be watching the Warriors-Rockets game on my DVR tonight after covering some prep sports, as it's playoff time in Washington.
Happy Tuesday everybody!