Trail Mix: Portland a possible destination for DeAndre Jordan?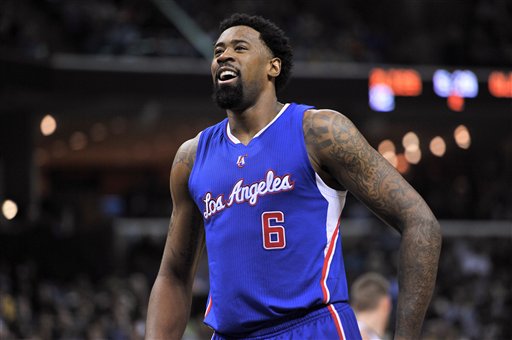 Remember around this time a week ago when I wrote about my surprise that Portland and DeAndre Jordan hadn't been linked together yet? As the old saying goes, "ask and you shall receive an unreal collapse to unlock the NBA rumor chest."
ESPN's Ramona Shelburne, one of the most well-sourced and informed NBA reporters around, mentioned Portland as a possible destination for Jordan in her "Summer Scoop" piece on the Clippers.
One of the five questions she addressed was where Jordan could go if he decides to leave.
Portland has enough cap space to re-sign LaMarcus Aldridge and make a max offer to Jordan — who has a similar but far superior skill set to Robin Lopez — but he'd just be trading one third-fiddle spot for another in that scenario.
To do this, Portland would have to renounce all their free agents this offseason other than Aldridge. That includes Wesley Matthews in addition to Lopez and a host of others. Shelburne talked about that scenario with Grantland's NBA writer Zach Lowe on the latest edition of "The Lowe Post" podcast. The conversation on Jordan's free agency where they talk about the possibility of Portland starts about 19 minutes in to the podcast.
Here's the transcript of their exchange:
Ramona Shelburne: DeAndre is a fascinating case because he's young enough, if he wants to be the guy that signs a two year deal with a player option in the second year, he could sign where he wants.

Zach Lowe: He's young enough and he's already made $43 million over the last four years. He's the perfect candidate to play the market that way. I don't know if he's going to. You know some guys that you know they probably won't and some guys you know who certainly won't. DeAndre is absolutely a wild card. That's a great point.

RS: If you look at the teams that are out there, if you look at DeAndre, you've been number 3 for as long as you've been with the Clippers. I don't think he has the skill set to be anymore than a third-best player on a good team. His offensive game is obviously very limited, his defense has gotten better. But he's mostly a guy who dunks. He can't shoot free-throws. I think he's really improved as a defensive player but you know can he be "The Man?" If the Lakers go after him, I don't think he can be "The Man." If the Knicks go after him? Maybe that's where it could be nice playing with Melo in a Tyson Chandler-type role. But really the team that makes the most sense for him is Dallas. Are you in a better place to win if you go to Dallas? Aging Dirk Nowitzki, what are they going to do with Monta Ellis? They have a lot of questions too. I don't think there is a slam dunk team and he immediately goes and thinks "I'm in a better spot now." I think it really is just if he wants a change of scenery. I think the crazy, out-there option is if San Antonio wants to get an elite rim protector to get Tim Duncan a break if they miss on Aldridge and Gasol. They theoretically could do that. I can't see DeAndre and Pop really being a fit.

ZL: I was going to say, San Antonio, reminds me a little bit of the New York DeAndre scenario. The Knicks will absolutely look at DeAndre, that's 100 percent true.  But it reminds me of it in the sense that if you're going to get him, you're going to change the way you play. Because DeAndre just as a passer, ball mover, is not a guy that's equipped to play the triangle and he's not equipped to play the way the Spurs play. That's why Dallas makes sense. I'm mad at you Ramona. Because in your summer scoop about the Clippers, you brought up my favorite, wild crazy scenario which is Portland makes a run at DeAndre Jordan. Because Portland can carve out max space if they renounce everyone but LaMarcus. And their GM, Neil Olshey, drafted DeAndre, loves DeAndre. There are almost too many moving parts for that to happen, one of which is LaMarcus has to stay. And I think that's a 50-50 proposition to me. But that's an interesting one. The Clippers are really good and that's what makes DeAndre's position so interesting.
Both seem to agree that Jordan coming to Portland would depend on whether Aldridge comes back, which makes sense. It also isn't the first time that Portland and Olshey have been linked with trying to make a reunion happen with Jordan.
There is a lot of emotion going around with the Clippers and understandably so. They just completed what was without a doubt the NBA's worst playoff collapse of this decade. However, the possibility of the Clippers breaking up and DeAndre Jordan leaving them high and dry seems more likely when you consider the personal aspects of their locker room.
Bill Reiter of FOXSports.com reported that there had been a rift between Jordan and Chris Paul that carried on throughout the season. According to Reiter, the rift came about because Paul thought Jordan did not show enough a commitment to his free-throw shooting.
This doesn't come as much of a surprise considering Paul's reputation around the league for grating on teammates, including Blake Griffin.  Emotions are running high in Clipper-land and a few weeks at a beach resort for everyone involved might be enough to clear the air. They need to make changes, but most smart people, including Doc Rivers, agree that ones to their core would seem like a rash decision.
Still, Portland making a run at Jordan makes sense in many respects. You don't know what you're getting with Matthews, as important as he was to the team's identity and as heartless as that sounds. He is coming back from the absolute toughest injury to come back from. Renouncing his rights to remove his cap hold to sign Jordan would seem cold, but the NBA is a business. The emergence of Meyers Leonard as a reliable NBA big man with a good 3-point shot also makes it easier to part with Lopez.
Jordan seems like an upgrade for the Blazers defensively and would give them a threat above the rim that they currently don't have on offense. Alongside Aldridge, Portland's centers rarely get touches and are called upon for screen-setting and diving to the rim. But one would also wonder how Portland would be able to best maximize Jordan. And while his defense can be eye-popping at times, the Clippers still only managed an average defense during the regular season.
The Blazers' defense on the wings and at point guard have oft been criticized. Their current players would need to make big strides, especially Lillard, and Portland would have make the right moves with bargain basement contracts and exceptions down the line. They used the mid-level exception last year on Chris Kaman but only owe him $1 million in guaranteed money. They could theoretically have the exception again, as I understand the rules of the exception.
Playmakers and excellent passers at the level of Chris Paul and Blake Griffin are nowhere to be seen on Portland's roster. Asking Damian Lillard and Aldridge to use Jordan in the way he was used in Los Angeles seems like it would be asking them to do things outside of their skill set. Nicolas Batum is probably capable of the best passes on Portland's roster but he also provides the most maddening turnovers. Lillard is a very good passer but he's not at CP3-level just yet and he may never be. Aldridge has come a long way as a passer, but he's nowhere near Griffin's level in that regard.
But hoping that Portland can learn to play with Jordan is part of the risk that Olshey and the Blazers' brass must consider. And Olshey knows Jordan very well. Overall, the Clippers were several levels better when Jordan was on the court. They outscored their opponents by 11 points per 100 possessions, compared to being outscored by four points per 100 possessions when he sat per NBA.com.
Portland's summer of fun is still in its early stages and we'll hear more and more about the directions they could go in the days and weeks ahead.