Blazers F LaMarcus Aldridge undergoes thumb surgery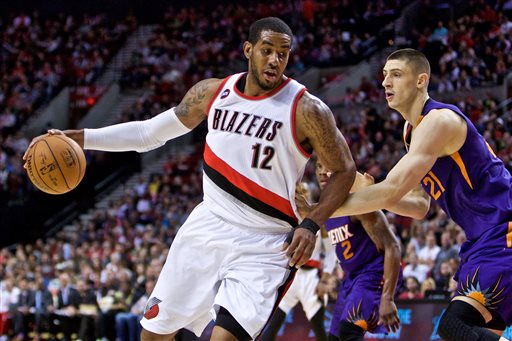 Portland Trail Blazers soon-to-be free agent forward LaMarcus Aldridge underwent a "successful" surgery on his left thumb Monday morning.
The surgery was to repair the injured radial collateral ligament which he tore back on Jan. 19 in a home game against the Sacramento Kings. The surgery was conducted at the Cleveland Clinic in Cleveland, Ohio by Dr. Thomas J. Graham.
The Blazers estimate that the four-time All-Star will be able to return to basketball activities in approximately eight weeks.
Aldridge was initially ruled to be out 6-8 weeks immediately following the injury. But Aldridge postponed his surgery and came back to the court five days later against the Washington Wizards. Aldridge's play kept the Blazers alive in their race to win the division after they suffered losses to the Phoenix Suns and Boston Celtics in his absence.
Aldridge averaged 23.6 points and 10.3 rebounds per game on 47 percent shooting after returning from the injury, which was slightly more efficient than he was pre-injury. He did experience a dip in blocked shots per game, however.
Still, if Aldridge hadn't postponed surgery, it's worth wondering if the Blazers would actually be in worse position to re-sign him. If Portland had fallen out of the playoffs entirely, it would have been even easier for him to leave town than it already is.
At the time, it seemed like him putting off surgery was the biggest moment in his entire free-agent dance with the team. Aldridge is a self-proclaimed "lead by example" type of person and it's wise not to put too much stock into what he says but rather see what he does. It was a little more tangible than his verbal guarantee but ultimately Aldridge was always going to face a choice here. The Matthews injury happened and here we are. It's likely more complicated than that.
Aldridge won't be able to resume basketball activities until long after his free agency status is decided. But whatever team he is suiting up for next season, he should be back at full strength. During the Memphis series you could see a lot of fumbled passes and reluctance to finish with his left hand as a counter move which he has had in his arsenal.