Woj: Blazers assistant Nate Tibbetts candidate join Thunder staff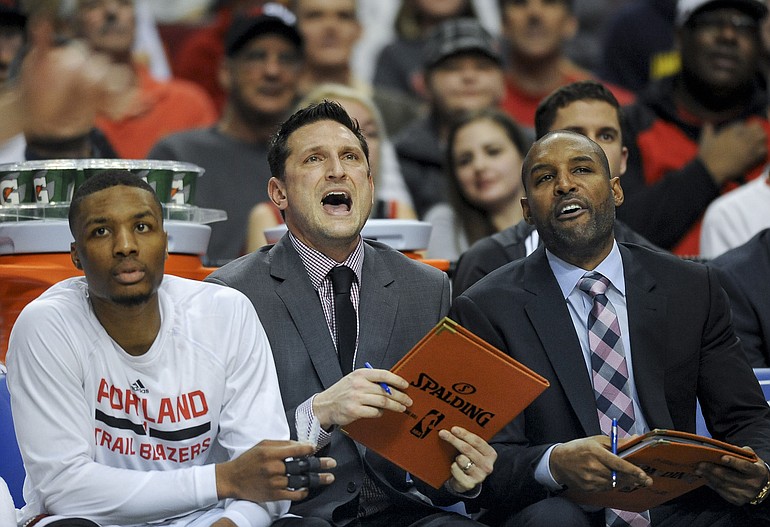 After enjoying the rare comfort of having the same coaching staff over the past two seasons, the Portland Trail Blazers could see some changes on the bench.
Adrian Wojnarowski of Yahoo! Sports reports that Trail Blazers assistant Nate Tibbetts has been contacted by Oklahoma City's new head man and former Florida head coach, Billy Donovan, to join his staff.
In addition to Tibbetts, former Blazers assistant and recently-fired Pelicans head coach Monty Williams, has also been contacted.
Donovan has a targeted interest in several potential candidates, including ex-New Orleans Pelicans coach Monty Williams, Chicago Bulls assistant Andy Greer and Portland Trail Blazers assistant Nate Tibbetts, league sources said.
Wojnarowski also mentioned Knicks assistant Brian Keefe, who was formerly with the Thunder.
As part of our in-depth look at the Blazers' coaching staff, I profiled Tibbetts earlier this season.
Tibbetts has gradually worked his way up the NBA coaching ranks, making his bones, mostly, in player development. He's worked very closely with Wesley Matthews during his time in Portland as well as Portland's other perimeter players. He even travelled to Madison, Wisconsin to work with Matthews in the summer. But Matthews' future with the Blazers, like nearly everyone from last year's team, is in question.
Tibbetts has a reputation for working hard with players and sweating with them in workouts. After practices it's a good bet that Tibbetts is working out someone whether it's Matthews or Allen Crabbe.
Tibbetts also forged a notable partnership with Kyrie Irving during his time as an assistant with the Cavaliers during Irving's rookie season.
Players have taken to Tibbetts and it seems they have a great deal of admiration for the work he puts in and vice versa. In the words of Matthews, Tibbetts is "a player's coach," something which would be of great service to Donovan, who has no recent experience dealing with current NBA players.
Tibbetts was part of the Thunder's organization prior to coaching on the NBA sidelines as the head coach of their D-League affiliate Tulsa 66ers, which have since been moved and renamed to the Oklahoma City Blue. He was Tulsa's head man from 2009 to 2011, so it would be a reunion of sorts if he joined Donovan's staff and the Thunder.
The Blazers staff was remarkably unchanged after Tibbetts joined the team two summers ago. But, it appears that Tibbetts could be the first one of the staff that's presided over two 50-win seasons to move on.
It's early in the offseason and it's doesn't sound like Tibbetts is in advanced discussions, yet. His reputation as a player development coach and a hard-worker are strong. It's no surprise that Donovan and the Thunder want to bring him back into their program.
Only time will tell whether it's the start of an exodus from the Northwest or if it's just another summer rumor lost to the depths of the internet and Portland's staff remains intact.