Trail Mix: Blazers interview draft prospects at NBA combine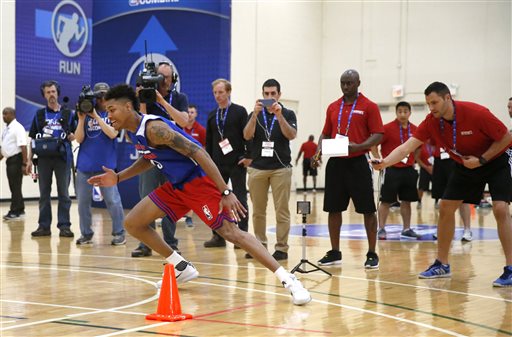 The 2015 NBA draft combine is finishing up in Chicago where many players who are projected to be taken in June's NBA draft are this week. The draft lottery is only four days away. The Trail Blazers won't have any skin in the game come next Tuesday night but they still have the No. 23 pick in the draft.
Neil Olshey proclaims himself "a draft guy," and when you look at his draft record it's hard to disagree with him. His picks in Portland all look like they have futures in the league, even ones who aren't with the Blazers anymore, like Will Barton who enjoyed a great finish to the season in Denver.
So, while the NBA draft combine is still growing in importance, the combine is also where many players can see their stock change. But for many teams it's their first opportunity to get to know the players and prospects as people.
Damian Lillard put many on notice with his 2012 Combine performance though he had gained attention at Weber State.  It's a big week for players and teams, which has been televised the last few days on ESPN2.
According to CSNNW.com's Jabari Young, Arizona's Rondae Hollis-Jefferson, Wisconsin's Sam Dekker and Georgia State sharpshooter R.J. Hunter all interviewed with the Trail Blazers.
Hollis-Jefferson finished in the top-3 in agility drills at the combine according to the ESPN2 broadcast and is regarded as one of the best defensive players in the draft.
They hype about Hollis-Jefferson on the defensive end is very warranted. His Arizona team played their second and third round NCAA games in Portland I had the opportunity to watch him live. He's about 6-5 but he's wide, strong and has a 7-foot-2 wingspan to compliment his effort and energy on defense. His best attributes are things the Blazers don't really have a lot of including great individual defense and cutting off the ball. He also is a threat to get rebounds out on the wing because of his wide frame and long arms.
He only took a few possessions guarding D'Angelo Russell in their match-up against Ohio State but he showed how disruptive he can be in multiple situations throughout the tournament. Among the knocks on Hollis-Jefferson, his jumpshot, which would seem like a major no-no in the flow-offense type system, is the most troublesome one.
Dekker is regarded by many to be one of the best athletes in this draft class and had a wonderful tournament. Dekker, although he was reportedly interviewed by the Blazers, seems like a player just outside Portland's range. We've seen crazy things go down in the draft. Mock drafts can only predict so much. Dekker would make Portland more talented while adding to their athleticism on both ends.
Dekker had a fantastic tournament but also had some subpar performances, particularly against Duke in the title game. Dekker also played very well against Hollis-Jefferson's Arizona, scoring 27 points in that game. But Dekker likely won't be around.
Hunter is a player who seems like a pure Blazers pick and may actually be around when Portland is picking, should they stay put where they are. Hunter is regarded by some to be the best shooter in the draft and he obviously showed his clutch chops in Georgia State's upset of Baylor. He's also a Coach's son, something which speaks to his basketball pedigree. The Blazers have also drafted great scorers from mid-major schools and have done quite well with those picks.
Hunter is 6-6 in shoes and has a 6-10 wingspan. He's also just 185 points. He's no Hollis-Jefferson when it comes to being physically imposing defensively but he shouldn't be a slouch either, given his physical tools.
There's really not much to go on for those of us who didn't watch Sun Belt basketball. But Hunter has been on the radar of folks in front offices around the league, since before the last college season began. And the fact he's been interviewed by the Blazers clearly shows he's been on their radar as well.
Young notes several other prospects who the Blazers have talked to or planned to talk to at the combine.
The draft is always an interesting time full of smoke screens, back-room guarantees and trade talk between teams. While who the Blazers interview may not mean a whole lot right now, everything that is happening will factor into Portland's decisions down the line. If nothing else, who the Blazers are interviewing gives us an idea of who they are interested in and who they think will be around when they finally get to pick.
The Trail Blazers released an interesting piece of content for those of you who love your team history. Bill Schonley narrated a one-minute look back at the founding of the franchise with original audio from co-founder Harry Glickman. Team reporter Casey Holdahl says that the clips will be part of an on-going series narrated by the Schonz.
Holdahl also posted audio from Neil Olshey's appearance on Sirius/XM's NBA channel where he gave his opinion on the notion that rule changes to eliminate hack-a-(DeAndre Jordan/Dwight Howard) is needed. His answer, mostly, was that it's more isolated than many make it out to be.
When you think about it, there are very few teams against whom you can employ the tactic. The Clippers are on TV more than just about everyone and that's why it likely sticks in our head more. New Orleans has Omer Asik, the Rockets have Howard and the Pistons have Andre Drummond. But really, how many players in the league would a rule change benefit?
While the result is something aesthetically unpleasant, it seems like it would benefit a very small number of players. Also, a player like Jordan would suddenly become even more valuable if shooting free-throws could be something he simply chose not to participate in or was allowed to skip them per the rules.
It's a drag to watch games that come down to that tactic. But when you think about it, how many players are negatively affected by the rules as they are? It seems like we only talk about this when we watch Clippers games and by the time many see Chris Paul's incessant bickering with officials and Blake Griffin's on-court manner, many in the viewing populace are already displeased. The fouling just adds on to the viewing displeasure. So I'm inclined to agree that it's far more isolated than we realize.
Also, it's pretty interesting to note that the Clippers blew a 19-point lead last night with the Rockets never going to the hack-a-strategy in the comeback. Clark County's own Corbin Smith reflected on the comeback at VICE Sports and compared to the game's most recent cousin in ridiculous comebacks, Nick Young's explosion in Memphis in 2012.
The first round was pretty bad outside of Spurs-Clippers and the second round continues to amaze. After getting lambasted as a front-runner and quitter for the last few days, Dwight Howard had a great game accented by Josh Smith, Corey Brewer and Jason "I'm always 31 even when I'm 37" Terry.
Hope you all enjoy the weekend and what should be a great Game 7 in that series.