Trail Mix: Potential Blazers Christmas Day jersey leaks, latest free agent rumors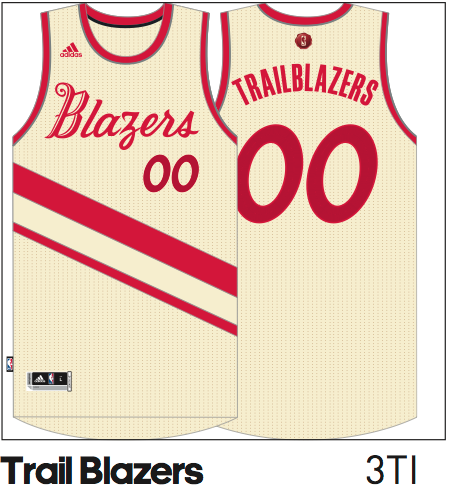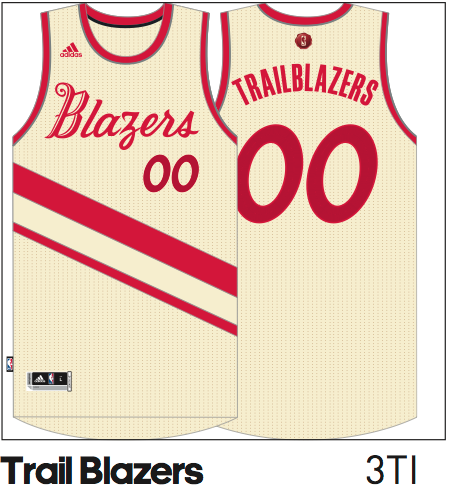 There's a great slate of Game 5's coming up this evening in the NBA playoffs and the draft combine in Chicago got underway earlier this week. The Trail Blazers have the 23rd pick in the first round of the NBA draft and that night could be a potentially busy night for the team and the league.
The draft is a long way off but let's first start off talking about stuff even further off!
The website Uni-Watch.com got a hold of mock-ups for the 2015-16 NBA Christmas Day uniforms. All 30 teams got their own mock-up in the event that they'll play on Christmas Day. Even the Kings! But the Blazers got a cream and red ensemble that looks a lot like an older jersey from teams past.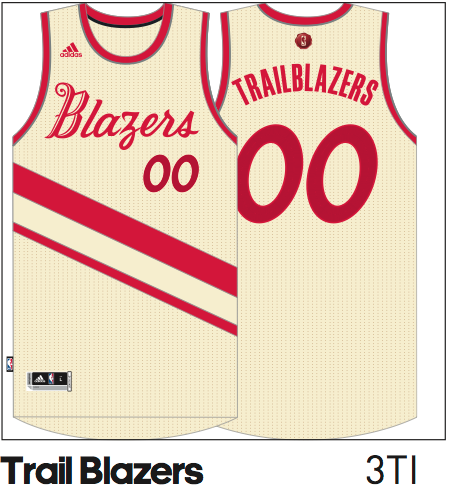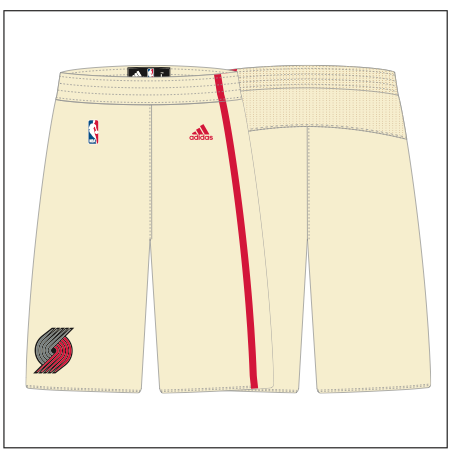 Maybe if LaMarcus Aldridge leaves town the NBA will go with an Aldridge reunion game for Christmas Day! Okay, probably not. That storyline wouldn't register on a national level. But it would make for some good television for those who know the story. The Blazers haven't played on Christmas Day for a few seasons now (no complaints here!) and it would seem unlikely that they would play again.
But whoever leaked these probably did so in order to gauge consumer interest and it seems like these have resonated with judging by social media and other people who have told me that they like the look. So, you'll definitely have a chance to buy these even if the Blazers don't have a game on Christmas Day. And the NBA never turns down a chance to make an extra buck. But unlike recent seasons, these jerseys actually look like NBA jerseys rather than the ones for Average Joe's and Globo Gym.
It also appears that the Boston media is as bored as we are with all this time to kill between now, the draft and free agency. Multiple analysts on Comcast Sportsnet Northeast played a game where they assigned a percentage to the name of a free agent for their likelihood of joining the Celtics. Dave Deckerd of Blazersedge chronicled both videos.
CSNNE's Celtics Insider A. Sherrod Blakely put the odds of Boston luring Aldridge at 35-40% while saying Boston had 60-65% chance of landing Matthews. Blakely also said that part of an Aldridge pursuit would include a pursuit of Matthews.
The Comcast crew in Boston aren't the first to associate Aldridge's name with the Celtics as soon-to-be-former ESPN writer and Grantland editor Bill Simmons has also discussed Boston as a location for Aldridge weeks ago. Simmons is also admittedly a huge Celtics fan.
There are a few things about this that would make you think it's a possibility. Celtics Brad Stevens has publicly made known his appreciation for Wesley Matthews when the Celtics have visited Portland before and everybody wants a shot at Aldridge. The only attraction for Aldridge, from where I'm sitting, is the opportunity to make the playoffs with basically little-to-no work at all. The East is terrible and will be so for the foreseeable future.
The West is not getting any easier, though if Portland were to bring back a reasonable facsimile of their team, they should be in the playoffs anyway. It will just be a lot harder and Aldridge could probably coast to four or six more All-Star appearances in his sleep out East. But it would be hard to imagine Aldridge going to Boston to join Matthews when he could do so for more money in Portland.
Aldridge's name should be mentioned with every single team in need of improvement because that's just how good he is.
But back to the Draft Combine which is going on this week. The Blazers have the No. 23 pick and according to multiple mock drafts will pick a power forward. ESPN.com's draft insider Chad Ford predicts the Blazers will take Kentucky freshman and Canadian national Trey Lyles while Jonathan Givony predicts the Blazers will take Montrezl Harrell.
The Draft Combine has continued to increase in importance as many teams oversee the workouts and conduct their own individual interviews with players. The combine will be televised on ESPN2 on Thursday and Friday this week which will include some five-on-five scrimmages as measurement-based stuff such as a max vertical leap and shuttle drills.
The draft process is a very intricate one and Blazers brass are in Chicago as well as representatives from every team. Matt Kamalsky of Draft Expresss published one of the more interesting pieces of content heading into the combine on the scrutiny of player movement which included incredible access to Texas draft prospect Myles Turner. Turner, ironically, drew a lot of comparisons to LaMarcus Aldridge during last year's Nike Hoop Summit.
But the point that the article is getting at is the extent to which each one of these prospects are analyzed. And it's pretty remarkable the lengths these teams go to analyze each and every prospect. Now it seems like players are going the extra mile themselves to prove that they have nothing to hide, which made the piece from Kamalsky even more interesting.
Finally, we'll end with another fun piece from today's internet.  With Eight teams left in the hunt for a championship, ESPN.com insider Tom Haberstroh analyzed the title chances of every team in the league to see how many "expected titles" each team has compared to the ones they've actually won.
We always hear about the many teams that had a great shot at a title and ultimately failed. The Blazers existence has been colored by these moments and teams that achieved regular season success but came up short in the pursuit for a title.
Haberstroh's findings however suggest that the Blazers have performed relatively close to their expected output, winning one title out of an expected 1.6. The Blazers have made the playoffs a remarkable 30 times since the ABA merger in 1976, only the Spurs and Lakers have made it more times, but have reached the coveted 55-win range only six times since then.
So, while the Blazers haven't had a lot of playoff success when they've made the playoffs, according to Haberstroh's study, they shouldn't really have been expected to go deep. Portland has produced good teams but rarely great ones and their chance at a great team was ruined this season by injury. The Blazers' ratio of titles to expected titles is right there with the 76ers and Dallas Mavericks.
But the Blazers have gone quite a long time since having a team warranting championship expectations, according to the standards used by Haberstroh. The Blazers haven't won 55 games or more since the 1999-2000 regular season when they lost in seven games to the Los Angeles Lakers, who were found to be the biggest "over-achiever" in the league when it came to beating their expected number of titles.