Trail Mix: Wesley Matthews to remove walking boot Tuesday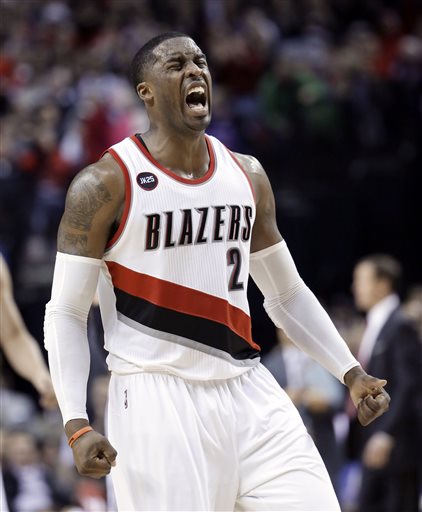 Hi everybody! It's good to see you again! I've just gotten back from a nice postseason vacation that included very little basketball watching and lots of tacos down in Mexico. So, we're getting back into our groove here by bringing you some of the more important Blazers-related stories.
Wesley Matthews' continues to progress in his comeback from a torn achilles tendon, according to a recent television appearance.
Mike Tokito of The Oregonian detailed Matthews' appearance on NBA-TV's "Gametime" show, where he revealed that he would have his boot removed on Tuesday.
Matthews, who had season-ending surgery on March 11 to repair a ruptured Achilles' tendon, said he will discard the walking boot he has been in on Tuesday.

"Coming off on Tuesday, that's the plan," he said. "It's ahead of schedule, and I'm excited for that, definitely."
Matthews told reporters during the team's May 1 exit interviews that he planned to be ready by "August" when asked if he thought he'd be ready for training camp in October 2015.
Matthews' assurance that he will be back over a month before training camp is obviously soaked in several layers of Iron Man bravado. However, the news that he will be out of a walking boot is definitely a positive sign. Of course, whether he will be making his return to the NBA court in a Blazers uniform is likely the biggest question surrounding his rehab.
Matthews was having a career season before injuring his achilles on March 5. The injury typically takes 6-8 months of recovery.
The obvious most recent example of an achilles comeback is that of Kobe Bryant, who ruptured achilles on April 12, 2013 and came back in a little under eight months on December 8. Bryant, of course, was 34 then, while Matthews is just 28 and has significantly less NBA mileage than Bryant.
Matthews was asked whether he had any doubts about coming back to being his full-self during exit interviews.
"It's a legitimate question," Matthews said. "It's a legitimate fear. But I don't have that."
NBA.com's Ian Thomson wrote a nice feature story on the relationship Damian Lillard has with his mother, Gina. Lillard's relationship with his mother has been a very public one as she is at almost every game and they live together.
The relationship between Lillard and his mother is one of mother and son but also a deep friendship, as Thomson details. In the article which covers many aspects of their relationship, here's a more little-known detail about how Lillard helped out a family member to come live with him and ease their burden.
One of Damian's cousins had been experiencing health problems of his own while working in the Portland area. He quit his job and came to work in the suburbs for the Lillards.

"You are a cook," Gina says of Damian's cousin. "You don't have to go to work and do all this lifting and all that. You went to school, you have your culinary license. You can work here. You can cook for us. "So that's what he did. He stopped working himself to death, he's home and much better and working for us. The idea, that was Damian's. I didn't even think of that. He was like, `Mom, what do you think about this?' But the thing is, I'm the cook in the house. So I'm like, `Well, I don't know …"'
This is just one small part of a very cool story on Lillard and his family. You hear a lot of times about athletes' close relationships with their family but Lillard's is one of the more interesting and unique.
I've been participating in The Oregonian's "You Be The GM" panel discussions where writers weigh in on the future of Portland's roster. Today, we tackled Chris Kaman.
Willy Raedy of Blazersedge had a detailed and analytical breakdown on the play of LaMarcus Aldridge on both ends for the Blazers. Aldridge is very good and his game has become taken as a given and at times it's hard to see his full impact. Raedy does a good job of analyzing both his strengths and limitations.
Speaking of Aldridge, his free-agency is still the most important story of Portland's offseason. And last week, as many others have covered, a rumor about Blake Griffin possibly coming to Portland to replace LaMarcus Aldridge broke last week.
The rumor came from a radio appearance from Yahoo!'s Marc Spears on the John Canzano's "Bald Faced Truth" radio show on 750-AM The Game in Portland. Dan Feldman of NBC Sports' Pro Basketball Talk transcribed the appearance where Spears floats the rumor.
This is a rumor. Let me say that three times. This is a rumor. This a rumor. This is a rumor.

Blake Griffin.

Obviously, there's a connection there with the GM. And you wonder, if LaMarcus is interested in the Clippers, playing with Chris Paul. Could Neil Olshey get his old superstar with the Clippers in Portland?

I think you get to a point where – Neil is smart. You've got to have a come-to-Jesus meeting with LaMarcus and say, "Hey, do you really want to be here or do you think  you want to go. Because f you really want to go, help us – the same way Steve Nash helped the Suns. Don't just walk away. Try to help out Portland in the process."
It would work out best for the Blazers, if Aldridge were to leave, to orchestrate some type of sign-and-trade to get some assets in return. Olshey is extremely detail oriented and likely wouldn't let Aldridge leave without doing his due-diligence to get something back.
And if you think that Portland would most likely get nothing if Aldridge wants to go, just remember that the Cleveland Cavaliers got two first round picks (and more) from the Miami Heat when LeBron James ditched his hometown team. A town, which at that point had already burned his jersey. Even if Aldridge harbors ill-will towards the Blazers, the decision makers at the top of the league's teams all know each other and could very well come to an agreement to make the other one somewhat whole.
Portland getting Blake Griffin would do more than that. It's not just be the best-case scenario for the Blazers if Aldridge leaves, but a better scenario than Aldridge coming back at all. Aldridge is a certified great player but Griffin is just a notch better in terms of his versatility, athleticism and youth. Griffin has a great post game even if it isn't as pretty as Aldridge, is more athletic, a better ball-handler and passer. He may be unlikable but his game undeniably better and he's younger than Aldridge. Portland would also get Griffin during his peak seasons which match-up better age-wise with Lillard.
It's not exactly a secret around the league that Griffin and Clippers general and point guard Chris Paul aren't best friends. But trading Griffin to remove whatever ill-will exists between their stars from the equation, seems like a rash move by the Clippers, especially for a team that just beat the freaking Spurs and is a game away from going to the conference finals.
Team chemistry is important but it can also be overvalued when it comes to team success on the court.
Neil Olshey obviously loves Griffin because he drafted him when he was in Los Angeles and because Griffin is great. But as far as an Aldridge scenarios, I have a hard time seeing one in which he leaves and Portland actually gets better. This is one of those. I don't know why the Clippers would do it especially when it looks like Griffin is starting to come into his own in the playoffs for the first time.
The Clippers player I'm surprised we haven't seen Portland associated with is DeAndre Jordan, an un-restricted free agent this summer and an Olshey pick, yet. Getting Griffin would be an absolute coup for the Blazers.
But we've seen crazier things in the NBA. Olshey is highly regarded when it comes to negotiating and Spears is very plugged in. At the very least, it's a fun and interesting scenario to discuss when you have nothing else to talk about until the NBA draft.