Trail Mix: Aldridge rumors, Lillard extension buzz, Afflalo reportedly opting out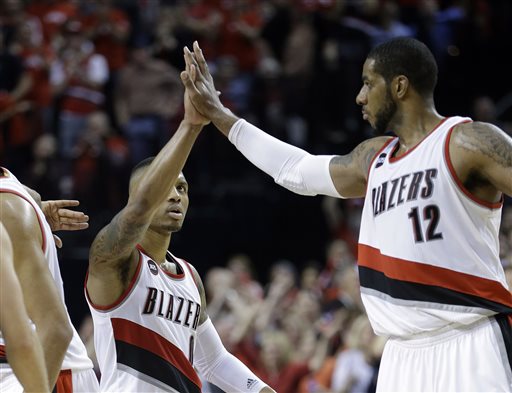 The Portland Trail Blazers had their exit interviews on Thursday. LaMarcus Aldridge praised Portland and Neil Olshey talked about his excitement for the task that awaits.
On Friday, unsurprisingly, there were more Aldridge rumors.
And we heard of one team that could be in the Aldridge sweepstakes that makes perfect sense but just hadn't been reported yet.
Marc Stein of ESPN.com said that although the Spurs are currently 1st in the clubhouse as far as teams that Aldridge could leave Portland for, he also brings the possibility of the Cleveland Cavaliers.
Yet sources insist — at, yes, this early juncture — that San Antonio sits near or at the top of Aldridge's list … unless the Cleveland Cavaliers were to lose Kevin Love and then somehow manufacture a way to sign-and-trade for him.
In light of Kevin Love being out for 4-6 months due to his shoulder injury and subsequent surgery. Of course, Aldridge would be perfect for their team if he were to commit to occasionally playing center.
He can stretch the floor somewhat but his touches would go down. But his superior defense would be attractive for the Cavaliers. He's not as good of an outside shooter as Love has been over his career but he has added the 3-point shot to his arsenal where he shot 35 percent.
During his exit interview, Aldridge sounded like Portland had the upper hand.
"I'm not going to get into all of the percentages or anything like that," Aldridge said when asked if he was leaning towards Portland. "I've always been here. I've had a great nine years here. That's always going to have more weight than anything else."
Neil Olshey said that the Blazers have contingency plans for all of their free-agents who includes Aldridge. So, the Blazers and their front office are evidently preparing for Aldridge to skip town and chase a ring in another uniform.
If San Antonio is at the top of Aldridge's list, it will definitely be a tough act to follow. As Stein notes, the amount of Aldridge rumors suggests that he doesn't fear following the legacies of Tim Duncan or even Dirk Nowitzki in Dallas.
But the Aldridge that spoke yesterday in Tualatin, more than anything, sounded like someone who didn't yet know what he was going to do. The end of the season was still fresh in his mind and he said he needed to rest and take care of his hand before doing anything.
So, if he hasn't really thought about it, he will have to eventually. Aldridge is great but he's not Duncan. Especially after seeing some of his performances in the Clippers series like Game 2 and Game 5, I'm not sure that I would want to follow that guy if I were Aldridge.
And if Portland can put together their same team with even an 80 percent of Wesley Matthews and an improved Damian Lillard as well as playoff heroes CJ McCollum and Meyers Leonard, they are a very good team. And with San Antonio, there is Kawhi Leonard, who is the best player of them all.
But the pressure will be much greater in any of those situations to win a title and would be a disappointment as a big-name free-agent from out of town.
If he resigns in Portland, at best the Blazers are a contender in the West with a healthy roster with Matthews, Lillard, Batum and company. Batum, although he has been with Aldridge for his whole career and is close with Matthews, has a very tradeable $11 million contract especially compared to what a lot of comparable wings are making. McCollum and Leonard already bolster the bench heading into next year. And they could theoretically go to a three-guard line-up provided Wesley Matthews can still effectively guard bigger wings.
But they could also bet on Batum benefitting from having a more low key summer. Last year he travelled to Asia and the FIFA World Cup in addition to carrying the weight of playing for the French National team in the Basketball World Cup. He intends to stay in France mostly with his family and perhaps make one trip to Cameroon to visit his family there. But he will play in Eurobasket in August.
And at worst, Aldridge, can sign the five-year max with Portland become, as my buddy Mark told me, "keep getting them checks jump-shooting LaMarcus and gets a vegetable soup named after him at Pok Pok." That's realistically a worst case scenario for Aldridge if he comes back to Portland. If it's to San Antonio or Dallas, it's the guy who messed up a good thing.
But, we've seen guys sacrifice the comforts of their former team to go align themselves with their best chance to win a ring. And if Aldridge does that, he will be likely sacrificing money and touches to do that. And that goes for many of the situations. Portland is still a very good situation for Aldridge. The Lakers and Knicks simply are not. But it wouldn't be wrong for him to think he would have better title chances with a team like the Spurs, Cavs or Rockets, to win a title.
Damian Lillard will reportedly seek a maximum extension, according to multiple reports. Both RealGM and Stein have reported that Lillard will seek a five-year max.
RealGM's Shams Charania thinks that there will be no hometown discounts from Lillard's camp.
Lillard, sources said, has no plans to consider signing an extension less than the designated max – nor would the two-time NBA All-Star and 2013 Rookie of the Year be financially inclined to do so given 2016's rising free agency market, when upward of 20 teams could extend $20 million-plus offer sheets to Lillard.
Lillard was asked about signing an extension at exit interviews.
"For me this is where I want to be," Lillard said. "Whatever we need to do to make that happen and figure that out that's what we're going to do."
So, it sounds like he wants to get it done as well. Lillard managed to have a couple of good games in the series against the Grizzlies. And as he stated in the exit interviews, he was one of five players in the league to have over 1700 points and 500 assists in the league this year.
Also, congratulations to Lillard for getting his Bachelor's Degree at Weber State earlier today.
One other important nugget from Stein, was that Arron Afflalo plans to opt out of his player option.
The move for Afflalo to opt-out seems a little odd considering he's slated to make just under $8 million next season after not a very good contract year. Portland didn't perform well when he was healthy and then the shoulder injury made him a shell of himself in the playoffs. He could also be waiting to see how Portland's big name free-agents play out and also likely saw the growth of CJ McCollum as not a great sign for him.
But money-wise it's hard to see anyone give Afflalo almost $8 million after the year he had. Opting-in would also allow him to be a free-agent during the summer of 2016 where the pie is going to be much bigger. But as a veteran, money may not be the main concern for Afflalo.
Just like all of us, he'll just have to wait for the big dominoes to fall.