FULL TRANSCRIPT: LaMarcus Aldridge exit interview on Blazers, free agency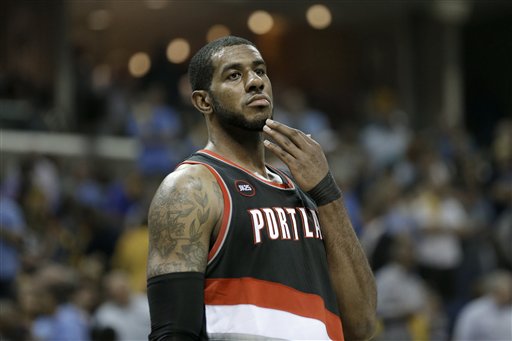 Portland Trail Blazers forward LaMarcus Aldridge has a big summer ahead. He is an unrestricted free-agent for the first time in his career. The Lakers, Knicks and Spurs are all reportedly trying to get him to come to their team. But on his way out during his exit interview, he had nothing but good things to say.
He praised Neil Olshey for putting players first as well as making improvements to their practice facility and their locker room at the arena. He also added that the nine years he's spent in Portland will "carry more weight than anything."
But, you can read it for yourself without my interpretations. Video of the interview can be seen here.
Q: What's important for you when you decide?

LA: Yeah. Last night was tough. I wanted to win, blah blah blah. Um yeah. I mean you know i'm not going to get into the details of it. I'm just going to go home, relax, talk to my family and my agent and just go from there

Of course I love being here. I'm thankful for everything this city has give me. I'm thankful for my nine years my time here. It's been an amazing nine years, of course I wouldn't want to end. But when the time comes I will sit down with my agent and Neil and Paul and we'll just figure it out.

Q: Does this team have the benefit though?

LA: As I said we will sit down and figure it out. I'm not going to get into all of the percentages or anything like that. I've always been here. I've had a great nine years here. That's always going to have more weight than anything else.

I know you said you wanted to sign a 5 year deal, TV contract money change that?

I haven't even got into that. I've heard the numbers are very different now but I haven't really looked into it.

Q: You've been here for nine years, sometimes some of us, some of the fans, they say don't really connect or know what your plan is?  Does that surprise you?

LA: It's not overly surprising. I'm a pretty private person. I'm very to myself. Only a select number of teammates know me on the next level. But, it's not, I don't know if it's really about that. I've always competed as long as I've been in uniform and bring wins to this city. Try to play through adversity, pain, injuries if I could is a more important thing than knowing who I am on a deeper level. That just comes with time.

Q: What changed with your thinking since what you said last summer about signing with Portland?

LA: I haven't really thought about it since then. The season just ended. I have to sit back and reflect about what happened. Look back on the season. Look back on things that are important to me. I wouldn't say things that have changed. I'm going to do my due diligence, I'm going to go through the process.

Q: Would you prefer to wrap the process up early?

LA: I've never been in it so I can't say it. I've never been in this position. I'm definitely not one to prolong things or drag things out. That's not my personality. You know, I think if my agents can figure it out fast, of course we will.

Do you plan to take those visits with other teams coming after you?

LA: As of now I'm about to relax. My body is beat up. My hand can finally heal up and I can handle the situation. When I cross that bridge I will figure it out. For now, I just want to rest.

Q: Going back to Texas?

LA: Yeah I'm going back to Texas?

Q: Does part of you look forward to that process, though, of being recruited?

LA: Yes and no. I think every player wants to be wanted. I'd be lying if I said I didn't want to be wanted. Because that means you're one of the top players at your position. But, you know it's always a good and bad that comes with it. I have to deal with it. I'm just looking forward to getting rest right now and figure the rest out.

Q: What are you going to take away from this season and the series?

LA: This was a special season for us. Whenever you can win 50-plus games, division champs, make it to the playoffs, you know, none of those things are guaranteed. When you look at Miami, I'm not trying to call them out, they went from 1, 2 in the East to not even in the playoffs. It didn't end the way that we wanted it to. I thought through a lot of adversity as far as losing guys, and guys being hurt. And RoLo was out for a long time. Wes was out towards the end. So I thought throughout all of the injuries and adversity, guys stepped up and it got better so it was good for us.

Q: Will you have surgery on your left thumb?

I don't know yet. I have to get it looked at again.

Q: How would you describe your relationship with Neil?

LA: I would say it's good. I would say he is different than most GM's out there Other than when Chad (Buchanan, now Assistant GM in Charlotte) subbed in. I thought Chad had some Neil qualities in him as far as putting players first and making sure that they had what they wanted and what they need. Trying to make sure that guys are happy. I think Neil has bought a new culture to this team, to this city, he came in and re-did the whole facility, the whole arena, he just wanted players to be happy at their jobs, at the arena and stuff like that. So, I think that was new for me and I've enjoyed that.