The Scouting Report: Memphis Grizzlies, Game 5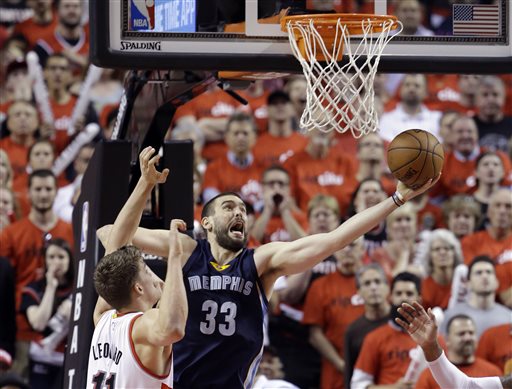 Projected Memphis starting line-up: Nick Calathes, Courtney Lee, Tony Allen, Zach Randolph, Marc Gasol
Projected Portland starting line-up: Damian Lillard, Arron Afflalo, Nicolas Batum, LaMarcus Aldridge, Robin Lopez
Memphis injuries:  Mike Conley (face)
Although Terry Stotts stuck with Meyers Leonard for 35 minutes of Monday's elimination game, I don't think that he will go to Leonard in the starting line-up.
If you're asking me if he should, you obviously haven't read this blog enough during the playoffs. Yes, he absolutely should. However, playing him early would risk foul trouble. But it's a risk that, at this point, and at any point during the series, would have been worth it to take.
And Portland has to play at least three big men and Stotts can keep the integrity of the starting line-up together and still give Leonard big minutes.
Or he might look at the data with Leonard and Aldridge together in the series compared to Lopez and Aldridge and he might think it's time to go all-in.
In the first half of Game 4, Memphis just didn't know what to do against Leonard. Here, Marc Gasol is standing at the free-throw line after Leonard hit some shots. Marc Gasol is just below the foul line and nowhere near the rim.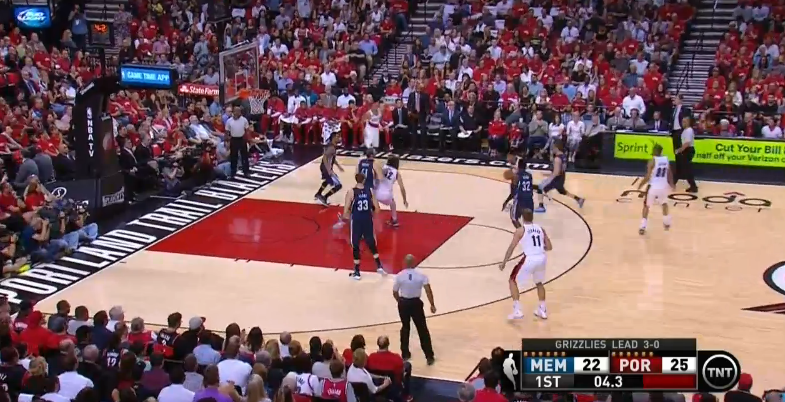 Credit Robin Lopez with one of his classic seals in the lane to allow Lillard to get to the basket. But with Gasol nowhere near the rim, the paint is open.

Points in the paint are a funny statistic aren't they? A lot of people might assume that Memphis would automatically be better because of the way they play through their big men. But Portland outscored the Grizzlies 40-38 in points in the paint, something they rarely do against anyone because of the space that Leonard helped create. This lay-up by Lillard is just one example.
Lillard's passing has been back to the level that we know it can be in the last two games. On this pick and roll with Lillard and Aldridge–probably Portland's best play–with Leonard spaced to the corner, there's oodles of space. As Lillard is about to throw the ball, Gasol takes another step out to Leonard and Aldridge is all alone.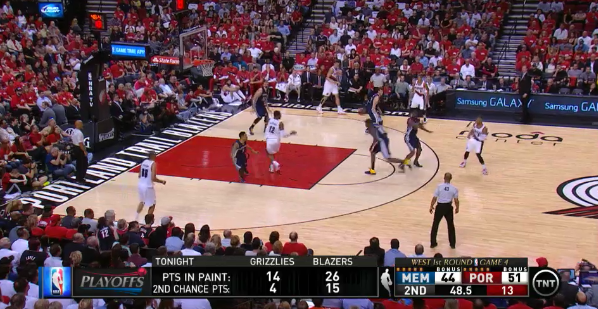 Two of the easiest points that Aldridge has had all series. The Meyers Leonard effect.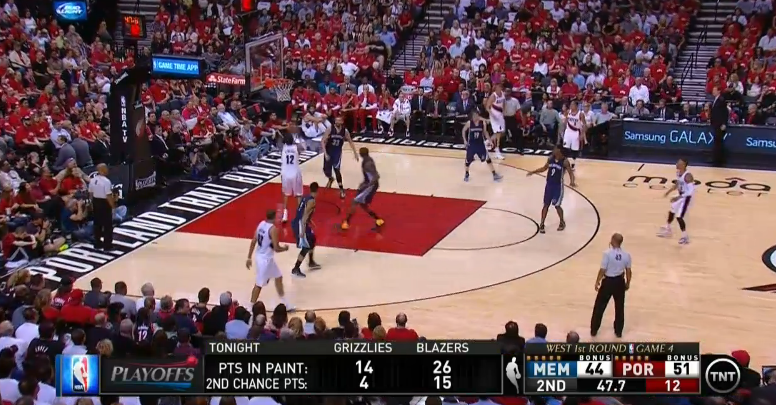 And just one more time, here's another part of the Leonard effect that creates more opportunities in the paint: offensive rebounds.
We have another pick and roll with Lillard and Aldridge with Leonard spaced to the left corner. And because Gasol is keeping an eye on Leonard and is keen on boxing him out as the shot goes up, it gives Aldridge the leg up to get prime rebounding position.
Aldridge had six offensive rebounds in Game 4 and Portland had 22 second chance points on 13 offensive rebound, their best rate of conversion on those chances that they've had all series at 1.69 points per offensive rebound. Their previous best was in Game 1 where they scored 1.44 points per offensive rebound. Portland made the Grizzlies pay. This leads to free-throws for Aldridge.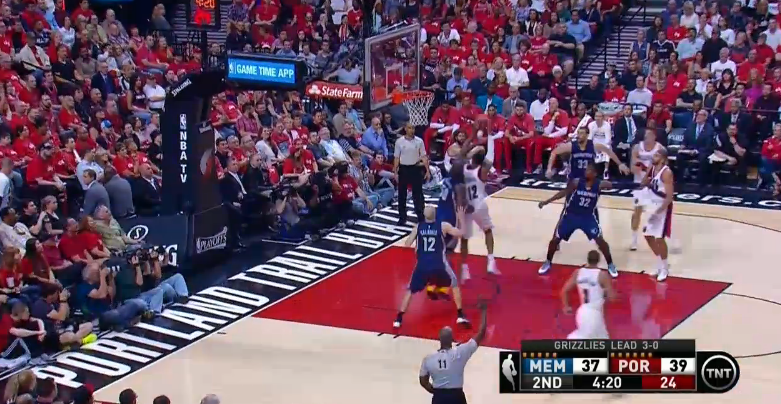 The Meyers effect also manifested itself when Portland's guards, McCollum and Lillard, picked their spots to get to the lane with more space.
Leonard also played excellent defense when matched up against him. Out of 8 times that Gasol posted Leonard, he scored 5 points on 4 field goal attempts (2 foul shots), was forced to pass out twice and was fouled twice. Leonard did a great job down the stretch as well.
The spacing is so good it hits you in the face and it's still a wonder that the Blazers didn't make this change after Game 1, let alone Game 2 and 3. Obviously waiting for Afflalo to fix things didn't prove to be a sound strategy. But, as I've said, you do notice that Afflalo is less afraid to get his hands dirty than Portland's wings were in Game's 1 and 2.  Afflalo isn't afraid to pop an elbow or push and shove with guys, much in the way that Vince Carter has been for the Grizzlies. Obviously it's not what everyone expected but it's a contribution Portland didn't have before.
McCollum has also grown up a little bit, which is natural as he is basically playing in his first playoff series. He got minutes against the Spurs but that was when the series seemed over.
"I think the first two games I came out kind of shaky and played like a younger player, making mistakes and not making open shots," McCollum said.  "I just wanted to show my teammates that I could play in a big game and help them out. I was aggressive tonight trying to get to the cup. Dame did a good job of getting into the lane and kicking out and I hit some big threes down the stretch."
Of course, defensively, Portland has a much easier task when it comes to defending Memphis without Conley. Portland will still go under Nick Calathes screens even after he made four 3-pointers. Calathes shot 26 percent from long range on the season. And then when Beno Udrih comes in it's all about stopping dribble hand-off actions and not getting burned on back cuts.
Defensively, Portland is pretty sound against Gasol and Z-Bo. As sound as you could be anyway because those guys are going to get theirs.
And who knows, maybe Courtney Lee–shooting 66 percent in the series–might actually miss some shots. Leonard has barely missed either and Lee keeps burning the Blazers.
It will be a close one, that's for sure. But being at home, Memphis has the biggest advantage.
But how Memphis adjusts to Leonard will tell us a lot about how this game will go. It just depends on how early Stotts decides to go to it.