The End: Blazers lose series 4-1 to Grizzlies, 99-93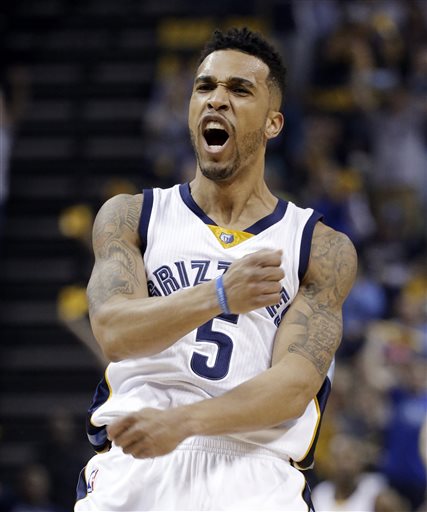 The Portland Trail Blazers' season came to an end on Wednesday in Memphis after losing to the Grizzlies, 99-93.
CJ McCollum led the Blazers with 33 points on 12-of-20 shooting. He was spectacular throughout the game. Meyers Leonard, once again helped change the floor for Portland with his shooting threat.
But–as has been the case for the most of the series–LaMarcus Aldridge had a bad shooting night, Damian Lillard's Memphis struggles continued and Nicolas Batum's did too. Portland's three best players all had forgettable nights in a series full of them.
Lillard shot well from the floor when he attacked but missed seven of his eight 3-point attempts and had six turnovers. Batum played a great floor game, led the Blazers in rebounds and assists, but was 1-for-7 from long range and 2-for-12 overall. Aldridge–who finished the series 37-122 (33 percent) from the field–was 5-for-18–though his counterpart Zach Randolph didn't have a good offensive series with Aldridge covering him.
Still, Portland's hope to win this series rested on their stars stepping up for the entire series. They didn't deliver and that's why Portland is heading to the offseason before May.
Obviously, the series brought many things to light.
The value of Wesley Matthews to their defense, continuity and chemistry was more than previously thought.  The focus from Damian Lillard on the defensive end is no longer sustainable and Mike Conley is better than him at this point in their careers. Robin Lopez has been a non-factor in consecutive playoff series'. Their coach may rely too much on veterans even when the eye-test and numbers say otherwise while being anything but lenient with young players. CJ McCollum and Meyers Leonard are real pieces to a good team. Arron Afflalo might have no choice but to take that player option after all.
And, the one everybody already knew coming in that was magnified: injuries killed this team.
There will be time for more questions in the coming days and months. Only 62 days between today and July 1 when free agency begins and the fate of this team will ultimately be decided. If they can get Aldridge back, they'll probably bring the whole band back together. If Aldridge leaves, it could be a total tear down as they rebuild around Lillard, McCollum and Leonard (one of many reminders to come that Portland's 2016 pick is lottery protected, so they need to be bad to keep it).
But there's a lot left to be decided and Neil Olshey will not go down without first trying to bring back a contender.
But back to the game.
We've reached the point in Lillard's defense that Terry Stotts began Game 5 by playing Nicolas Batum on starting point guard Nick Calathes. Third string point guard, Nick Calathes. Stotts put Lillard on Courtney Lee who killed the Blazers all series but doesn't handle it as much with point guard on the floor.
The Blazers predictably started poorly after their starting line-up fell behind 10-0. Their starters who were outplayed by a significant margin in Game 3, once again played poorly. And finally, after seeing his team's offense reach the same levels of ineptitude that have been their undoing for much of the series, Stotts went back to the line-up that kept them alive.
McCollum and Meyers Leonard re-entered the series at the 6:38 mark of the 1st quarter. At the time the Blazers trailed 15-6. The Blazers would end the quarter tied 20-20 which would be a familiar theme.
Aldridge was 2-for-8 in the first half and continued to struggle with his shot. Even lay-ups went sideways. He has been playing with a bad thumb since January and has worked hard on the defensive end against Randolph all series.
Memphis' defense was much more sophisticated and equipped to take him out than Houston's defense last year who stuck Terrence Jones on him for two games and didn't make him work on the other end. Aldridge has now struggled in back-to-back playoff series when he's facing good defensive teams including last year's loss to the Spurs. During the game Aldridge had to take off his protective brace because he was so frustrated.
Lillard was great by attacking the rim in the early going, but he took and missed some tough shots in the second half. McCollum put on a shooting exhibition for the ages in the first three quarters, where he scored 27 of his 33 points. Though McCollum may have felt the hot hand a little too much in the fourth quarter.
The Grizzlies once again did not have an answer for Portland's spacing line-ups. Portland looked like a completely different team as soon as McCollum and Leonard came in. Portland's offense was much better and their defense was basically the same. The line-up of Lillard, McCollum, Batum, Aldridge and Leonard was a +5 in 22 minutes.
For the sake of contrast, Portland's starting line-up averaged 0.43 points per possession to 1.01 points per possession for the closing line-up.
Memphis found success with a point-guard-less line-up to end the first half. Courtney Lee and Vince Carter did a good job managing the controls and Memphis slowed Portland down.
It did not help that in addition to Aldridge's struggles, that Nicolas Batum also struggled. Batum struggled with his shot early on and Portland didn't have as good of an offensive game as they could have. Towards the end of the game, the Grizzlies even switched the hobbled Beno Udrih onto Batum because he had such a bad night.
For whatever reason, Stotts went back to the starting line-up that put them in a hole to start the third quarter. Accordingly, Leonard and McCollum came back in and it was a game again. That was when McCollum almost took over the game and kept Portland in it.
But eventually, the Grizzlies beat the Blazers down. Second chances that led to more clock running off the clock and more looks of dejection. Forcing Portland into tough shots. Lee's hot hand never cooled off (66 percent shooting in the series) and Marc Gasol put Portland away with his wizardry.
The Conley injury helped make the series even more competitive. Memphis' defense was a notch or two below without him and I don't see them surviving long against Golden State. As much as I love Meyers Leonard, if they had trouble with him on the perimeter, they're going to have a lot of issues with Draymond Green who is a much better playmaker but nowhere near the shooter.
For the Blazers, exit interviews come next and the draft after that where the Blazers and Neil Olshey will have the No. 23 overall pick.
Thanks to everyone for reading all season.
I'll be going on a brief vacation but Blazer Banter and The Columbian will keep you as informed as we can during what will be a busy and important summer.