Trail Mix: Blazers 99, Grizzlies 92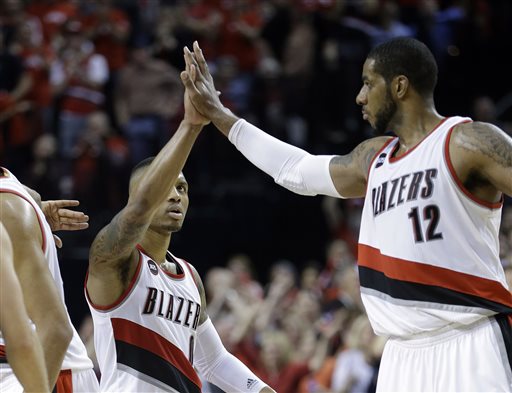 If it was the last time we'll see these guys play together on the Moda Center floor, the Portland Trail Blazers left their fans with a good memory and something better than a sweep–hope.
The Blazers came back from 10 points down in the final 8:48 to defeat the Memphis Grizzlies 99-92 and send the series back to Memphis for a Game 5.
The Grizzlies won't have Mike Conley for, well, nobody really knows how long. Conley's broken face and subsequent surgery could have made the series more interesting had Portland found a way to pull out Game 3.
If you've been reading this space since the series tipped-off, we have unofficially renamed ourselves the Free Meyers Leonard Blog since Game 1. We doubled down on the revolution after Game 2.
And finally, after a head-scratching five minute shift in Game 3, Blazers head coach Terry Stotts threw caution to the wind and played Meyers Leonard 35 minutes in Game 4.
Leonard's shooting and energy helped spark Portland's offense–as well as the continued scoring excellence of CJ McCollum–in the first half. Portland struggled at the beginning of the game and Leonard and McCollum, it seemed, helped break the spell that Memphis' defense has had on Portland.
But it was Leonard's defense–which to some was a reason to fear playing him big minutes against Marc Gasol and Zach Randolph–that made all of the difference in Monday's elimination game. He did what he has been doing since Game 1 against Memphis' big men, using his strength to engage their big men, rebound well and play all-around physical and smart defense. He showed that those fears were unfounded and likely clouded by perception more than reality.
Leonard has come a long way on that end. Those "Oh Meyers" moments don't happen anymore. A younger Leonard, the same Leonard who perhaps clouds the perception of the current Leonard, would have been confused and helpless against the post-game of Marc Gasol. Tonight he was strong, smart and ready. His rookie year, he was asked who his toughest guard was in the league, his answer: Marc Gasol. Fittingly, he had his first playoff moment against the player who tormented him when he first came in the league.
"I think I've made strides," Leonard said of his defense on Gasol and how far he's come since then. "I certainly have a long way to go. I want to be able to have guard 4's, guard 5's, guard in the post, do everything. Like I said, continuing to watch film, understand what I can do better. Like I said, Marc, very skilled. Turnarounds over his right shoulder, running hooks to the middle, up and unders. And not only that, his passing is pretty incredible as well. You know, continue to learn, continue to get better and push forward."
If this series ends in five games–which it probably will–one of the biggest questions for this series for Terry Stotts will be, why didn't Leonard play more?
Stotts deemed him "the bright spot" of the first two games only to put a parasol over it in Game 3 by playing Leonard five minutes.
In Stotts' defense, the Blazers struggled in Game 3 in Leonard's short time on the floor. But they were also outscored when he was on the court in the first half of Game 2, which led to Joel Freeland playing 3 of the most confusing minutes of the series (tied with Chris Kaman's Game 3) as the first big man off the bench in the 2nd half of Game 2. Leonard eventually got more minutes in Game 2 and Portland went on a run with him on the court and cut the Memphis lead back down under single-digits.
After tonight, the decision not to play Leonard in the 3rd game and cut his minutes in the 2nd half of Game 2, looks all the more baffling.
Let's look at the numbers on Aldridge's time on the court with Robin Lopez compared to that of his time with Meyers Leonard per NBA.com in this series.
Aldridge and Lopez: 79 minutes, 89.2 offensive efficiency, 109.8 defensive efficiency, -20.3 net rating
Aldridge and Leonard: 56 minutes, 111.2 offensive efficiency, 97.1 defensive efficiency, +14.1 net rating
Pretty stark contrast, right?
It has helped that Leonard is shooting 73 percent from the field in the series 88 percent from long range.
"I thought guys battled from the beginning to the end, "Aldridge said of Portland's play before talking about the contributions of everyone. "I thought Meyers was big early. I thought CJ was big down the stretch. Dame was big down the stretch. I think every guy came in like it was our last game."
As soon as Leonard knocked down some 3-pointers, the Grizzlies had to adjust in the 2nd half.
"He made all of his shots, got some rebounds and like I said, because he made shots, he was a threat and pulls their bigs away from the basket," Stotts said.
The Meyers Leonard effect was evident as the Blazers made their run after Memphis did their best to put the series away by clamping down on defense. On two consecutive offensive possessions late in the third quarter, Lillard and McCollum got driving lay-ups on Leonard's side of the floor as Zach Randolph had to stay pinned to his shooting threat.
Lillard was the star of the game with 32 points and seven assists. The box score won't credit the other one he got before the game even tipped off.
"Dame told me before the game, leave it all out there on the floor, let the ball go if you're open," Leonard said.  "That's what I did. Luckily they were falling tonight and they were finding me out there on the perimeter so it's a total team effort. We battled tonight and got a win."
Leonard also made a believer out of Nicolas Batum with his defense.
"On offense, first half, he was crazy," Batum said.  "We all know what he can do on offense. He showed it all year long. What he showed me on defense tonight, I'm more proud of his defense than offense. We all know what he can do on offense: he can make 3's, he has a great touch. But the way he battled with Marc Gasol down low."
When I asked Batum if he could think about rookie Leonard going up against the younger Gasol, Batum had a chuckle. "He grew up," Batum said.
Leonard's play even forced Memphis to break the seal on Jon Leuer to come in and match-up with him. Now, all of a sudden, it's Memphis forced to make adjustments.
But it might very well be too late for Portland now. Though the injury to Conley has given them a glimmer of hope to send this series back to Portland.
"I will say this, he was averaging the most points for their team and he's obviously a very good point guard for them," Leonard said.  "Finding guys, scoring, defending, doing a lot for them. We just have to continue to execute our game plan, watch film on this game."
After Portland stared elimination in the face and told it to come back another time, many might already be thinking what may have been had they pulled out Game 3.
The Blazers say their focus remains solely on Game 5 and not trying to make history. But at least on Monday night, they had something to feel good about.
"It feels amazing, obviously. Nobody wants to get swept," Leonard said.
Other things:
CJ McCollum was just as important to Portland's offensive success in the last two games as Lillard has been. Memphis coach Dave Joerger is concerned, so much so that he mentioned McCollum when asked about Lillard. "I thought he was the key tonight, as good as he was and he's a heck of a player, we've got serious problems right now with CJ McCollum. He is getting to the rim, to the rim, to the rim on us over and over and over. He had another good game tonight and we have to do a better job of keeping him in front of us."
McCollum on his game: "I think the first two games I came out kind of shaky and played like a younger player, making mistakes and not making open shots. I wanted to show my teammates that I could play in a big game and help them out. I was aggressive tonight trying to get to the cup. Dame did a good job of getting into the lane and kicking it out and I hit some big threes down the stretch."
Lillard's floor game has been incredible the last few games. He's back to being, you know, Damian Lillard. Tonight he had seven assists after racking up nine in Game 3. As we alluded to in our Scouting Report for Game 4, Lillard was much more patient and turned down a lot of the contested midrange shots he was forcing in Game's 1 and 2. Lillard said prior to Game 3 he would make an effort to get his teammates more involved and it's paid dividends for everyone, including him. Beno Udrih thinks Lillard is being more patient. "He definitely knocked down some shots," Udrih said of Lillard. "Got himself going. He was much more aggressive. I think he was not rushing as much as he did in the previous games."
When Stotts was asked if he noticed anything different from Lillard. His response: "I don't think so. Damian is a competitor. We played two substandard games as a team in Memphis and coming home, feeding off the energy of the crowd, I thought everybody–but not really per se other than he's pretty determined."
Stotts on the mood of the team when they were down by 10 with about 8 minutes left in the game. "It was kind of a weird time because LA was sitting at the table, going back and forth, neither team was getting much done, Jeff Green hits a three that somebody was going to crack somewhere. Getting LA and Damian back in the game–it was more time that we've come back from double digits so I don't think it was anything unusual but certainly, there was a sense of urgency."
When asked about differences in Memphis without Mike Conley, Stotts had a keeping it 100 moment when talking about Memphis' Nick Calathes, who was a 26 percent 3-point shooter in season. "Well, I didn't expect Calathes to hit four threes, but honestly, they run their offense regardless of who's in the game. Dave does a good job of changing things up and running plays for different people. Gasol got his post ups, Randolph got his post ups, they ran their movement stuff. Beno and Calathes were aggressive taking shots when they were open which is what Conley would have done as well. Obviously they missed Conley, he's a terrific player, but I think their offense kind of runs the same way with or without him."
Nicolas Batum followed up a great shooting game with a tough-it-out type of performance on Monday. He was 3-for-13 from the field but grabbed 13 rebounds to go with 12 points and four assists.
As much as Monday was about Portland's young players coming through, it was also about their veterans continuing to fail to contribute. Steve Blake remains 0-for-the series, playing just nine minutes in Game 4. Arron Afflalo played 19 minutes racking up just one rebound, one assist and 0 points as well as a team-low plus-minus of -19. Robin Lopez, who we've already addressed above, had a -17 in 21 minutes as well as 6 points and 3 rebounds. Despite how well Portland's young guys played, Afflalo (playing hurt) and Lopez, have to give them more–no matter how many minutes they play–if they have a hope of leaving with a victory.
Apparently Shaq was calling Meyers Leonard "Baby Sabonis" on TNT tonight. We've been known to be Meyers Leonard apologists recently around these parts, but that's a bridge too far. Leave it to Shaq to ruin a good thing.