The Scouting Report: Memphis Grizzlies, Game 4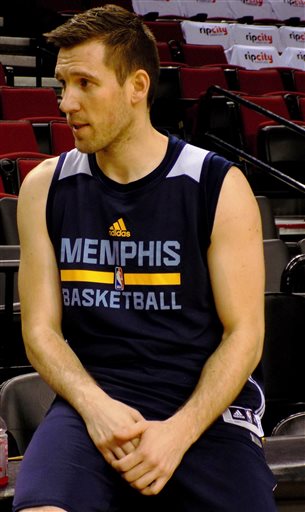 Memphis projected starting line-up: Beno Udrih, Courtney Lee, Tony Allen, Zach Randolph, Marc Gasol
Portland projected starting line-up: Damian Lillard, Arron Afflalo, Nicolas Batum, LaMarcus Aldridge, Robin Lopez
Injuries: Mike Conley (face) out for Game 4, return uncertain
The Portland Trail Blazers did not play dead in game 3 and gave themselves a fighting chance to finally get on the board. Without Mike Conley for the final 16 minutes of the game, Portland had a golden opportunity to make this a series. But ever so slightly, the Grizzlies pushed them away.
The Blazers finally shot well as a team from long-range. And their guards finally got their rhythm back.
The open shots and floaters that CJ McCollum was missing were splashing through the net. Nicolas Batum played arguably his best playoff game. Damian Lillard got everyone involved and finally got a rhythm.
Portland started off the game running their sets hard, getting good looks. But they couldn't get any to fall. But their ball movement and diligence served them later on in the game.
But nobody else on the Blazers should be credited for their diligence, at least on the offensive end, than Lillard.
Lillard finally and smartly eschewed many of the same midrange shots that he was settling for in Games 1 and 2 in Memphis. He attacked the rim, with seven of his 17 shots coming inside the restricted area. And he launched 3-pointers even if it wasn't a great shooting night. But the most impressive thing, something we've seen Lillard do before, was how he used Memphis' aggression to his advantage as he kept his dribble alive to set up his teammates.
This is the type of play where would have been popping a midrange shot earlier in the series. After he gets a big man on a switch, Lillard drives to the middle of the defense, where all of these new-age schemes like to push players away from.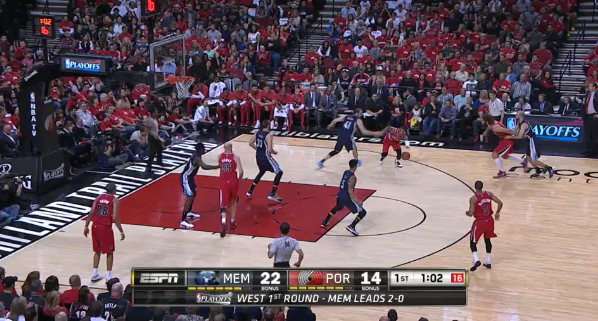 Lillard holds on to the ball for just long enough to hold Jeff Green at bay before flipping the ball to Batum.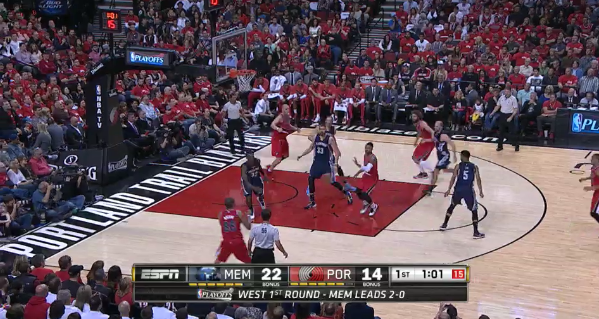 Then Batum cashes it. Something that he did all night long. But this process was rarely there for the Blazers in the first two games. 
Lillard had many more examples of this that didn't even count towards assists. He pulled up around the key and found Robin Lopez while he was in mid air and Lopez drew a foul. Lillard wasn't just looking to score in Game 3 and the Blazers offense benefitted from it. And they also made shots.
Lillard was fantastic in Game 3 and they'll need him to be good again.
Defense
Portland's defense hasn't been good all series. While their offense experienced a brief renaissance, their defense allowed the Grizzlies to dominate inside the paint in the first half.
The Grizzlies had 10 field goals inside the restricted area and five more inside the paint. What was astounding about it, as Stotts addressed after the game, was they only had two offensive rebounds in that half.
The Blazers have done a halfway decent job in the pick and roll. There were some shots that the Grizzlies were hitting, particularly Lee and Conley, Portland just has to tip their hats to.
Like this shotclock beating jumper from Lee which he casually drains.
Or this floater in the lane surrounded by three guys from Conley.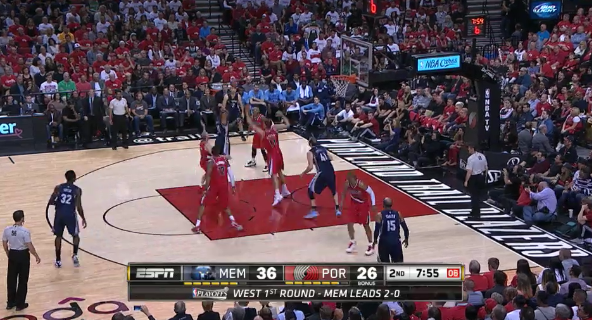 Portland has also gotten beat on times they've fallen asleep. Tony Allen had a few back cuts that absolutely killed Portland. Here's one from Vince Carter, who has spent the series making a highlight tape for NBA coaches of plays that can help win you a series.
[youtube http://www.youtube.com/watch?v=tTOWULiNCi8&w=560&h=315]
Slow it down and you see that Aldridge, likely wanting to make sure he gets a body on Marc Gasol, he thinks about reaching for the ball but doesn't, after McCollum gets beat backdoor.
Tonight without Conley, the Blazers will continue going under ball screens to encourage Beno Udrih to shoot 3-pointers and to deter his midrange threat. The Beno Show is back with a special extended edition!
The other thing Portland has to show that they are more ready for, at least than they were in the first half of Game 3, are plays like this for Nick Calathes. Calathes is not a great playmaker in pick and roll but he is a crafty scorer. Here he comes off a pick and just lulls the Blazers to sleep for a bucket.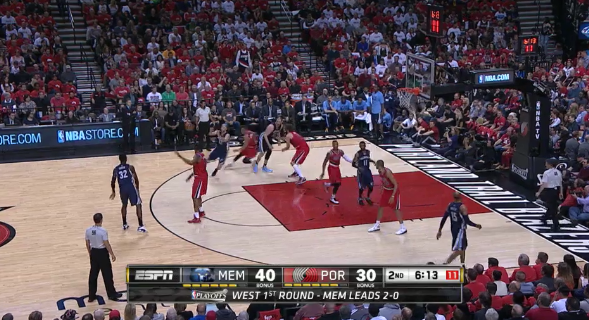 He holds Lopez off with a side-to-side hesitation dribble before getting right to the rim for an uncontested lay-up.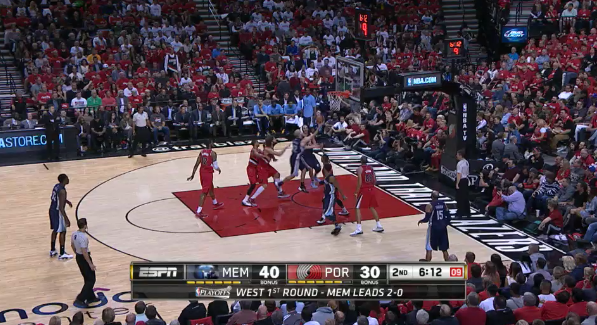 Portland cleaned a lot of this stuff up in the second half and not having to worry about the threat of Conley certainly helped their cause. But, Stotts is right, it's been different things at different times.
Take this play where Portland over-rotates out to a shooter and Vince Carter is all alone under the basket to get an offensive rebound. Batum oddly jumps out to contest the Calathes shot even though he has no shot of blocking it and Aldridge is already rotating over.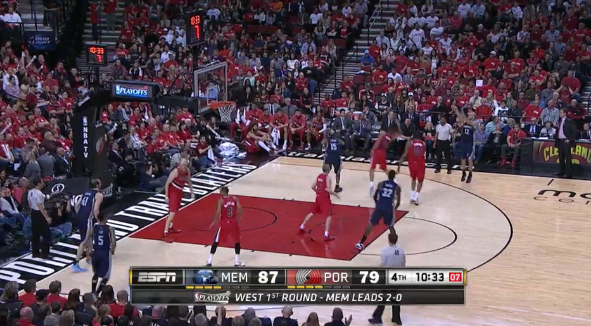 The result is Vince Carter all alone to grab an offensive rebound and let the Grizzlies run another 24 seconds off the clock.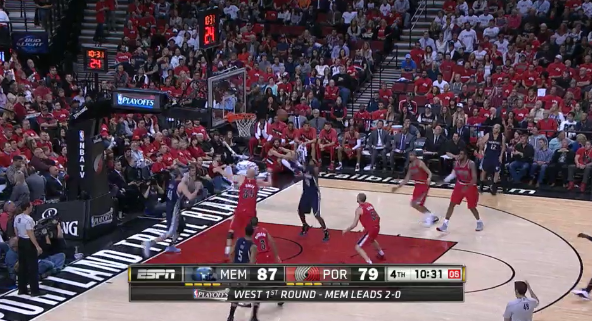 The Grizzlies didn't score on the next possession but those types of plays build up and are demoralizing.
"It's deflating when you see offensive rebounds and they run more clock," CJ McCollum said of those plays following Game 3. "You've got to defend that much longer. That's one of the things that hurt us tonight. Giving up offensive rebounds and those types of things. All we have to do is move forward and try to build on it on Monday."
Memphis has one less weapon for Portland to worry about. But Portland has hurt themselves in plenty of ways so far in this series that we know nothing is a guarantee for them at this point.