Grizzlies guard Mike Conley (face) OUT for Game 4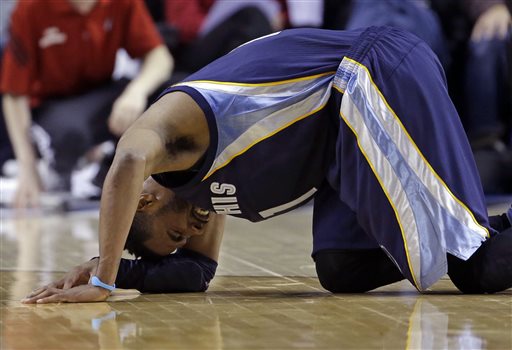 The Memphis Grizzlies will be without starting point guard Mike Conley as they look to put away the Portland Trail Blazers in Monday night's Game 4.
The Grizzlies announced that Conley is not only out but already back in Memphis to undergo further evaluation. But TNT's Lewis Johnson is reporting that Conley will undergo surgery to repair multiple fractures that he suffered after an inadvertent elbow from Portland guard CJ McCollum.
But even though the Grizzlies will be without Conley, they can take some solace in the fact they are getting back "Demolition Man" Beno Udrih. Udrih is shooting 57 percent against the Blazers in the series and the one game he started against Portland in the regular season, he didn't miss a field goal attempt.
Udrih has consistently played well against the Blazers and he will have an opportunity to deliver the knockout blow on Monday.
Portland threw away what could have been a golden opportunity to get back into the series with Conley's status uncertain in Saturday's Game 3. Now they face elimination on their home floor.
WIth Conley out, it opens the door for Portland to make it interesting. But Portland has not shown signs that they can beat this Grizzlies team, even when Conley hasn't been on the court.
On the injury front for Portland, Chris Kaman is listed as probable to play with an ankle injury. Arron Afflalo came back to start Game 3 in his first game since injuring his right shoulder on April 9.