The Scouting Report: Memphis Grizzlies, Game 3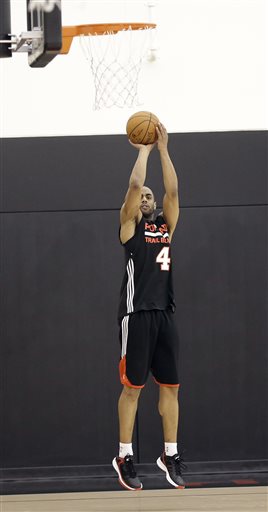 Projected Memphis starting line-up: Mike Conley, Courtney Lee, Tony Allen, Zach Randolph, Marc Gasol
Projected Portland starting line-up: Damian Lillard, Arron Afflalo, Nicolas Batum, LaMarcus Aldridge, Robin Lopez
Injuries: Chris Kaman (ankle) is questionable
The Portland Trail Blazers have been dominated in the first two games of their best-of-seven series against the Memphis Grizzlies.
The Blazers have won certain portions of the game, or even portions of possessions but the Grizzlies play through the end. Portland hasn't sustained a consistent level of play in the first two games of what's looking like a short postseason.
Portland takes their cues from their stars. Portland's great start in Game 2 came from an efficient start from Aldridge and their role players playing with confidence. Lillard also got an early bucket. But Portland didn't do a good job adjusting to Memphis' adjustments after Aldridge got hot.
We've seen that the Grizzlies would always prefer to single-cover Aldridge and stay close to Portland's shooters. But when Aldridge hits some shots, the Grizzlies changed up.
How to take advantage:
Robin Lopez is going to have to hit shots like this. Especially when the Grizzlies go to this small line-up, the Grizzlies have tried to deny Aldridge the entry pass.
Another thing that the Grizzlies did more of was force Aldridge to put the ball on the floor. And when they did, they did a good job of mixing up when they would bring a guard to double.
Often times it would catch Aldridge off guard or Aldridge would mishandle it and Memphis was smart to do it late in the shot clock. Aldridge is one of the best in league at taking care of the ball and his four turnovers can be considered an anomaly. He needs to either handle the ball better or trust his teammates that they can knock down shots when he kicks it to them.
Here we have Courtney Lee doubling from the corner on an Aldridge drive.
Allen Crabbe is where he needs to be but Aldridge loses the handle of the ball. Aldridge took fewer field goal attempts in Game 2 than he did in Game 1 and becoming passive is not something the Blazers need him to do now. But perhaps Portland can be better served with some surprises from their best player. He's not going to pass up shots. But making better plays when Memphis doubles also starts with Aldridge trusting his teammates more. But the Blazers, as a whole, could do a better job trusting each other and their principles.
Here's a key moment in Game 2 where Portland abandoned sound spacing when they got a 24-second violation after a Randolph basket on the other end. The play sent the crowd into a frenzy. The Blazers got closer after the play but you could sense after that play that Portland was done.
Look at McCollum, who was in the weakside corner, running to the middle of the court.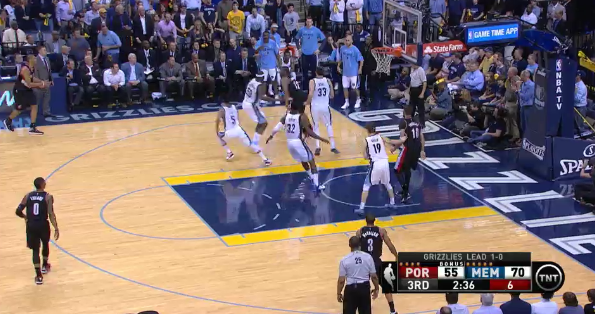 McCollum is on the weakside of the court ready to knock down a corner shot, exactly where he should be. Aldridge tries to dribble out of a double team and gets himself in trouble. Then McCollum abandons his post. But Lillard, too, sees that Aldridge is in trouble. Here, McCollum shortens the floor for the Grizzlies.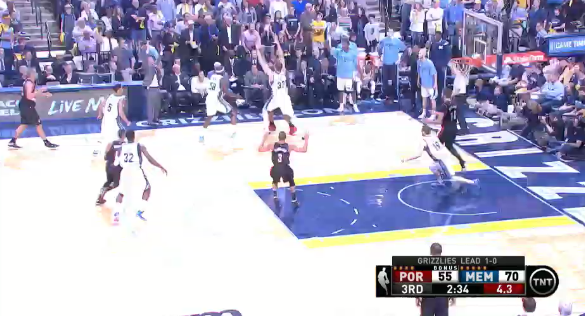 McCollum and Lillard basically run into each other. If McCollum stays outside the 3, Lillard has a chance to set him up for an open 3 or at least force the defense to play the whole court.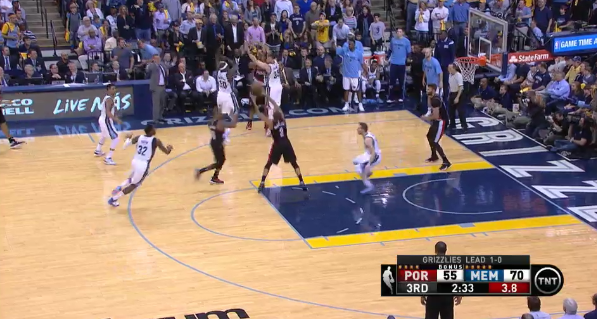 Aldridge also just had some mistakes that you just have to believe won't happen again. Like not catching this pass from Meyers Leonard with two seconds left on the shot clock which ended up in the hands of Tony Allen. Leonard put zip on it but it hit Aldridge in his good hand first and it just slipped out.
Aldridge also missed this wide-open lay-up on a classic finish when Steve Blake reads that the Grizz are overplaying him to get on his beloved left block.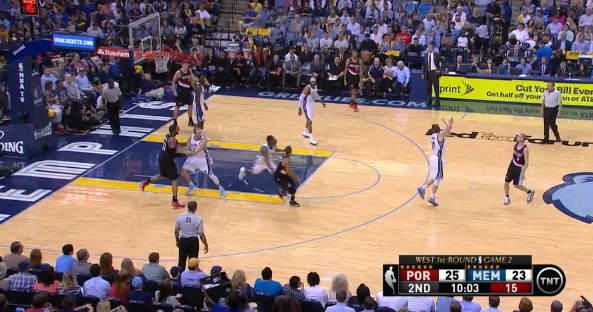 As much grief as I gave Blake for being a non-factor in this game and in this series, this is a good read by him.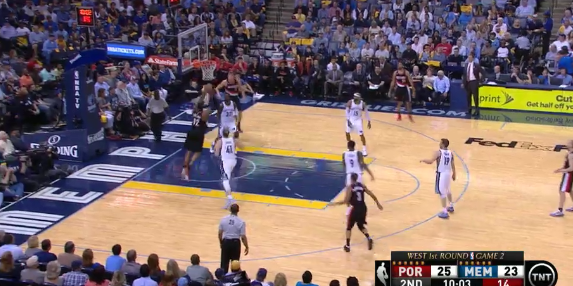 I have a feeling Aldridge will execute better. He's playing with that banged up hand against the league's most physical team. But Portland needs he and Lillard to both be playing at an All-Star level.
How does Lillard get going? 
Aldridge has at least forced the Grizzlies to make adjustments in this series. Lillard, so far, has not forced the Grizzlies to change anything. Tony Allen has barely had to guard him and he's been free to roam, cheating off Portland weakside shooters and ball-hawking. If they make the Allen switch full-time, the return of Afflalo could be huge to take advantage of any switches. Or even Nicolas Batum posting on Courtney Lee. But Portland has to start that chain reaction and that starts with Lillard.
The Blazers tried some things to get Lillard easier looks. Check out this wrinkle to one of my favorite plays: the Lopez-Leonard high screen with Lillard handling. Instead of sandwiching Lillard's man, Leonard sets a pick for Lopez's man which gives Lillard an opportunity to attack the rim with Zach Randolph protecting the rim.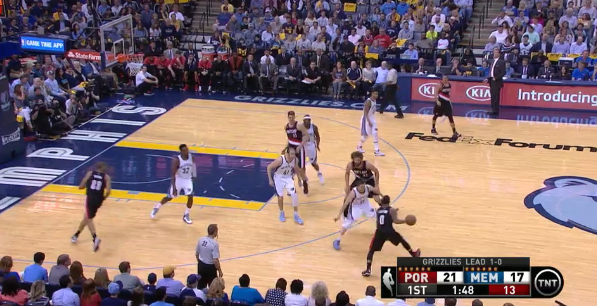 Advantage Dame, right?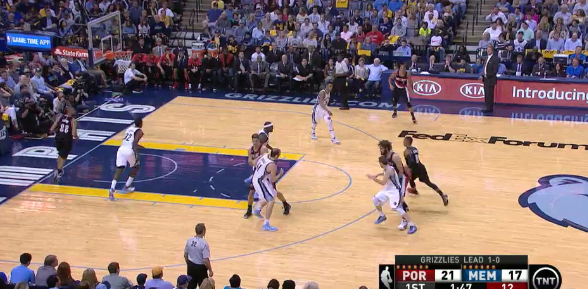 Lillard opts for a pull up jumper with no real rim protection with 11 seconds on the shot clock. But, this was early in the game. As the game progressed, Lillard made more of an effort to get to the rim.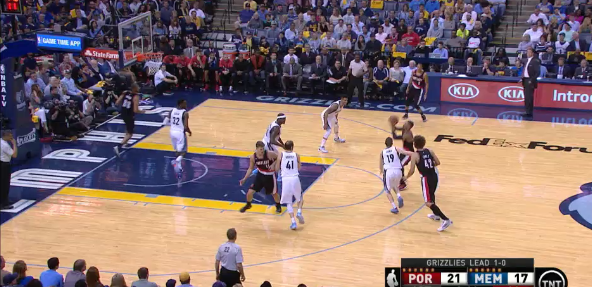 The Blazers are finding ways to give Lillard opportunities to get good shots, but here, he doesn't take full advantage. I asked Dame about what adjustments he could make, here's what he said.
"There's always adjustments that I can make," he said. "Using screens better. Picking spots better, pushing the tempo. It's tough to score on them in the half court when their defense is set. Just try to create opportunities. Maybe make more plays so they loosen up on trying to control me so much. Just make the game easier for myself."
Using screens better is exactly what we're talking about here. This is just one example, but Lillard has to ball. He's missed a lot of shots he normally makes and is 1-for-11 from long-range. Including last year's series against the Spurs, Lillard is 5-for-34 from long-range in his last six playoff games. You'd have to think the regression is coming soon.
Trust
Terry Stotts said in practice that he wants the ball to move more to the weakside and this is something that's easy to see, too. Portland isn't moving the ball from side to side and causing the defense to move.
Here's an example of something Meyers Leonard was talking about after practice Friday: taking a good shot and missing an opportunity for a great one. McCollum has a good look here and Memphis' defense is great at scrambling. But Portland never gets an opportunity on this possession to see what moving the ball can get them.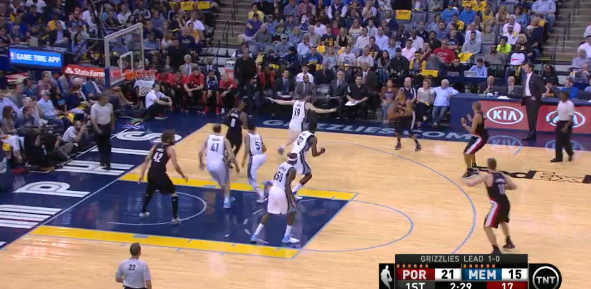 The Grizzlies have been the ones getting wide-open shots and making the defense pay. Take Batum passing up a shot to get a better one for Leonard.
This is the type of stuff Portland needs more of in Game 3. Good spacing all the way around and trust to beat Memphis when they double Aldridge. If Aldridge plays like he can, it will force an adjustment and Portland has to be connected if they are going to make Memphis pay the third time around.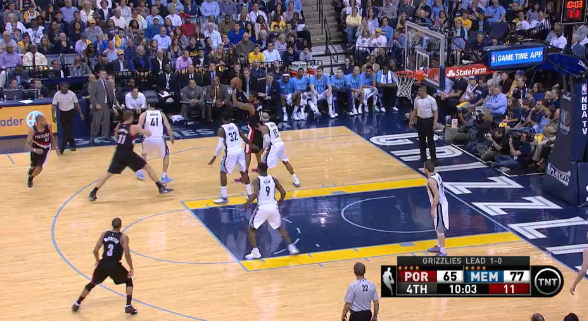 Aldridge quickly lets the pass go to Batum who zips outside.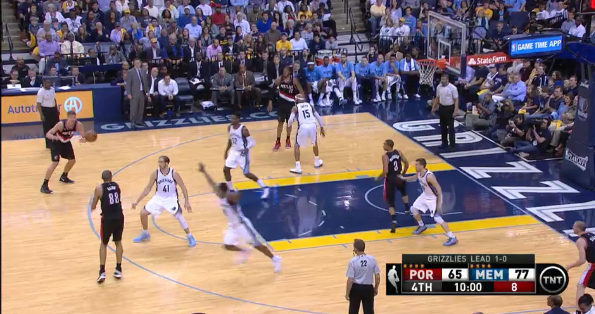 Batum zips it to Leonard who shoots as Jeff Green jumps from the free-throw line to try and block it.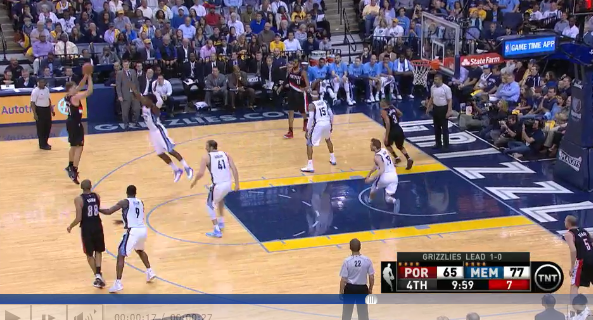 Of course, playing Meyers Leonard more could be a way to stretch the defense more. But Stotts sounds like he is going to keep giving Robin Lopez over 30 minutes per game.
"Well if LA is going to play 42 to begin with and RoLo is playing 32," Stotts said. "That leaves Meyers the rest except for Joel playing 3 and a half minutes. So, getting Meyers more minutes is difficult if LA is going to play 40 some minutes."
Leonard's play has been limited alongside Aldridge but the Blazers are actually outscoring the Grizzlies by seven points per 100 possessions when the two play together in 24 minutes so far in this series per NBA.com. They closed the regular season outscoring opponents by 15.1 points per 100 possessions. It's all small sample sizes in the playoffs.
Of course, no matter who their combo of big men are, their perimeter players have to hit shots. Lillard, McCollum, Batum and Blake are a combined 5-of-32 (16 percent) from long range in the series.
Leonard has helped Portland's offense and once again, Portland should get weird offensively. At this stage of the series, they need to try weird stuff and having as much shooting and playmaking on the court seems like a sound strategy.
Leonard or no Leonard, if their ball handlers and guards can't hit shots, they won't win the series. And now that goes for Afflalo, too.
And Aldridge must dominate.
Portland has made adjustments. Now it's about executing those and hoping that Afflalo's veteran presence on the wing, on both sides of the ball, can help Portland close the wide gap that currently exists between these two teams.