Trail Mix: LaMarcus Aldridge noise gets louder, Lillard faces struggles head on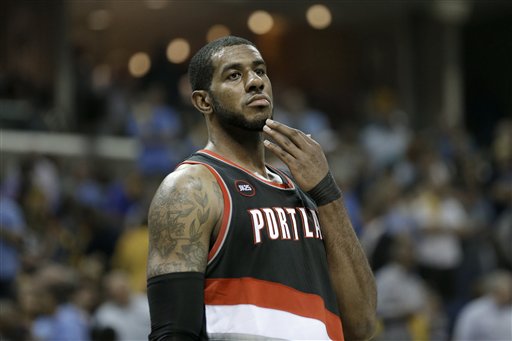 Yes, I know, the first round has continued to disappoint. And thus, we are left with speculation about the future. That's mostly because the present is packed with terribly uncompetitive basketball.
Perhaps last year's first round spoiled us with 6 of 8 series going 7 games. But I know why you've come here. You're here to find out the latest speculation on where LaMarcus Aldridge may go. As we predicted, the noise picked up following their loss in Game 2.
Surprise! The New York Knicks and Los Angeles Lakers are involved in the rumors. This has never happened before! Big market teams looking to add a big-name free-agent? Well I'll be. Teams that do not have LaMarcus Aldridge are intrigued with the possibility of having LaMarcus Aldridge. Very, very interesting.
Both Marc Stein of ESPN.com and Ken Berger of CBSSports.com have written that the San Antonio Spurs and the Dallas Mavericks both have shots to get him in free-agency.
Berger cites the NBA's rising salary cap as a reason why Aldridge may not take a 5-year full max deal with the Blazers.
But the NBA's $24 billion broadcast and digital rights agreement that hits the system in 2016 has changed the equation for this summer's top-notch free agents. Does a player like Aldridge commit to a five-year deal under the current economics, or do a shorter deal with a player option so he can really take advantage of the TV windfall? NBA executives are projecting that the salary cap will jump from $67.1 million in 2015-16 to $89 million in '16-'17 and a whopping $108 million in '17-'18. A short deal with an opt-out in either '16 or '17, coupled with the opportunity to cash in on the massive spike in the cap, would more than cushion the blow of leaving future money on the table by leaving town as a free agent.

John Canzano of The Oregonian also brought this point up in his column about the next two games in Portland possibly being Aldridge's last with the team.
The biggest lie that anybody will tell you throughout this free agency process is that they know what Aldridge is thinking. Nobody does. Not even his teammates. He's notoriously untrustworthy of others. You really think he's going to tip his cap about what he will do, to anyone? He probably doesn't even know yet. Everything is speculation.
One agent I inquired about this subject told me that the speculation is more "talk than substance. Players don't like to leave money on the table."
Would Aldridge really want to risk long-term security on a gamble? I'm not so sure. But neither is anyone else. That's the danger of free agency.
As has always been the case, Aldridge could leave, hence the term "free agency."
But unlike Dallas, Portland has a point guard, for all his struggles in this series, who has a lot of years left in the tank and a game that meshes well with Aldridge. The Spurs are the Spurs. And they can sell Aldridge on succeeding his idol but I don't know if following the greatest player at his position and living in that shadow is something he wants either. But the notion that he would be the face of the franchise in San Antonio is a fallacy.
He'd be going into a franchise that already has one of three players ever to win Finals MVP and Defensive Player of the Year in Kawhi Leonard.
Everything is on the table. That's the only news. And that's the only news there's ever been about Aldridge, despite his public guarantee last year. Public statements are meaningless when it comes to this stuff. But the machine needs to keep turning.
And nothing draws eyes quite like gossip.
Damian Lillard is having a bad series, something which we've discussed. He's missed shots he normally makes and he hasn't had an impact in other aspects of the game. Jason Quick of The Oregonian observes that Lillard still carries the same demeanor that he had during his fantastic playoff debut.
But he has the same approach and demeanor as he does when we laud him with labels such as clutch, fearless and unflappable.

"When I made the big shots, people say, 'How can you be calm and do that?' And I always responded with 'Because I can handle it when it doesn't go in. And I can handle it when things aren't going well,' " Lillard said.
We've not gone into the personal perspective of Lillard's bad series, mostly because we aren't there. From a purely tactical perspective, we addressed that he can't buy a basket, many of the same baskets that he's made a career out of. His signature pull-up 3's are not falling. It's easy to say he's forcing it or looking bad.
Grantland's Danny Chau waxed on Lillard's struggles as well as the Grizzlies' "blacked out" 3-point shooting in their NBA Shootaround recap of Wednesday's games. Chau also reminds us that Lillard shot 17 percent from long-range against the Spurs last year after an amazing first round.
Portland lost that series because the effectiveness of their stars was neutralized, much as has been the case in the first two games of this series. Aldridge is currently bringing a career-low playoff True Shooting percentage along with a career-high playoff usage rate a career-low playoff assist-rate and an un-characteristically high turnover rate after two games while playing with messed up hand.
From Chau on Dame:
Fast-forward to today and it hasn't gotten any better. Lillard is 10-for-37 in these two games against Memphis. His vows to compete on the defensive end in the playoffs have largely fallen flat, which is no surprise. After the All-Star break, Lillard was actually hurting the Blazers overall when he was on the floor; in the 14 minutes per game Lillard didn't play, the Blazers were much, much better defensively. Lillard's defense was never going to magically improve off of verbal affirmations made to the press, but it's troubling to see his offense completely fail him, too. Outside of missing the playoffs completely, Lillard could not be further from last year's first-round supernova. The playoffs turned Damian Lillard into a bona fide star; now they're swallowing him whole. We'll always have the memories, but Lillard's best course of action might be to torch the past. Except, you know, in the opposite way he's done it so far.
The other thing about Lillard's performance so far is that he's had to contend with Memphis' Mike Conley on both ends. Mike Prada of SB Nation put together a great seven step breakdown of how to appreciate Mike Conley full of images and video showing how he's dominated Portland.
Our friend Corbin Smith, as only he can do, compared the Blazers performance in this series to the plantar fasciitis that has bothered Conley, for the Willamette Week.
We also had a podcast with Corbin this week! And you can listen to it on iTunes.
Want some positive Blazers news heading into Game 3? The Blazers are three point favorites heading into Game 3 and playing on their home-court.