Arron Afflalo (shoulder), Chris Kaman (ankle) OUT for Game 2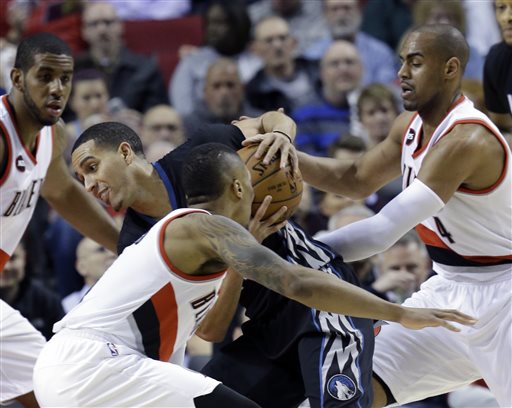 About 90 minutes before Game 2 of the Trail Blazers-Grizzlies series, the team announced that Arron Afflalo would not play. But they added another crucial name to the list: back-up center Chris Kaman.
The announcement shouldn't be a surprise to anybody considering he told reporters in Memphis yesterday that he couldn't shoot 3-pointers yet. Afflalo was showing discomfort while shooting 3-foot shots as recently as Portland's last practice in Tualatin last Friday. So, while he's trying his best, they apparently made the call that he was going to be more of a liability than an asset in Game 2.
The news of Kaman came as a surprise. And it was a brutal one as he was one of the few Blazers to play well in Game 1. Kaman has been good against the Grizzlies all season. This just means that Robin Lopez and Meyers Leonard must step up their game. According to Casey Holdahl of TrailBlazers.com, Kaman got stepped on accidentaly in practice by Damian Lillard.
I suspected that Afflalo would not go judging by the comment on 3-pointers earlier today when I was on the Mancave Sports Show on 730 AM in Memphis.
So, without Kaman, that will only mean more minutes for Meyers Leonard (which we thought should happen anyway) as well as Joel Freeland off the Blazers' bench.
Game 2 will be even more of an uphill battle than previously thought. But Stotts was reportedly debating whether to change the starting line-up pregame.
Buckle-up!