Trail Mix: Arron Afflalo questionable for Game 2, Pancarta-gate rages on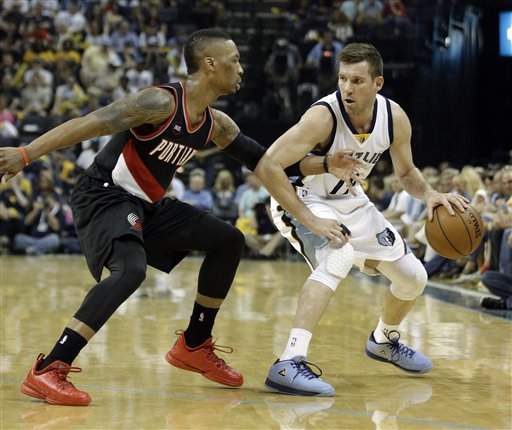 The first few games of the playoffs were so bad that the machine has had to make stories out of basically nothing and it's led to a public apology, about, well, nothing.
But first, actual basketball news!
The Blazers officially announced that Arron Afflalo has been upgraded to questionable for Game 2. But hold your horses. According to Joe Freeman of The Oregonian, Afflalo can't even shoot 3-pointers yet. Freeman did follow up with a quote from Afflalo that said if he didn't go on Wednesday it would be a certainty he suits up for Game 3.
But if Afflalo can't shoot 3-pointers, he's useless for their offense. We already saw all the spacing issues they had in Game 1. Adding someone who literally can't shoot 3's cause it hurts would only compound that issue.
But he's been upgraded and that is good news. But it remains to be seen whether he will play or not.
Some more positive news broke for the Blazers today. Tim Frazier won some big D-League honors for his play with the Maine Red Claws. Frazier became the 2nd player in D-League history to win both Rookie of The Year and MVP of the league according to a release from the Blazers.
Here's a photo of the Blazers celebrating Frazier's accomplishment in their locker room in Memphis from the team's twitter account.
Back to Pancarta-gate.
To quote fellow American of Hispanic descent Dan LeBatard on his show yesterday when asked about the topic of the card in the Blazers locker room that included a statement "we don't lose to Spanish players,": "I'm not going to get offended by this. You guys are ridiculous." He was talking to his studio-mates Mike Ryan and Stugotz.
But you could easily turn the "you guys" into the folks that are trying to make this a big deal. It is weird when that guy is kicking your butt routinely has this said about him, sure. And as I wrote yesterday, I'm not going to stand here and soapbox for "Spaniards, victims of racism," given their history. Even if it was kinda weird, weird is all it was, but also kinda funny if you have a sense of history.
It sounded like a joke taken out of context and that's exactly what it was as we awkwardly learned today.
We've had Nicolas Batum come out and "apologize" today for his "anti-Spanish" statement after it was revealed he was behind it.
He's apologizing, for what was an inside joke between he and former Blazers teammate and Spanish national, Victor Claver.
When they played the Spurs, they would joke, "we don't lose to French players," according to his interview with CSNNW's Dwight Jaynes, which you can hear for yourself.
After having to discuss this thing for two days and worse, hear it being discussed and reading headlines about it, I feel like this.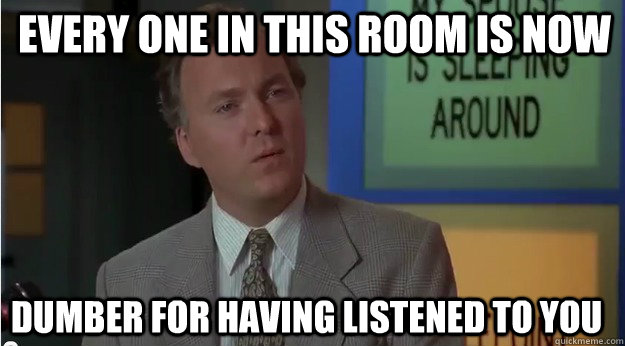 We are all dumber for having this discussion as the bi-product of a bunch of crappy Game 1's and Game 2's. I always hope for good basketball but I'm hoping for it twice as much so we can get this out of the news cycle.
And as Batum said, it might be the fact that we actually have race issues in this country that we aren't fixing, that this has become a story.
Grantland's Zach Lowe wrote at length about the Spurs-Clippers series and the future of the Spurs earlier today. In the column he mentioned a rumor that was floated earlier this year, that the Spurs have interest in LaMarcus Aldridge. Lowe adds that they could get a meeting with him.
From Lowe's piece where he was also talking about the Spurs possibly pursuing Marc Gasol:
Neither is a good bet to leave his current team, but sources around the league have been saying for weeks that the Spurs might get a hearing with Aldridge — and that was before theOregonian reported that at least one Blazers player thinks there is only a 50-50 chance that Aldridge stays in Portland.
Lowe also had some nice notes on the Blazers' playoff series if you have some time on your hands, including his thoughts on the Meyers Leonard question.
Wesley Matthews got a little choked up in this candid interview with Blazers broadcaster Mike Barrett. Obviously, he's having a tough time having to watch his team from the bench.
To close this post on a more positive note, we forgot to mention yesterday that Damian Lillard is a finalist for the NBA Cares Community Assist Award. Lillard has been active in the community with his "RESPECT: pass it on" campaign and work with the Special Olympics.
Lillard is one of 10 finalists including Anthony Davis, Tobias Harris, Ben McLemore, Klay Thompson, Joakim Noah, Chris Paul, Russell Westbrook, Tyson Chandler and Pau Gasol.
Lillard was also a finalist for the award during his 2012-13 rookie season and won a monthly Community Assist Award in March of 2013.